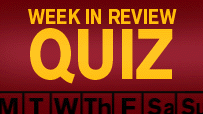 Did you pay attention to the week in sports -- and other stuff, such as the updated font on Lloyd Carr's résumé? Put your powers of observation and recall to the test with Page 2's weekly quiz:
1. The University of Michigan football team lost at home to:
(A) Appalachian State
(B) Strayer University
(C) The Electoral College
(D) Duke
2. The Los Angeles Times reported that while three of the USC men's basketball team's scheduled games on a preseason trip to Mazatlan were canceled:
(A) Players and coaches "still enjoyed the experience"
(B) Somebody inform the Pulitzer selection committee
3. Booed upon his removal from the Cubs' 11-3 loss to the Los Angeles Dodgers that made him 0-5 with an 8.29 ERA in his last five starts, Chicago pitcher Carlos Zambrano said that:
(A) He couldn't understand why fans were booing him
(B) He couldn't accept that fans were booing him
(C) A and B
(D) Math has never been his strong suit
4. During her "The View" debut, Whoopi Goldberg defended suspended Atlanta Falcons quarterback Michael Vick by stating that dogfighting isn't that unusual in the South, just as:
(A) Cockfighting isn't that unusual in Puerto Rico
(B) Mongoose versus cobra isn't that unusual on YouTube
(C) Blackface isn't that unusual in a Whoopi Goldberg routine
(D) Bubbleheadedness isn't that unusual on "The View"
5. Which of the following statements was not on a handwritten note Vick purportedly left on the podium of the Richmond hotel where he made a public apology for his involvement in dogfighting?
(A) "Young Kids/ I Acted Immature"
(B) "We All Make Mistakes"
(C) "Forgiveness + Understanding"
(D) "Only Tortured Dogs -- Never Puppies"
6. Researchers found the hearts of former Tour de France riders were 20 to 40-percent larger than average, putting them at greater risk of:
(A) Blood clots, strokes or heart attacks when using the performance-enhancing blood-booster EPO
(B) Death by irony
7. Dallas Cowboys quarterbacks coach Wade Wilson was suspended for five games after admitting that he:
(A) Bought and used performance-enhancing substances while an assistant with the Chicago Bears
(B) Bought and used performance-enhancing substances while an assistant with the Bears, and didn't have the good sense to share them with Rex Grossman
(C) Bought and used performance-enhancing substances while an assistant with the Bears, and still couldn't land a lucrative NutriSystem commercial. Damn you, Marino!
(D) Bought and used performance-enhancing substances while an assistant with the Bears, because hey, those playbooks are heavy
8. The Seattle Mariners:
(A) Lost
(B) All of the above
9. According to his upcoming book, New Jersey state trooper-turned-NBA referee Bob Delaney's undercover alias was:
(A) Bobby Covert
(B) Johnny Narc
(C) Sammy Snitch
(D) Ima Coppa
(E) Sgt. Bob Delaney, N.J. State Police
10. What does the traffic sign at right mean?
(A) Do not drive in the opposite direction of the arrow
(B) Do not drive in reverse in the opposite direction of the arrow
(C) Do not argue with police who pull you over for driving in reverse in the opposite direction of the arrow
(D) None of the above, if you're Cleveland Browns cornerback Leigh Bodden
11. After being suspended four games for violating the NFL's substance-abuse policy, New England Patriots safety Rodney Harrison told reporters he:
(A) Obtained human growth hormone
(B) Told league commissioner Roger Goodell that he took a banned substance
(C) Has "never once" taken steroids
(D) All of the above
(E) Can't wait to get out of football and into law, politics or public relations, where deft non-denials rooted in semantic hairsplitting are richly rewarded
12. Harrison also said:
(A) That his actions stemmed from a desire to accelerate the healing process from various injuries
(B) That his actions set a bad example for youngsters
(C) A and B
(D) That it is still OK to take 1,001 unregulated dietary supplements to accelerate the muscle-building process; game-day painkilling shots to accelerate the numbing process; undergo all sorts of unusual therapies to accelerate the healing process; and that youngsters surely can figure out the ethics of all this, since both football and society at large have such a good handle on things
13. Manchester United striker Cristiano Ronaldo reportedly celebrated his club's first victory of the season by:
(A) Inviting five hookers to his house for a poolside orgy
(B) Only five?
14. As of mid-August, George Mitchell's investigation into the use of performance-enhancing drugs in Major League Baseball reportedly still was seeking:
(A) Cooperation from 45 current and former players
(B) Only 45?
15. According to the Boston Herald, New York Yankees pitcher Roger Clemens:
(A) Shaves his legs
(B) Is really good with a plumbing snake
(C) Receives a weekly $2,000 Drano allowance in lieu of his per diem
(D) Just signed an endorsement deal with Weed Eater
16. A Russian court awarded former NHL star Pavel Bure 67,000 rubles in a lawsuit he filed against British Airways after one of the airline's pilots:
(A) Mistook Bure for a Russian soccer hooligan
(B) Refused to take off until Bure left the plane
(C) A and B
(D) A professional hockey player not being recognized in public? Yeah, right.
17. Cut by the New England Patriots, punter Danny Baugher was charged with assaulting his 54-year-old father after he allegedly:
(A) Punched him in a fast-food parking lot at 4 a.m.
(B) Expected any sort of human interaction taking place in a fast-food parking lot at 4 a.m. to produce a positive outcome
18. TMZ.com reported that while attending the opening of a Las Vegas nightclub, Los Angeles Lakers guard Kobe Bryant:
(A) Spent $21,000 on 15 bottles of Cristal champagne
(B) Bought the champagne to show up the 10 bottles ordered by professional poker player Antonio Esfandiari

(C) Promptly left without drinking the champagne
(D) All of the above
(E) Was asked by the federal government to oversee no-bid Iraqi reconstruction contracts
19. The Chicago Tribune reported that an Illinois man has spent the last five years building:
(A) A 1/3 scale replica of Wrigley Field
(B) A life-sized Civil War chess set
(C) A functional lightsaber
(D) Devils Tower out of mashed potatoes
20. A man suspected of robbing a vendor during a Washington Nationals game:
(A) Shot himself in the leg as he ran from security guards
(B) Shot himself in the butt with a syringe
(C) A, since B only happens in clubhouse bathroom stalls
21. A doctor at Denver's National Jewish Medical and Research Center wrote a letter to federal regulators warning that:
(A) Fumes from buttery flavoring in microwave popcorn can cause lung disease
(B) Seriously, John Daly cannot catch a break
22. The Australian national rugby team is wearing jerseys made of material that:
(A) Reacts with sweat to create a negative ion charge that stimulates blood flow
(B) Purportedly gives athletes a 2.7 percent boost in energy
(C) Was referred to the World Anti-Doping Agency by the International Rugby Board
(D) All of the above
(E) Were soaked in nothing more than vitamin B-12 and Jack Daniels, and consequently the team has no idea why it would fail a doping test
23. The Philadelphia Eagles:
(A) Mistakenly posted a list of their final 22 roster cuts prematurely on the team's official Web site
(B) Did not mistakenly post seminude outtakes from their cheer squad's annual lingerie calendar on the team's official Web site
(C) A and B
(D) Bummer
24. Asked to name his favorite television shows and give reasons why, Dallas Cowboys receiver Terrell Owens selected:
(A) "America's Next Top Model," because "women can be catty once they're together"
(B) HGTV, because Owens likes "to do his own decorating"
(C) Any commercial featuring the Michelin Man, for sideline sartorial inspiration
(D) "SportsCenter," because it's easier than having to buy a bunch of mirrors
25. A club rugby player from Oregon was arrested for:
(A) Leaving his 2-year-old daughter in a car in the parking lot of a Nevada brothel on a 95-degree day
(B) Failing to realize that while a brothel is no place for a 2-year-old girl, neither is an oven
Analogies
26. Michigan football : We still have a chance to reach our goals
(A) Judy Garland : "Somewhere over the Rainbow"
(B) All of the above
27. Baltimore Ravens running back Willis McGahee : self-proclaimed best NFL running back
(A) Ruben Patterson : self-proclaimed Kobe stopper
(B) O.J. Simpson : self-proclaimed homicide investigator
(C) John Lennon : self-proclaimed walrus
(D) All of the above
28. Serena Williams : graceful in defeat
(A) Nick Saban : forthright in career discussions
(B) Lou Pinella : calm while arguing
(C) President Bush : eloquent in unprepared remarks
(D) All of the above
Extra Credit
29. Dikembe Mutombo and eight other NBA players are leading a delegation to South Africa that will:
(A) Help build and dedicate new facilities to provide homes and health care to the poor
(B) Hand out desperately-needed maps, the same maps needed in U.S. America and the Iraq
30. Two golfers at a course in Elma, Wash. were followed for seven holes by:
(A) An Emu
(B) Naomi Watts in a rabbit suit
(C) A dancing midget talking backward
(D) David Lynch, filming the whole thing
31. University of Maryland backup quarterback Josh Portis was declared ineligible for:
(A) Copying the answers for a spring semester pop quiz from another student
(B) Hey -- stop looking at the screen in the adjacent cubicle!
Essay Question
According to a Yahoo! Sports article, the new FedEx Cup will donate $35 million into players' retirement accounts each year, fattening what was already the best pension plan in sports. However, a number of golfers, including Tiger Woods and Ernie Els, have complained that the FedEx Cup's four-tournaments-in-four-weeks schedule is too strenuous.
In 800 words or less, describe at least three other blatant injustices that professional golfers have a moral duty to carp about.
Answer Key
1, a, and c'mon -- Duke?; 2, a, what a scoop!; 3, c; 4, a; 5, d, though it wouldn't have hurt; 6, a-b; 7, a, and an illegal Ritalin prescription would make more sense; 8, a-b; 9, a, and no Ron Mexico jokes!; 10-11, d; 12, c; 13-14, a; 15, a, and God knows what else; 16, c; 17, a; 18, d; 19, a, 'cause carving Harry Caray's head into the side of a mountain takes high-grade explosives, and those are hard to come; 20, a or c; 21, a, and next thing you know, gambling will be linked to prostate cancer; 22, d; 23, all answers valid; 24, a-b; 25, a; 26, b; 27-28, d; 29-31, a, and Page 2 would never flunk you for cheating (give you a job, maybe); ESSAY QUESTION: This is golf, so all answers are technically acceptable, though ones discussing "carts without heated seat cushions," "five-star hotel pillows that are too firm" and "money that requires hiring an accountant instead of just counting itself" are preferred.
Patrick Hruby is a columnist for Page 2. Sound off to Patrick here.