Nudity, Ricky's return, death threats ... another week in sports
1. What did Maple Leafs rookie Jiri Tlusty do that caused a big stir in Toronto?
(a) Made out with one of the Olsen twins at a posh Toronto hotel bar
(b) Was indicted on federal charges of perjury and obstruction of justice
(c) Apologized to Texans, cowboys and horses for the team's mediocre start
(d) Posted full-frontal nude pictures of himself on his Facebook page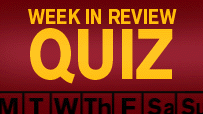 2. Rank, in overall volume of tears, these great moments in Mark Messier's career:
(a) Hoisting his first Stanley Cup with the Oilers in 1984
(b) Announcing that he was retiring from the Rangers
(c) Returning to the Garden when the Rangers retired his jersey
(d) His 20-minute Hall of Fame acceptance speech this week, which included several tearful pauses and wipes of snot from his nose
3. What did Orioles first baseman Aubrey Huff make news for during an interview with Bubba the Love Sponge on Sirius satellite radio?
(a) Calling Baltimore a "horse----" town
(b) Criticizing the Baltimore nightlife, in comparison to Tampa's
(c) Slathering a naked, lithe, fetching young lady (OK, a porn star) with paint
(d) Saying the Orioles were morons for signing Danys Baez for $19 million last year
(e) Wait, who's Aubrey Huff?
(f) A, B and C
4. Who said "2007 has been a rebuilding year for me"?
(a) Cam Cameron
(b) Scott Linehan
(c) Eric Mangini
(d) Kevin McHale
(e) Ricky Williams
(f) Lance Armstrong
(g) Alex Rodriguez
(h) Bill Belichick
(i) Nick Lachey
(j) George W. Bush
(k) Britney Spears
5. The Gazelle Group announced it will be starting a third postseason college basketball tournament, in addition to the NCAA Tournament and the NIT. How will the new "College Basketball Invitational" resemble the NIT?
(a) It will consist of teams that weren't invited to the NCAA Tournament
(b) The vast majority of fans won't give a (expletive) about it
6. The PGA announced this week that:
(a) There will be a bye week during next year's FedEx Cup
(b) Its players are complete babies for whining about playing four straight weeks in this year's FedEx Cup
7. In order to entice more fans to attend the MLS championship game on Sunday, New England Revolution owner Robert Kraft (who also owns the New England Patriots) offered fans:
(a) Free round-trip bus transportation to and from Washington, D.C., for the game
(b) A screening of an authentic Bill Belichick spy tape on said bus
(c) Autographed 8x10 glossies of Gisele
8. After the Heat lost 91-76 to the Bobcats on Tuesday night, Miami coach Pat Riley said:
(a) "I should suit up. I'd play better than some of them right now. ... I guarantee it. I swear to God. With an old hip and 62 years old and I can't see, I'll play better than some of my guys [did] tonight."
(b) "I drive a Dodge Stratus!"
(c) "Time to warm up the ol' fax machine."
9. Chiefs QB Brodie Croyle getting his first NFL start this Sunday is most exciting for:
(a) Brodie Croyle
(b) Brodie's wife, Kelli
(c) Any heterosexual male who watched "Hard Knocks" earlier this year
(d) Gamblers taking the Colts and giving the points
10. By how much are the Red Sox raising their ticket prices?
(a) 5 percent
(b) 7 percent
(c) 9 percent
(d) You can't put a price on chemistry, so don't even try
11. After being reprimanded by the NBA for making a "Brokeback Mountain" reference, Lakers coach Phil Jackson apologized for offending:
(a) Any cowboys
(b) Any Texans
(c) Any horses
(d) Any semi-civilized rednecks
12. A man who left threatening messages for Nebraska defensive coordinator Kevin Cosgrove:
(a) Said, "Go back to where you (expletive) came from, you (expletive), before I (expletive) kill ya," according to a police warrant
(b) Bet the under in the Huskers' game against Kansas
(c) Hasn't booked his Independence Bowl travel package yet
(d) Graduated from the Lawrence Phillips School of Congeniality
13. After a 59-43 loss at Texas, Texas Tech football coach Mike Leach lashed out at the officials who worked the game by saying:
(a) "I think it's disturbing that Austin residents are involved in this."
(b) "Am I condemning the crew? Hell yeah, I'm condemning the crew."
(c) "It may be incompetence, bias, I don't know."
(d) "Since when did Tim Donaghy start working Big 12 games?"
14. Fill in the blank: Dolphins linebacker Joey Porter told the South Florida Sun-Sentinel, "I don't care who you get. If you get _______ and he could run the ball like Ricky, I'd do anything for a victory."
(a) Cecil Collins
(b) Bernie Parmalee
(c) Andra Franklin
(d) bin Laden
15. Why did Stephon Marbury say the Knicks should continue to start him?
(a) His career 19.8 points per game
(b) His career 7.9 assists per game
(c) The $40 million remaining on his contract
(d) The amount of "stuff" he has on coach Isiah Thomas
16. Derek Jeter is being investigated for:
(a) Claiming to be "clutch"
(b) Claiming that he actually drives the car he endorses
(c) Claiming to live in Florida year-round to avoid paying New York taxes
(d) Claiming that he's the best shortstop on his team
17. Last weekend, a woman was arrested at Gillette Stadium for:
(a) Making direct eye contact with Tom Brady
(b) Smashing through a security gate and driving her car onto the Patriots' practice field
(c) Considering putting her tickets on StubHub
(d) Wearing Jets paraphernalia
18. The Dolphins are attempting to salvage their season by:
(a) Starting rookie John Beck at QB
(b) Asking the '72 squad to play
(c) Welcoming back Ricky Williams from his 18-month suspension
(d) Both A and C (unfortunately)
19. After being told he will have to stand trial on gun and robbery charges, O.J. Simpson said:
(a) He believes in the jury system
(b) He isn't even the real robber
(c) It happened in Vegas, so I guess I'll be staying in Vegas
(d) Anyone have an extra ticket to Celine Dion?
20. Which is the greatest team of all time, in any sport?
(a) 2007 Patriots
(b) 2007-08 Celtics

21. How many pages of game notes did the Notre Dame sports information staff prepare for Saturday's game against Duke, in which both teams are 1-9.
(a) 1
(b) 2
(c) 3
(d) 76
ANSWER KEY: 1, d, wait, a 19-year-old Czech hockey player has a Facebook page? When will the world takeover be complete? 2, d-b-c-a, seriously, does he cry when he burns his toast in the morning? 3, f, although e also is acceptable; 4, i, as Belichick actually said, "What do you want me to do, kick a field goal?"; 5, a and b; 6, a; 7, a, and if New England wins the MLS Cup on top of everything else, that's it, time to blow the whole region up; 8, a, although c definitely is on Riley's brain; 9, d, although the CBS camera crew working Chiefs-Colts on Sunday better find Kelli in the stands; 10, c; 11, a, b and c, and we don't doubt Big Chief Triangle's sincerity for a second; 12, a, and if you don't want to deal with lunatic fans, then go coach intramurals, brother! 13, a, b and c; 14, d; 15, d, remember kids -- when you're out of options, there's always blackmail; 16, c, hey, you try making ends meet on $20 million; 17, b, but don't worry everyone, her video camera wasn't loaded; 18, d, see you at the draft, Miami; 19, a, at this point, you would trust strangers more than friends, too; 20, trick question ... it's actually a tie; 21. d, seriously.