Did you pay attention to the week in sports -- and other stuff, like Toyota developing a robot with better hands than Kwame Brown -- that was?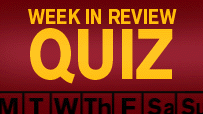 Put your powers of observation and recall to the test with our weekly quiz:
1. The best two teams in college football are:
(a) Ohio State and LSU
(b) South Florida and Boston College
(c) Oregon and Kansas
(c) Missouri and West Virginia
(d) Um, Ohio State and, er ... LSU?
2. Florida Marlins owner Jeffrey Loria is not gonna pay a lot for:
(a) This muffler
(b) His major league roster
3. Which of the following individuals remains gainfully employed?
(a) UCLA football coach Karl Dorrell, whose career record is 35-27
(b) Southern Mississippi football coach Jeff Bower, whose career record is 119-82-1
(c) Georgia Tech football coach Chan Gailey, whose career record is 44-32
(d) New York Knicks coach Isiah Thomas
4. The Miami Dolphins:
(a) Won
(b) None of the above
5. Following Miami's 40-13 loss to the New York Jets that dropped them to 0-12, Dolphins cornerback Michael Lehan said that:
(a) He wasn't worried about the possibility of a winless season
(b) He had learned to use amnesia to keep from getting depressed
(c) A and B
(d) He felt awesome, and also couldn't believe that 2006 is almost over. What a year!
6. Brazilian sports minister Orlando Silva told an international forum that:
(a) His nation will not spend a single cent of public money on stadiums when it hosts the 2014 World Cup
(b) The Great Pumpkin will bring presents to all the good little children in the world provided their hearts are sincere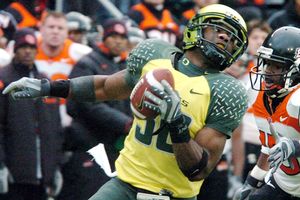 AP Photo/Greg Wahl-Stephens
The fact the Oregon still gets recruits despite the unis says a lot about the coaching staff.
7. Identify the image to the right:
(a) CDC Ebola virus rapid response team
(b) Rejected Green Goblin costume design for "Spider-Man IV"
(c) Concept art for President Bush's proposed Mars mission
(d) University of Oregon football uniforms
8. Following Jacksonville's 28-25 road loss to Indianapolis, Jaguars defensive end Paul Spicer:
(a) Accused Colts president Bill Polian of bribing game officials
(b) Was diagnosed with a Grade II concussion after confusing the NFL with the NBA
9. Super Bowl organizers announced that the halftime show musical act will be:
(a) Crosby, Stills and Nash
(b) REO Speedwagon
(c) Steely Dan
(d) Tom Petty and the Heartbreakers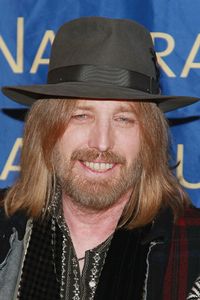 Dimitrios Kambouris/WireImage.com
Most people don't know that Tom learned about music while serving in the Confederate army in 1862.
10. Identify the image to the right:
(a) The Biblical prophet Elijah
(b) Al Borland of "Home Improvement" following a 32-day meth binge
(c) Jon Kassir's Crypt Keeper
(d) Tom Petty
11. Tom Petty:
(a) Released a 2002 album that railed against corporate greed
(b) Has frequently lambasted corporate sponsorship of rock concerts
(c) Will perform during a halftime show sponsored by Bridgestone Tire
(d) Likes money
(e) All of the above
12. Carolina Panthers coach John Fox said he demoted quarterback David Carr to third string in order to:
(a) Protect Carr from booing
(b) Protect Carolina from sucking
13. Which of the following headlines is made up?
(a) Injuries May Force Rams to Start Brock Berlin at QB
(b) Dolphins' Cameron Says He Doesn't Sense Grumbling by Players
(c) Agent Says Bonds Wants to Play in 2008
(d) Bush Asks Weis to Join Committee on Intellectual Disabilities
(e) Physical Therapists Prescribe Playing Wii to Rebuild Muscles
(f) Barbara Walters Tired of Celebrity Interviews
(g) None of the above
(h) No, really -- none of the above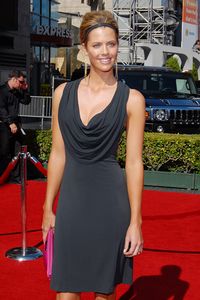 Mark Sullivan/WireImage
Why even bother writing a caption? You aren't going
to even look at it.
14. Identify the image to the right:
(a) Professional model Anna Rawson, who just earned her LPGA Tour card
(b) Oh, wait, was I supposed to be paying attention to all those word-things to the left of the picture?
15. Which of the following obscenities is NOT contained in a 1898 National League profanity memo titled "Special Instructions to Players?"
(a) "Go [expletive] yourself"
(b) "I'll make you suck my [expletive]!"
(c) Some vile we can't print
(d) "Did I [expletive] stutter?"
16. The 1898 profanity memo is believed to be:
(a) The earliest printed record of two specific obscenities
(b) Totally [expletive] awesome
17. The NFL announced plans to investigate:
(a) Baltimore cornerback Samari Rolle's allegation that a game official called him "boy"
(b) The fact that the league does not maintain records of which players, or how many, retire due to injury
(c) Just A
18. Following David Beckham's recent visit to New Zealand, items put up for sale on a Kiwi Web site included:
(a) A half-eaten corn cob
(b) A nearly empty bottle of soda
(c) A and B
(d) A game-used soccer ball
19. Chicago White Sox manager Ozzie Guillen:
(a) Said that portly Detroit third baseman Miguel Cabrera appears to have "lost 15 pounds, maybe more"
(b) Obviously missed his calling as a professional jeweler
20. According to the New York tabloids, Mets pitcher John Maine:
(a) Followed a woman into a ladies' bathroom at a nightclub
(b) Followed that same woman into a stall
(c) Asked the woman if he could try on the dress she was wearing
(d) All of the above
(e) Just got a vote of confidence from James Dolan
MATH 21. Dallas Cowboys owner Jerry Jones said the NFL "anticipates broadening the number of games" on its network. The Cowboys also announced plans to sell PSLs for their new stadium for $100,000-$150,000. Assuming linear progression, in how many years will the Internal Revenue Service be folded into the NFL?
ANALOGIES
22. Blackburn Rovers : introducing Premier League's first male cheerleader
(a) Coke : introducing New Coke
(b) ESPN : introducing "ESPN Hollywood"
(c) Miami Dolphins : introducing Cam Cameron!
(d) All of the above
23. Ron Artest : Sacramento will make the playoffs
(a) Jon Kitna : Detroit will win 10 games
(b) Khrushchev : will bury us
(c) Darren Daulton : world goes boom! on Dec. 21, 2012
(d) All of the above
24. London Olympics officials : games could go over $19 billion budget
(a) Basketball scouts : LeBron James will be pretty, pretty, pretty good
(b) Everyone not named Darren Daulton : world to continue on Dec. 22, 2012
(c) Doppler XJ9000-equipped local TV weatherman : raining outside right now (d) All of the above
EXTRA CREDIT
25. An Italian court mistakenly sent a trial summons to:
(a) Mickey Mouse, Donald Duck, Daisy Duck
(b) Rex Ryan, Bart Scott, Brian Billick
(c) James Dolan, Isiah Thomas
26. Which of the following is among the "daily" gifts Dallas Cowboys quarterback Tony Romo reportedly has sent to love interest Jessica Simpson?
(a) "MTV Newlyweds: Nick and Jessica -- The Complete Second and Third Seasons" DVD box set
(b) Jeans with an inseam over 25 inches
(c) The New York Times Ultimate Crossword Omnibus
(d) None of the above
27. Two Australian rugby players were fined and ordered to perform community service after they:
(a) Mishandled small animals during a team bonding session
(b) Forgot to limit their team bonding session mishandling to strippers, like everyone else in sports
28. The Australian rugby players abused the small marsupials, called "quokkas," by:
(a) Trapping one under a milk crate
(b) "Hammer throwing" another one by the tail
(c) A and B
(d) Forcing them to watch New York Knicks game tape
ESSAY QUESTION
The Chinese government reportedly has launched an Olympic etiquette campaign that includes:
• Teaching fans polite, respectful cheers and chants, such as "China, China, ha, ha, ha";
• A video in which a zealous cartoon character roams a stadium and berates fans for smoking, littering and swearing;
• An emphasis on not cursing, respecting referees, not snapping indiscriminate photos and not insulting former wartime enemy Japan.
In 800 words or less, describe what it would take to institute a similar program in Philadelphia.
ANSWER KEY: 1, d; 2, b; 3, d, and whatever Starbury has on him, he must have doubly on James Dolan; 4, b; 5, c; 6, a, and bwahahahahaha!; 7, d, and some things once seen cannot be unseen; 8, a, and what a moron, everyone knows the refs are in the tank for New England; 9, d, apparently Bachman-Turner Overdrive wasn't available, and Roy Orbison is too dead; 10, d, though c is a fair guess; 11, e; 12, a, poor David Carr has never been booed before!; 13, g-h; 14, all answers valid; 15, d; 16, a; 17-18, c; 19, a; 20, d, and that's either the greatest pickup line of all time, or the creepiest; 21, trick question, the IRS and the rest of the U.S. government will be folded into the Chinese central bank long before the NFL can make a play; 22-24, d; 25, a; 26, d, and who would have guessed Nick Lachey would be the big winner in all this?; 27, a; 28, c, d violates the Geneva conventions; Essay question: any answer that includes "the National Guard," "the Second Coming" or "1,000 years of Eagles championships and world peace" is acceptable.