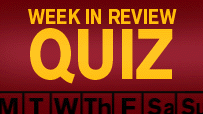 Paid attention to the week in sports -- and other stuff, like the Miami Dolphins -- that was? Put your powers of observation and recall to the test with our weekly quiz:
1. By how many points did an opening Las Vegas betting line favor the New England Patriots over the New York Jets this weekend?
(a) 24.5
(b) ∞
2. Which of the following individuals was not named in the Mitchell report?
(a) Roger Clemens
(b) Andy Pettitte
(c) Miguel Tejada
(d) Lance Armstrong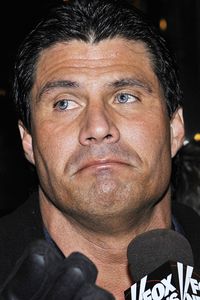 AP Photo/ Louis Lanzano
We're not saying the Mitchell report press conference turned into a circus …
3. Who showed up at the Mitchell report press conference?
(a) Jose Canseco
(b) Bozo the Clown, the bearded lady, a half-dozen trained seals
(c) Just A
4. According to the Mitchell report, MLB medical director Dr. Robert Millman:
(a) Warned steroid critic Dr. Lewis Maharan to "shut up"
(b) Was part of a league presentation extolling the virtues of testosterone
(c) A and B
(d) Can be reached at 1-800-DOCTORB. The "B" is for bargain!
5. What did the Mitchell report, which cost upwards of $20 million, tell us that we didn't already know?
(a) The players' union wouldn't help a little old lady cross the street without getting a tit-for-tat concession in collective bargaining
(b) You could fly Unicron through the loopholes in MLB's drug-testing plan
(c) The only thing more lucrative than being a mediocre left-handed reliever is being a high-powered lawyer
(d) Roger Clemens is a soreass
(e) None of the above
6. With the release of the Mitchell report, baseball's steroids era is:
(a) Over
(b) Bwahahahahaha
7. The take-home message of the Mitchell report is:
(a) Players, teams and the league office all share responsibility for steroid use
(b) MLB drug testing should be independent and more stringent
(c) Baseball must curb steroid use for the sake of the kids
(d) If you're gonna have the clubbies run juice for you, make sure you pay by cash
8. Who is the Miami Dolphins' starting quarterback?
(a) John Beck
(b) Cleo Lemon
(c) A scarecrow in a No. 13 jersey
(d) Whatever
9. After posting a 6.75 ERA with Boston, closer Eric Gagne signed a $10 million deal with:
(a) The Milwaukee Brewers
(b) DLA Piper
(c) The New York Knicks
10. Following New York's 28-point loss to Philadelphia, Knicks owner James Dolan reportedly gave coach Isiah Thomas:
(a) A private vote of confidence
(b) A raise
(c) A back rub
(d) A fiddle made of gold, per previous arrangement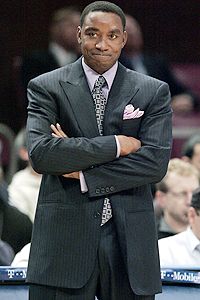 AP Photo/Seth Wenig
We're not exactly sure what Isiah's plan is. We just know he's a bountiful source of material for Page 2.
11. During New York's home loss to Dallas, Thomas reportedly:
(a) Spent time chatting with fans sitting courtside
(b) Told those same fans that the Knicks' struggles were the fault of lousy fan support
(c) A and B
(d) Made some good points, since anyone willing to pay thousands of dollars to watch the Knicks get throttled from up close while listening to Thomas blame them personally clearly doesn't care about the team in the least
12. Thomas later told reporters that:
(a) He sees coaching as "win or die"
(b) That by the above comment, he "literally means death"
(c) A and B
(d) Lloyd's of London is a total rip, and that you're much better off with Met Life
13. After a jury awarded former Knicks executive Anucha Browne Sanders $11.6 million in punitive damages following a sexual harassment trial, the Knicks settled with Sanders for:
(a) $11.5 million
(b) $11.5 million, only $5.5 million more than Sanders sought in her original lawsuit
(c) $11.5 million, more than the club will pay Jared Jeffries and Jerome James this season
(d) Spike Lee just suffered an intracerebral hemorrhage
14. Knicks fans can take solace in:
(a) Thomas being 47 years old, and average male life expectancy in the United States being only 75.2 years
(b) The gentle indifference of the world, which -- if Albert Camus is to be believed -- is like a brother, really
(c) The Knicks' payroll numbers being but shadows on the wall of a cave, as the true cost of New York's roster is both perfect and essentially unknowable
(d) None of the above
15. God roots for:
(a) Jon Kitna
(b) The Dallas Cowboys
16. When NHL players' union head Paul Kelly told a Minneapolis newspaper that ESPN needs the NHL because he had "seen some of their programming," he was referring to:
(a) Poker, which gets better ratings than hockey
(b) Bowling, which gets better ratings than hockey
(c) Arena Football, which gets better ratings than hockey
(d) None of the above
17. During Atlanta's "Monday Night Football" loss to New Orleans, Falcons receiver Roddy White pulled up his jersey to reveal a T-shirt with a handwritten message reading:
(a) FREE MIKE VICK
(b) FREE BOBBY PETRINO
18. Which of the following duties are not listed in an online ad for the vacant Duke University head football coaching job, posted on the school's human resources Web page?
(a) Counseling players
(b) Preparing budgets
(c) Representing Duke at various events
(d) Winning football games
19. New York Yankees third baseman Alex Rodriguez:
(a) Finalized a $275 million, 10-year contract
(b) Called opting out of his previous contract "a huge debacle"
(c) Is rich enough to invent his own private meaning for words like "huge" and "debacle"
20. When NFL Network play-by-play announcer Bryant Gumbel said "my bad" during the broadcast of a Chicago-Washington game, he was:
(a) Referring to a missed field goal attempt that he called "good"
(b) Surprisingly lucid
(c) All of the above
21. DirecTV announced plans to:
(a) Show NFL Network games on the giant video screen of its blimp
(b) Fly the blimp above towns whose cable operators don't carry the NFL Network
(c) A and B
(d) Have Bryant Gumbel personally knock on the door of non-NFL network cable subscribers, then kick them between the legs
22. Following a game in which he earned an unsportsmanlike conduct penalty for flinging snow in the air, Denver Broncos receiver Brandon Marshall:
(a) Told reporters, "I hope they don't fine me, I can't afford it"
(b) Slipped a diamond-encrusted cross over his black fur coat
(c) A and B
(d) Re-enacted his celebratory antics using a knee-high pile of shredded $100 bills
23. San Antonio Spurs guard Tony Parker:
(a) Claims he did not sleep with a French fashion model
(b) No, seriously, he claims that
24. According to an Arkansas television station, a 5-year-old boy who is descended from Davy Crockett shot and killed:
(a) A 445-pound bear
(b) Paul Bunyan's ox
(c) A unicorn
(d) Tim Tebow
25. Actor Chuck Norris:
(a) Faxed a congratulatory note to Heisman Trophy winner Tim Tebow
(b) Faxed congratulatory notes to the other Heisman finalists after allowing them to live
ANALOGIES

26. Bobby Petrino : I'm staying as Falcons coach
(a) JFK : We choose to go to the moon
(b) Douglas MacArthur : I shall return
(c) Churchill : This is not the end
(d) None of the above
27. Rex Grossman : happy to return if Chicago wants him
(a) Petrino : happy to return if Atlanta wants him
(b) Janet Jackson : happy to return if NFL wants her
(c) Steve Guttenberg : happy to star in "Police Academy 8" if America wants it
(d) All of the above
28. Ernie Els : clutch
(a) Petrino : reliable
(b) Clemens : all-natural
(c) Bill Belichick : dashing
(d) All of the above
EXTRA CREDIT

29. In an interview with Golf Digest, actor Jack Nicholson claimed he once shot:
(a) A 64
(b) A 445-pound bear
30. According to a report in USA Today, a charity formed by Mike Ditka to assist needy former NFL players:
(a) Collected $1.3 million since 2004
(b) Netted only $315,000 after expenses
(c) Distributed just $57,000 to former players
(d) All of the above
(e) Is apparently run by Brandon Marshall
31. A New York Newsday headline stated that:
(a) The Knicks could be the biggest joke in sports history
(b) Made no mention of Barry Bonds' home run records, Roger Clemens' pitching records, the current Miami Dolphins, Bryant Gumbel's play-by-play or the Olympic TripleCast
32. A dog entrusted to guard the pies at the World Pie-Eating Championships:
(a) Ate at least 10 of the pies in a 10-minute span, throwing organizers into a panic
(b) Won
ESSAY QUESTION
According to Forbes, the New York Knicks remain the NBA's most valuable franchise, with a value of $604 million. In 800 words or less, please determine whether this fact is: (a) ironic; (b) a simple reflection of the New York metropolitan area population base and economy; (c) hardly surprising in a nation that makes Britney Spears a multimillion-dollar recording artist; (d) indirect proof of the Marxist notion that capitalism's obsession with profit and capital accumulation tends to dissolve and destroy all qualitative social value.
ANSWER KEY: 1, a, mostly because of expected snow; 2, d, and yeah, we went there; 3, a, and really, he should have been the guest of honor; 4, c, and HI DR. MILLMAN!; 5, e, Clemens literally has a sore ass; 6, b; 7, all answers valid; 8, d, even though b is technically correct and c would be a marked improvement; 9-10, a; 11, c, and it's probably time to stop ripping Isiah and start figuring out what he's doing right, since he's still employed; 12, c, just kidding about not ripping Thomas; 13, a-c, we wish Lee nothing but the best; 14, d, but hey, at least the ticket prices are ... never mind; 15, trick question, God clearly roots for Tom Brady; 16, d, maybe Kelly was attempting the Jedi mind trick; 17, a; 18, d, seriously; 19, a and b; 20-22, c; 23, a, and congratulations to Parker for scoring a recorded human history first; 24-25, a; 26-28, d; 29, a; 30, d; 31, a-b; 32, a; Essay Question: all options valid! Happy Holidays!