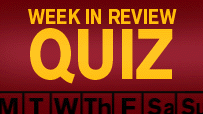 Paid attention to the week in sports -- and other stuff, like the perplexing schizophrenia of a species that can put footprints on the moon but can't halt the alarming spread of Spears family DNA -- that was? Put your powers of recall and observation to the test with our weekly quiz:
1. Which of the following was NOT cited in a Yahoo! article as one of four reasons "Men Don't Talk"?
(a) Guys are a little intimidated
(b) Guys need to decompress
(c) Guys are more comfortable with actions than feelings
(d) Guys don't want to be put on the spot
(e) Guys have been named in the Mitchell report; they will talk at the appropriate time in the appropriate way
2. Roger Clemens:
(a) Has not used banned substances at any time in his baseball career or, in fact, his entire life
(b) Thinks you are dumb
3. In a written statement issued by his agent, Clemens expressed disappointment that he "apparently has not earned the benefit of the doubt" despite his:
(a) "25 years in public life"
(b) 25 years of serving society by working in schools, police stations, firehouses, legislative offices and other public institutions
(c) 25 years of throwing a baseball for exorbitant sums of money
(d) A and C
4. Clemens also asked that:
(a) People not rush to judgment
(b) People not engage in respiration
5. New York Yankees pitcher Andy Pettitte:
(a) Is sorry he took HGH for two days
(b) Is sorry he took HGH for two days, even though he only took it to heal an injury and help his team, as opposed to trying to gain a performance advantage
(c) Is sorry he took HGH for two days, even though he only took it to heal an injury and help his team, as opposed to trying to gain a performance advantage, assuming any of that can even be considered an error in judgment in the first place, and if it somehow is, that's on you, not him, anyway
(d) Is sorry?
6. In order to "send a message to kids that steroid use is not the way to succeed in sports," Rep. Bobby Rush (D-Ill.) announced he will introduce federal legislation aimed at strengthening drug testing in:
(a) MLB
(b) That other league, in which Shawne Merriman makes the Pro Bowl
7. Rush also admitted that performance-enhancing drug use in sports is not the "No. 1" priority of the American people, something made clear by Congress:
(a) Holding a recent hearing on NFL Network games not being widely available on cable
(b) Awarding Congressional gold medals to the members of the 1980 U.S. Olympic team
(c) Passing a resolution this week honoring the Colorado Rockies for reaching the World Series
(d) All of the above, which is 100 percent true. Viva democracy!
8. The Miami Dolphins:
(a) Won
(b) No, seriously, they did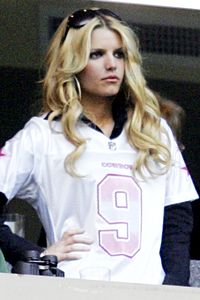 9. Identify the image to the right:
(a) The woman you always see standing in front of Joe Simpson
(b) A situation Terrell Owens needs to rectify
(c) Someone Tony Parker reportedly hasn't slept with
(d) All of the above
10. Of the following, who was NOT named to Forbes magazine's list of the world's most influential infants?
(a) Shiloh Jolie-Pitt
(b) Suri Cruise
(c) Sean Preston Federline
(d) Mike Gundy
11. New York Knicks coach Isiah Thomas questioned the "heart," "courage" and "pride" of:
(a) His team, after it lost at home to Indiana by 27 points
(b) Knicks owner James Dolan, who continues to employ Thomas in a basketball management capacity
12. When Thomas said, "I can't give you pride and heart … [but] I can give you a lot of things," he was referring to:
(a) $30 million for Jerome James (b) $11.5 million for Anucha Browne Sanders (c) Bankruptcy, if you're the CBA (d) ¿Como?
13. Thomas asked reporters for:
(a) Two more weeks on the job
(b) A pony
(c) A hamburger now in exchange for future compensation
(d) An octopus's garden in the shade
14. Invoking a team policy stating that "any interference with the enjoyment of another guest's experience will result in … possible ejection from the facility," Madison Square Garden security ejected:
(a) Thomas
(b) Dolan
(c) The Knicks
(d) A fan holding a "Fire Isiah" sign
15. A disgruntled Knicks fan protested Thomas by:
(a) Standing outside Madison Square Garden holding an 8-by-4-foot mock pink slip
(b) Organizing the first meeting of the Herb Williams Appreciation Society
(c) Lying down, Tinanmen Square-style, between Eddy Curry and the team's post-practice buffet table
(d) Using a spoon to dig an underground tunnel from New York to Boston's TD Banknorth Garden
16. Which of the following headlines is the most surprising?
(a) Cardinals' Whisenhunt rues "disappointing" season
(b) Coughlin tells Giants it is time to refocus
(c) Lakers' Brown still isn't ready
(d) Islanders' Simon gets 30-game suspension
(e) Hank Steinbrenner keeping door open for Johan Santana
(f) NFL rejects Pacman Jones suspension appeal
(g) None of the above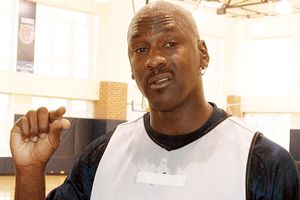 17. What is Michael Jordan doing in the picture to the right?
(a) Demonstrating the odds that he would select Adam Morrison over Rudy Gay and Brandon Roy, if given a 2006 draft do-over
(b) Showing how much cartilage remains in his knees
(c) Assessing the extent to which his underwear ads with Kevin Bacon and Cuba Gooding Jr. are NOT weirdly homoerotic
(d) Talking to reporters after participating in a Charlotte Bobcats practice
18. While practicing with the Bobcats, Jordan reportedly:
(a) Taped over the adidas logo on his team practice jersey
(b) Had the team towel rack stocked with Hanes underwear
(c) Soaked his sore legs in a tub of Gatorade Ice
(d) Force-fed Jason Richardson a McSkillet breakfast burrito while tattooing a Nike swoosh on his forehead with a Rayovac battery-powered ink machine
19. When Jordan reportedly told the Bobcats "you have no All-Stars! None!" he was referring to a roster constructed by:
(a) The team's part-owner with oversight of basketball operations, whoever that guy is
(b) Ooops
20. The NCAA:
(a) Introduced new limits to how often bloggers can post while attending NCAA events
(b) Would extend their jurisdiction to Curt Schilling if they had any sense of civic duty
(c) Wants to keep sassy, free-thinking, freedom-loving bloggers from overthrowing the oppressive Orwellian media megacorporations hell-bent on preserving a tenuous information monopoly that trades truth for profits and hot ashes for trees
(d) Should really leave C to us, thank you very much
21. Pete Rose:
(a) Once lived with personal-trainer-cum-betting-buddy Paul Janszen, an admitted steroid dealer
(b) Has a son who pleaded guilty to steroid distribution
(c) Took "greenies" -- that is, amphetamines -- as a player
(d) Said steroid users are making "a mockery of the game"
(e) All of the above
22. When Rose told Dennis Miller, "If you're gonna put these guys that supposedly did steroids into the Hall of Fame, I mean, I gotta get a shot somewhere," he was referring to:
(a) Himself in Cooperstown
(b) Winstrol in the butt
23. A Canadian man:
(a) Reportedly racked up an $85,000 cell phone bill
(b) Wait -- Kelvin Sampson's from Canada?
24. Florida State suspended 23 football players from playing in the upcoming Music City Bowl for:
(a) Academic misconduct involving cheating on an online test
(b) Athletic misconduct, given that Seminoles are playing in the Music City Bowl
25. When Florida State coach Bobby Bowden said his staff was "determining what adjustments we must make for the game," he was referring to:
(a) Canceling charter flight reservations
(b) Renting a large passenger van
(c) Scaring up some tennis team walk-ons
(d) Possibly all of the above
Analogies

26. Rory Sabbatini : shin splints
(a) Andy Pettitte : two days
(b) Brian Roberts : just once
(c) Lindsay Lohan : someone else's coke-filled pants
(d) All of the above
27. Elijah Dukes : domestic violence charge dismissed
(a) Cam Cameron : winning game as NFL head coach
(b) Blind squirrel : proverbial acorn
(c) Page 2 weekly quiz : laugh-out-loud funny
(d) All of the above
Extra credit

28. Former NBA player Keon Clark, an admitted alcoholic, said in court that:
(a) He never played a professional game sober
(b) He used to drink during halftime
(c) A and B
(d) He probably could still help the Knicks right now
29. St. Louis Rams quarterback Marc Bulger's return from a concussion reportedly was delayed after:
(a) An errant practice throw by a teammate struck him in the head
(b) The Rams signed Rex Grossman?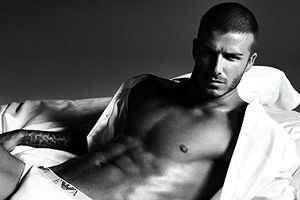 30. According to pop singer Victoria Beckham, wife of soccer star David, which of the following most closely resembles the contents of his undershorts?
(a) A tractor exhaust pipe
(b) An LGM-118A Peacekeeper ICBM
(c) North America's only copy of the Magna Carta
(d) Diego Maradona
Essay question
According to Yahoo! Sports, Big Ten referee Stephen Pamon has a history of bankruptcy, was fired from the Chicago Police Department after accusations of sexual harassment, was charged with repeatedly beating three of his girlfriend's sons with an electrical cord and was accused by a former wife of striking her and assaulting a 19-year-old niece.
In 800 words or less, discuss whether league officials should be mildly concerned.
ANSWER KEY: 1, e; 2, b, a is hearsay; 3, d, and does the Rocket want a cookie or something?; 4, a, and whatever, dude; 5, d; 6, a, nobody who weighs 260 pounds with 6.5 percent body fat and can run a 4.5 40 could possibly be using performance-enhancing drugs; 7, d, America, [expletive] yeah!; 8, a-b, go look it up; 9, d; 10, d, and wahhh!; 11, a; 12, d, and dios mio!; 13, a, and at least he didn't ask for a troop surge; 14, d, stay classy, MSG; 15, a, although d is bound to happen sooner or later; 16, g; 17, d; 18, a, and we wonder: Would Jordan give his car keys to a valet wearing Reeboks?; 19, a-b; 20, a; 21, e, then again, is it really fair to fault Rose for inconsistency?; 22-24, a; 25-27, d; 28, c, although in all seriousness, he's gotta be better than Jerome James; 29, a; 30, a, and please -- like Posh Spice has ever seen a tractor!; Essay Question: Any variation of "The Big Ten has nothing to worry about; it's not like the guy has ever failed a steroid test or been linked to HGH" is acceptable.
Patrick Hruby is a columnist for Page 2. Sound off to Patrick here.