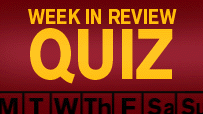 Paid attention to the week in sports -- and other stuff, like choosing to send a new toilet pump to the International Space Station not because it is easy, but because even astronauts can't wear diapers indefinitely -- that was? Put your powers of observation and recall to the test with our weekly quiz:
1. Which of the following individuals reportedly considered retirement?
(a) Vince Young
(b) Brett Favre
2. Citing stress and a lack of fun, Young told NFL.com that he pondered quitting after his first year as:
(a) An infantryman
(b) A firefighter
(c) President
(d) A professional football thrower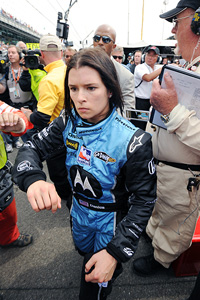 AP Photo/Tom Strickland
Hey Danica, you're looking awfully cross.
3. Identify the image to the right:
(a) Rick Moranis in "Spaceballs"
(b) Danica Patrick at the Indy 500
4. Which of the following news items is made up?
(a) Baby put up for sale on Craigslist
(b) Heartbroken man climbs into morgue freezer
(c) Tank Johnson to mentor Pacman Jones
(d) None of the above
5. Roger Clemens reportedly:
(a) Added another claim to his defamation lawsuit against former trainer Brian McNamee
(b) Is running out of both bullets and feet
6. According to legal documents filed by Clemens, which of the following items have "destroyed" the former pitcher's "good reputation" and made him "the subject of scorn and ridicule"?
(a) Advancement of third ear theory; three-piece suit corollary
(b) Kitchen floor sit-up/football slam-dunking exercise routine
(c) Clandestine taping of phone calls
(d) Press conference water bottle deployment
(e) Desire to share workout secrets with high school players
(f) Congressional testimony
(g) National discussion of bleeding posterior
(h) Spousal HGH injections
(i) Alleged cuddle parties with 15-year-old aspiring country singers
(j) Various purported affairs
(k) General association with Jose Canseco
(l) Specific poolside breast implant showdown involving Canseco
(m) None of the above
7. New York Yankees pitcher Joba Chamberlain told reporters he text-messages Clemens for:
(a) Public relations advice
(b) Relationship counseling
(c) Legal suggestions
(d) Pitching and workout tips
8. NASA's Phoenix Mars Lander will explore the northern polar region of Mars in order to determine:
(a) The ability of Martian soil to support life
(b) David Beckham's scoring range
9. According to the Philadelphia Daily News, Canseco will fight in an Atlantic City celebrity boxing match against:
(a) Vai Sikahema
(b) Dave Meggett
(c) Eric Metcalf
(d) Mel Gray
10. Discussing his interest in boxing, which of the following athletic skills did Canseco NOT cite as necessary for success?
(a) Hand-eye coordination
(b) Hand and foot speed
(c) Depth perception and balance
(d) Nunchaku proficiency
11. Tennis player Ashley Harkleroad announced that:
(a) She posed for the August edition of Playboy
(b) She isn't Maria Sharapova, Ana Ivanovic or Anna Kournikova, but thanks for asking
12. Chicago Bulls center Joakim Noah was arrested in Florida while allegedly:
(a) Possessing a small amount of marijuana
(b) Holding a clear plastic cup containing cognac
(c) Wearing a smoking jacket
(d) A and B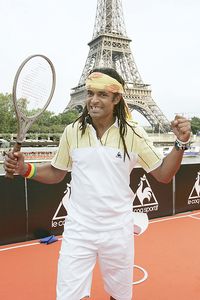 Sipa via AP Images
Hey, it's the offseason, right Yannick?
13. Noah's father, former tennis pro Yannick Noah, told reporters in France that he:
(a) Didn't understand all the fuss over just drinking a beer on the street
(b) Has never read a sports blog
14. Which of the following individuals has a good chance of making it as a major league hitter?
(a) Theo Fleury
(b) Billy Crystal
(c) Chris Gaines
(d) Michael Jordan
(e) None of the above
15. Sammy Sosa told a Dominican newspaper that he is:
(a) Not retired
(b) Not looking for a job
(c) Still highly focused
(d) Not begging for a contract
(e) All of the above
(f) Confused
16. A Canadian minor league baseball team traded pitcher John Odom for:
(a) Ten maple bats
(b) Five cartons of Big League Chew
(c) Two magic beans
(d) Kwame Brown
17. Which of the following is more embarrassing than getting traded for 10 maple bats?
(a) Getting traded for five maple bats
18. Which of the following news items are probably just coincidental?
(a) Troy Smith confident he can win starting QB job in Baltimore
(b) Kyle Boller still a Raven
(c) None of the above
19. Which of the following news items is extremely surprising?
(a) Bear Stearns shareholders OK buyout by JPMorgan
(b) White House issues climate report four years late
(c) Track coach Trevor Graham found guilty of lying in BALCO case
(d) None of the above
20. Former Duke football and basketball player Reggie Love, now a personal aide to Sen. Barack Obama, reportedly carries a Tide detergent pen in case:
(a) Obama drops food on his tie
(b) He falls asleep at a fraternity party
21. Which of the following was NOT mentioned in a Chinese news agency report on the most common Olympic scams?
(a) Fake ticket Web sites
(b) Selling nonexistent bonds
(c) Fraudulent prizes requiring upfront tax payments
(d) Marion Jones
22. Speaking through a translator, Seattle Mariners outfielder Ichiro assessed four consecutive losses by his club by stating:
(a) "… [if] I was objectively watching what just happened this week, I would probably be drinking a lot of beers and booing"
(b) Probably?
23. Which of the following did golfer Michelle Wie NOT list as one of her goals for the German Open?
(a) Have fun
(b) Keep head on straight
(c) Shoot some low scores
(d) Win professional women's golf tournament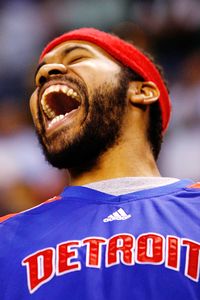 Jim Rogash/Getty Images
Rasheed, mad at the refs? We've never seen that before.
24. When Detroit Pistons forward Rasheed Wallace said "it's all entertainment," he was referring to:
(a) Flopping by opponents
(b) His [bleeping] description of [bleeping] flopping by [bleeping] opponents. [Bleep]
25. Which of the following e-mail excerpts best supports Seattle SuperSonics co-owner Aubrey McClendon's claim that he and other team owners "poured their heart and soul" into attempting to keep the team in Seattle?
(a) McClendon writing "the truth is we did buy [the team] with the hope of moving it to Oklahoma City"
(b) Co-owner Tom Ward writing "I am willing to help any way I can to watch ball here [in Oklahoma City] next year"
(c) Principal owner Clay Bennett writing that he was a "man possessed" to move the team to Oklahoma City
(d) McClendon writing that his large political contributions to an anti-gay marriage committee would only improve Oklahoma City's chances of getting the team
(e) None of the above
ANALOGIES
26. Willie Randolph : New York Mets manager
(a) Joe Paterno : Penn State football coach
(b) John Roberts : Supreme Court justice
(c) Kim Jong-il : Beloved leader
(d) None of the above
27. Joey Crawford : San Antonio Spurs games
(a) Fox : Henhouse
(b) All of the above
28. NBA : Brent Barry was fouled
(a) Scott McClellan : False information was spread
(b) Sharon Stone : Sorry about that Chinese earthquake karma stuff
(c) O.J. : [If] I did it
(d) All of the above
29. Mariah Carey : First pitch
(a) Carl Lewis : National anthem
(b) Michel Fournier : Helium balloon management
(c) Isiah Thomas : Everything he touches that is not an actual basketball
(d) All of the above
30. Hockey : Goalie masks
(a) Football : Face bars
(b) Auto racing : Helmets
(c) Little League handshake lines : Mouthpiece, headgear
(d) All of the above
EXTRA CREDIT
31. An international soccer match in Prague featured:
(a) The Latvian flag
(b) Photos of Latvia's national soccer team in the game program
(c) A pregame playing of the Latvian anthem
(d) The Czech Republic versus Lithuania
(e) Oops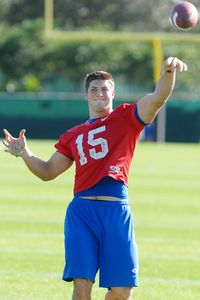 AP Photo/Phelan M. Ebenhack
Is Tebow some sort of God-child?
32. According to the Gainesville Sun, Florida quarterback Tim Tebow:
(a) Hit a number of 370-yard drives at a local golf course
(b) Was mistakenly using his wedge
33. Detroit Tigers manager Jim Leyland:
(a) Told reporters that designated hitter Carlos Guillen is playing with hemorrhoids that probably need to be lanced
(b) Did not immediately vomit
(c) Is made of sterner stuff than us
(d) All of the above
34. Which of the following were taken off the air for being "too entertaining"?
(a) NBA playoff games on Chinese state television
(b) "ESPN Hollywood"
ESSAY QUESTION
According to an NPR report, American shot-putter Adam Nelson is working with a sports hypnotherapist who provides "deep and profound sensory comprehensive subconscious power experiences."
In 800 words or less, translate the above into English.
ANSWER KEY: 1, a; 2, d, and on the other hand, a $26 million signing bonus can buy a lot of Prozac; 3, b; 4, d, and what could possibly go wrong?; 5, a, and if Roger's campaign to clear his good name was a racehorse, it would be sharing a stable with Barbaro and Eight Belles; 6, m, and thanks to Clemens for the longest Page 2 quiz item ever!; 7, d, and what could possibly go wrong?; 8-9, a; 10, d, and an obvious oversight; 11, a; 12, d, though c would have been awesome; 13, a, though b seems very likely; 14-15, e; 16-17, a, and oh, minor league baseball, will your calculated wackiness never cease to amuse?; 18, c; 19, d; 20, a; 21, d, and an obvious oversight; 22, a, and by the way, why does Ichiro still need a translator?; 23, d, and good to see she's being realistic; 24, a; 25-26, d; 27, a-b; 28-30, d; 31, e, and we thought we needed a copy desk; 32, a; 33, d; 34, a; Essay Question: any variation on "Darren Daulton is working as an Olympic sports hypnotherapist? Sweet!" is acceptable.
Patrick Hruby is a columnist for Page 2. Sound off to Patrick here.