Commentary
LeBron James & Co. are Heatles indeed!
Originally Published:
April 13, 2011
By
Adam Reisinger
| Special to Page 2
Earlier this season, LeBron James compared his Miami Heat to the Beatles for their ability to draw large crowds in opponents' arenas.
"I see we sell out 99.1 percent on the road, so we call ourselves the Heatles off the Beatles," James said Jan. 3. "So every time we take our show on the road we bring a great crowd."
Who are we at Page 2 to argue? Especially when it allows us to spoof perhaps the greatest album cover ever, "Sgt. Pepper's Lonely Hearts Club Band," with a decidedly NBA flavor.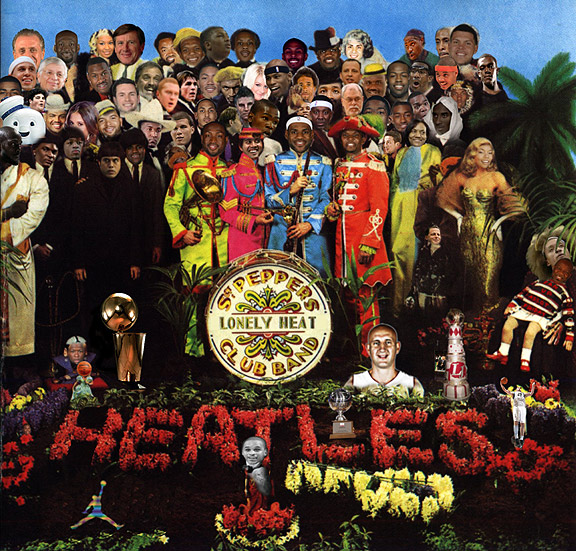 Adam Reisinger/ESPN.com
How many of the 80 revised figures can you name? (Five others are unchanged because of space constraints, and two blank spots from the original have been left intact.) See our clues below, and click go to the answers page after you've exhausted your eyeballs.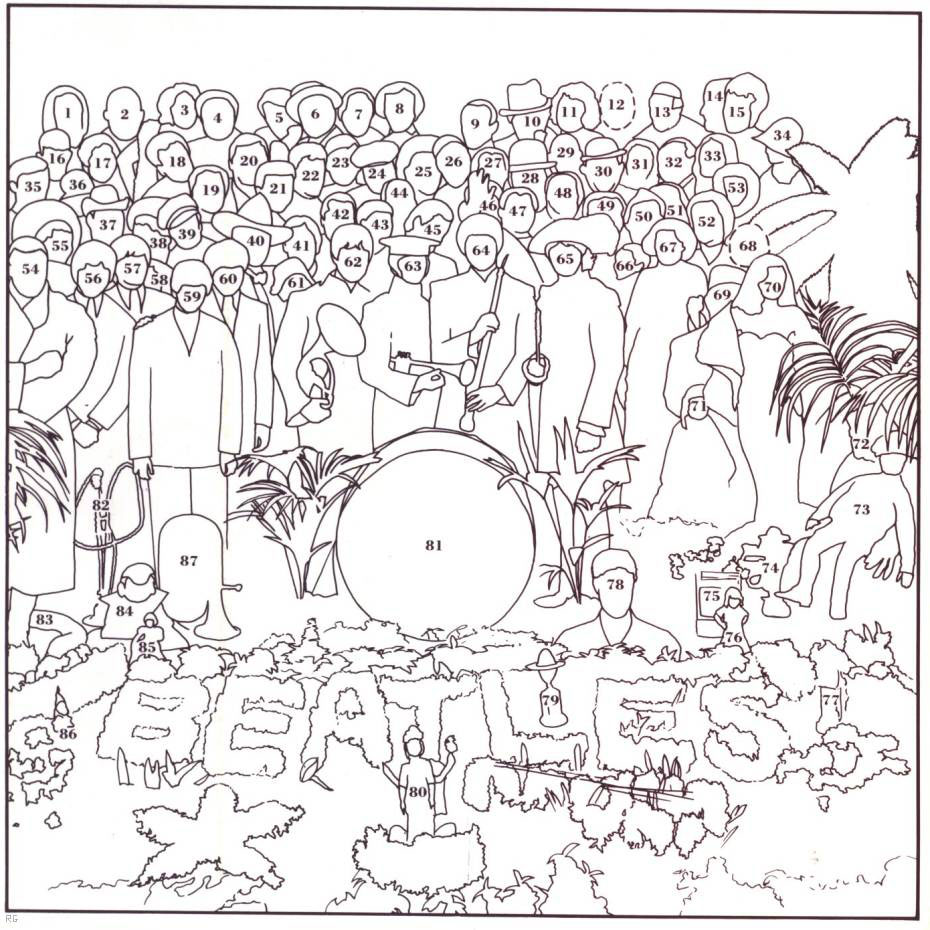 EMI
• Click here to see a larger image of the Heatles album cover
• Click here to cheat and go directly to the answers
1 -- Largely responsible for assembling the Heatles
2 -- Inside nemesis of Heat in 2006; late-arriving Heatle this season
3 -- "Queen of Akron"
4 -- The Association's leader in sartorial splendor
5 -- Signed illegal contract with Heat in '90s; returned as Heatle this season
6 -- This Heatle won the 2011 All-Star 3-point contest
7 -- The only rookie Heatle
8 -- This Heatle will always have something he can hold over Derrick Rose
9 -- Free this Heatle!
10 -- Canada's gift to Miami by way of UNLV
11 -- This Heatle was exiled to Beantown
12 -- (blank spot on original cover)
13 -- Heatles anxiously await his return
14 -- Former Hornets All-Star turned backup Heatle
15 -- Former NBA Rookie of the Year on the roster NOT named LeBron
16 -- This newest Heatle was the No. 2 overall pick in the 1998 NBA draft
17 -- It's bad news for NBA fans if he grows a beard in September
18 -- He's a bear on defense
19 -- Sharpshooting poet
20 -- This rival coach said, "It's not all Miami and New York. I know to ESPN it is, but to the rest of us, we actually think some of the rest of the teams matter."
21 -- The redheaded former Celtics legend (no, not Walton)
22 -- LeBron now signs a portion of this legend's paychecks
23 -- MVP! MVP! MVP! (to everyone except John Hollinger)
24 -- He raffled off what the Heatles hope to win this year
25 -- This Heat Dancer's favorite movie is "Top Gun." Hey, we never said this quiz was gonna be easy
26 -- This guy gets buckets
27 -- His pro career easily outlasted those of college teammates Keith Van Horn and Michael Doleac
28 -- Florida's current Superman
29 -- Defensive guru drew up blueprint for three wins over Heatles
30 -- Florida's (and LA's and Phoenix's and Cleveland's) former Superman
31 -- Put Chris Bosh on the most popular poster in Detroit
32 -- He's No. 1 in New York …
33 -- … and he's No. 1a (or No. 7)
34 -- Heatles huddle-crasher
35 -- Former Heatle lighting it up in Oaktown
36 -- Deron Williams launched him into Internet fame
37 -- He isn't a role model, but he likes doughnuts (wink)
38 -- This Heat Dancer's dream job is being CEO of an accounting firm
39 -- The cornerstone in Mikhail Prokhorov's blueprint for success
40 -- Forget the Heat; this guy thinks the Lakers are soft
41 -- 2011 NBA slam dunk champion
42 -- Stood up to the Heat AND Charlie Villanueva
43 -- He hated the Heat before it was cool (since, oh, June 2006 or so)
44 -- Former Miami (Ohio) star has no shortage of consonants
45 -- He said, "There's a lot of fake tough guys in this league and [Chris Bosh]'s one of them."
46 -- Gilbert Arenas got out of town so this guy could drop 38 on Miami
47 -- Gilbert Arenas once defecated in this poor guy's shoe
48 -- He said, "If things don't straighten out here soon, it could be the Van Gundy thing all over again."
49 -- Allegedly scored 39 against Heat, but the tapes were confiscated
50 -- Threw a punch at Big Z
51 -- He scored 46 points -- including 11 in the final 28 seconds of regulation -- in overtime win against Heat
52 -- Took his talents to the NBA long before LeBron took his to South Beach
53 -- Mr. Big Shot is part of his own Big … 2½?
54 -- Coined the term "Ceatles" in 2008
55 -- The Daily Dime Live-inspired version of Eddy Curry
56 -- No. 4 overall pick in 2003 NBA draft
57 -- No. 5 overall pick in 2003 NBA draft
58 -- (unchanged -- space too small)
59 -- First NBA head coach of Filipino heritage is actually older than Juwan Howard.
60 -- No. 1 overall pick in 2003 NBA draft
61 -- We swear he played for the Heat this season! Really!
62 -- He said, "There's no secret that myself and Chris and LeBron are all good friends. We all came into this league together and played together."
63 -- He said, "There are a couple of guys crying in the locker room."
64 -- He said, "In this fall, this is very tough, in this fall I'm going to take my talents to South Beach and join the Miami Heat."
65 -- He said, "I'm a winner, Dwyane's a winner and we're going to bring winning to Miami."
66 -- LeBron's 2009 playoff nemesis returned to Florida this year
67 -- She bought LeBron a Hummer H2 for his 18th birthday
68 -- (blank spot on original cover)
69 -- (unchanged -- space too small)
70 -- Has this former "FlashForward" star seen future of Heatles?
71 -- He wrote, "I PERSONALLY GUARANTEE THAT THE CLEVELAND CAVALIERS WILL WIN AN NBA CHAMPIONSHIP BEFORE THE SELF-TITLED FORMER 'KING' WINS ONE"
72 -- Former No. 2 overall pick, exiled to Minnesota
73 -- The creator of Ascot Friday
74 -- (unchanged -- space too small)
75 -- "You're better than that"
76 -- Every player should get one of these on his 26th birthday
77 -- Mr. Double-Double
78 -- The former Cav who didn't use a one-hour special to take his talents to South Beach
79 -- We wonder how James Jones got this home from L.A. in February
80 -- Jameerkat Manor
81 -- This instrument's head has been slightly modified from the original cover
82 -- (unchanged -- space too small)
83 -- (unchanged -- space too small)
84 -- Can he still be kryptonite in Thunder blue?
85 -- A pumpkin with David Stern's autograph on it
86 -- This Rocket listed "basketball" as his hobby on his player bio at Villanova
87 -- The Heatles' ultimate goal
• Click here to reveal the answers
Adam Reisinger is an editor for ESPN.com.