Commentary
Remember the '80s: The iconic moments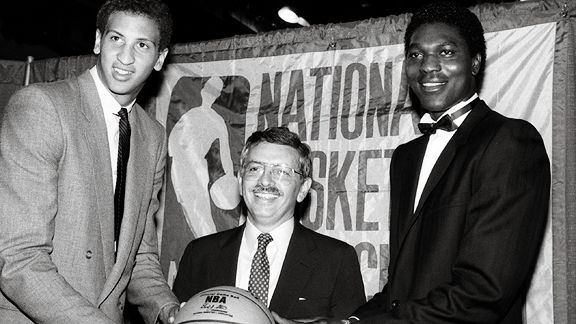 AP Photo/Marty LederhandlerCommissioner David Stern with the top two picks of the 1984 draft. Not pictured: Michael Jordan.
For the first 40 iconic moments of the '80s, click here.
Song title: Tears are Falling / Kiss
Maradona would eventually admit he purposely punched the ball with his hand.
Song title: Bust A Move / Young MC
Maradona dribbled over half the length of the field around five players and scored the goal voted Goal of the Century by FIFA in 2002. Argentina won 2-1. England still bitter.

43. Chaminade players sitting on the rim after shocking No. 1 Virginia in 1982
Song title: Dreams / Van Halen
The Cavaliers were 8-0, ranked No. 1, and had just defeated Houston and Hakeem Olajuwon -- without an ill Ralph Sampson. Chaminade, an NAIA school at the time, was coming off a loss to Wayland Baptist. How big of an upset was it? According to a 2007 story in USA Today, Chaminade's part-time coach, Merv Lopes, had a salary of $2,000 and a recruiting budget of $34. The school was apparently set to change its name to the University of Honolulu but stayed with Chaminade after the upset.
Six other 1980s upsets not covered elsewhere on this list:
(1) Boris Becker would win Wimbledon three times and advance to the final three other times between 1985 and 1991. In 1987, however, he was upset in the second round by an unknown named Peter Doohan.
(2) DePaul, led by Mark Aguirre, entered the 1981 NCAA tournament 27-1 and ranked No. 1. In their opening game, the Blue Demons failed to score in the final six minutes and lost 59-57 to Saint Joseph's.
(3) Georgia Tech 24, Alabama 21, Sept. 12, 1981. Tech would finish 1-10, Bama 9-1-1 in the regular season. Tech's coach? Future Bama coach Bill Curry.
(4) 1982 Smythe Division semifinals: Kings over Oilers in five games. Edmonton was 48-17-15, good for 111 points, second-best in the NHL. The Kings finished 24-41-15. Edmonton led 5-0 in Game 3 after two periods but lost 6-5 in overtime.
(5) Villanova stuns Georgetown in 1985 NCAA final.
(6) Notre Dame hires high school coach Gerry Faust.
Song title: Doctor, Doctor / Thompson Twins
Almost as iconic as Erving's afro and knee pads from the '70s.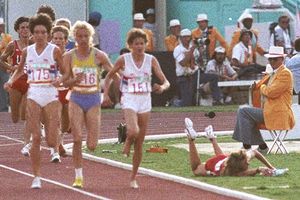 AP Photo/TenenbaumMary Decker's gold medal dreams ended with a shocking fall.
Song title: Mary, Mary / Run D.M.C
Perhaps the lasting memory of the '84 Olympics, even more than Carl Lewis' four gold medals or Mary Lou Retton's gymnastics gold, is Decker sprawled out, crying, on the infield grass at the Los Angeles Coliseum after colliding with the barefooted 18-year-old South African who had controversially been granted British citizenship.
46. The sight of Oklahoma quarterback Charles Thompson being led off in cuffs and orange jumpsuit
Song title: Smooth Criminal / Michael Jackson
For those who hated the Sooners, Barry Switzer and the renegade nature of the program, this was a day of exultation: The team's star quarterback arrested for dealing cocaine and later appearing on the cover of Sports Illustrated with the headline "HOW BARRY SWITZER'S SOONERS TERRORIZED THEIR CAMPUS." Switzer resigned and an era was over.
47. Roger Clemens strikes out 20 Mariners
Song title: Rocket / Def Leppard
Clemens had reached the majors in 1984, a year after getting drafted (18 players were selected ahead of him) and went 9-4 with a 4.32 ERA. Injuries limited him to 15 starts in 1985 and he went 7-5 with a 3.29 ERA. But he announced his presence in his fourth start of 1986, before just over 13,000 fans at Fenway Park. He struck out Spike Owen, Phil Bradley and Ken Phelps in the first inning. In the fifth, Jim Presley, Ivan Calderon and Danny Tartabull all took called third strikes. By the ninth, Clemens needed two more K's for the record. He got Owen, his former University of Texas teammate, swinging, and then Bradley looking.
By the way, since Clemens gave up a run in the game, it doesn't rank as one of the 10 best since 1986, according to game score, a statistic that rewards points for innings and strikeouts and subtracts points for hits, walks and runs. The 13 times a pitcher has recorded a game score of 99 or better since 1986:
Kerry Wood, Cubs, 5-6-88: 9 IP, 1 H, 0 R, 0 BB, 20 SO (105)
Jose DeLeon, Cardinals, 8-30-89: 11 IP, 1 H, 0 R, 0 BB, 8 SO (103)
Nolan Ryan, Rangers, 5-1-91: 9 IP, 0 H, 0 R, 2 BB, 16 SO (101)
Nolan Ryan, Rangers, 8-17-90: 10 IP, 3 H, 0 R, 0 BB, 15 SO (101)
Randy Johnson, D-backs, 5-18-04: 9 IP, 0 H, 0 R, 0 BB, 13 SO (100)
Curt Schilling, D-backs, 4-7-02: 9 IP, 1 H, 0 R, 2 BB, 17 SO (100)
Hideo Nomo, Red Sox, 5-25-01: 9 IP, 1 H, 0 R, 0 BB, 14 SO (99)
Roger Clemens, Blue Jays, 8-25-98: 9 IP, 3 H, 0 R, 0 BB, 18 SO (99)
Bobby Witt, A's, 6-23-94: 9 IP, 1 H, 0 R, 0 BB, 14 SO (99)
David Cone, Mets, 10-6-91: 9 IP, 3 H, 0 R, 1 BB, 19 SO (99)
Erik Hanson, Mariners, 8-1-90: 10 IP, 2 H, 0 R, 0 BB, 11 SO (99)
Nolan Ryan, Rangers, 6-11-90: 9 IP, 0 H, 0 R, 2 BB, 14 SO (99)
Nolan Ryan, Rangers, 4-26-90: 9 IP, 1 H, 0 R, 2 BB, 16 SO (99)
Clemens' game against Seattle (9 IP, 3 H, 1 R, 0 BB, 20 SO) records a 97, as does his other 20-strikeout game, against Detroit in 1996 (he allowed five hits that night).
[+] Enlarge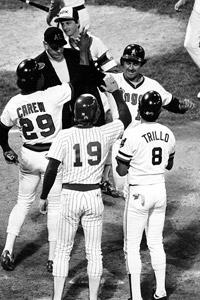 AP Photo/Fred JewelFred Lynn receives high-fives from Rod Carew, Robin Yount and Manny Trillo.
48. Fred Lynn's grand slam in 1983 All-Star Game
Song title: Centerfield / John Fogerty
If you're younger than 25, you may find this hard to believe: the Major League Baseball All-Star Game used to be one of the biggest sporting events on the calendar. And back in the days before fantasy baseball ruined allegiances, you were either an American League fan or a National League fan (although everybody still hated the Yankees). If you're younger than 25 you may also find this hard to believe: The National League used to be the better league. From 1963 to 1982, it won 18 of 19 All-Star contests. If you were an AL fan, it sucked. Every July, you had to listen to how the NL was superior, had pitchers who challenged you with fastballs (like men), and didn't use schlumpy guys like Greg Luzinski at designated hitter, because its players could actually field and run. It sucked because it was pretty much true. But then Lynn hit his grand slam off Atlee Hammaker at Comiskey Park, the AL romped 13-3, and now the AL has won 17 of the past 21 All-Star Games (with one tie).
Song title: Let's Dance / David Bowie
What a sports career Ainge has had: the mad dash for BYU, a member of Celtics championship teams, getting bit by Tree Rollins during a playoff brawl, shoving Jordan in the '93 Finals, hiring a hypnotist for former teammate Kevin McHale to acquire Kevin Garnett, and hitting .187 for the '81 Blue Jays.
Song title: It's the End of the World / R.E.M.
Smith won three Cups with the Oilers but is more remembered for this play than lasting 16 seasons in the NHL. On the bright side, it's not the most recognized blunder of 1986.
51. Bo Jackson runs over Brian Bosworth
Song title: Break My Stride / Matthew Wilder
How many Bo highlights could we have included? There was the catch in which he ends up running up the outfield wall. There was the throw from deep in the left field corner that nailed Harold Reynolds at home plate. There was the monstrous home run leading off the 1989 All-Star Game. There was the time he struck out (which he did often) and broke the bat over his enormously muscled thigh. But nothing tops the time Bo bulldozed Boz.
Song title: Eye of the Tiger / Survivor
Three of the most vicious, brutal rounds in boxing history, with the fighters going toe-to-toe from the opening bell.
53. Eric Heiden wins fifth speedskating gold at 1980 Olympics
Song title: I Want It All / Queen
There are five speedskating distances. Eric Heiden won them all at Lake Placid. It would be like Carl Lewis winning the 100 meters, the 400, the 800, the 1,500 and the 5,000. Except on skates. And in much colder weather.
54. Knicks "win" Patrick Ewing lottery
Song title: Would I Lie to You? / Eurythmics
55. The ball rolls through Leon Durham's legs as Cubs blow '84 playoffs
Song title: Legs / ZZ Top
Hey, they weren't going to beat the Tigers in the World Series anyway.
[+] Enlarge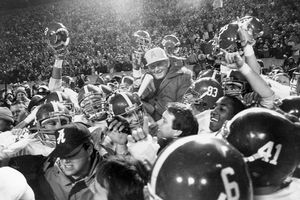 AP Photo/Tannen MauryBear Bryant coached Alabama to 24 consecutive bowl games.
56. Bear Bryant carried off the field by Alabama players after winning 1982 Liberty Bowl
Song title: Holding Back the Years / Simply Red
He would die a month later.
57. Jerome Lane's "Send it in Jerome!" dunk that shatters the backboard
Song title: Expess Yourself / NWA
58. Darrell Waltrip does the Ickey Shuffle after winning the 1989 Daytona 500 (his first win after 17 tries)
Song title: I Can't Drive 55 / Sammy Hagar
Ahh, yes, the Ickey Shuffle ... a remnant of the days when NFL players were allowed to celebrate touchdowns.
59. Isiah Thomas scores 25 points in third quarter in Game 6 of '88 Finals on sprained ankle
Song title: One Foot Out the Door / Van Halen
Doesn't receive the recognition it deserves since the Lakers won the game 103-102 (and then the series in seven games), but one of the more remarkable performances in playoff history since Thomas played the final four minutes of the quarter after severely spraining his ankle.
60. Devils coach Jim Schoenfeld to referee Don Koharski: "Have another doughnut!"
Song title: Eat It / Weird Al Yankovic
61. Moses Malone predicts Sixers will go "Fo, fo, fo" in 1983 playoffs
Song title: Another One Bites the Dust/ Queen
Because the Lakers-Celtics rivalry ended up growing bigger and more intense throughout the decade, it's easy to forget that in the early '80s the Sixers were every bit their equals on the national stage. They had won 59 games in 1979-80, only to lose in the Finals to the Lakers. They won 62 games in 1980-81 but lost to the Celtics in the East finals. In 1981-82, 58 wins but another Finals defeat to the Lakers. For the 1982-83 season, they added Malone, the reigning MVP, stealing him from the Rockets for Caldwell Jones and a No. 1 pick. With Malone, Dr. J., Andrew Toney, Mo Cheeks and Bobby Jones, the Sixers rolled to a 65-17 record (Malone was MVP again). Before the playoffs, Malone predicted the Sixers would go "Fo, fo, fo" -- in other words, they'd sweep all three rounds. He wasn't far off; they went 12-1, losing only Game 4 of the East finals to the Bucks, and they swept the Lakers for the title.
62. Bull Durham released, revitalizes minor league baseball
Song title: Boys of Summer / Don Henley
"Yeah, I was in the show. I was in the show for 21 days once -- the 21 greatest days of my life. You know, you never handle your luggage in the show, somebody else carries your bags. It was great. You hit white balls for batting practice, the ballparks are like cathedrals, the hotels all have room service, and the women all have long legs and brains."
The movie was smart, funny and sexy and unfortunately led to Robert Wuhl's starring role in "Arli$$." While it's not accurate to give the movie full credit, it did help play an important part in the revitalization of minor league baseball in the past 20-plus years. Go back 60 years. In 1949, there were 59 minor leagues and 448 clubs; leagues like the Tobacco State League and Kitty League and Big State League (all the teams were in Texas, and Frank Saucier of Wichita Falls hit .446). There was the Georgia-Alabama League, which was different from the Georgia-Florida League, which was different from the Georgia State League. The minor leagues drew 39.6 million fans that year; along with movies and ice cream counters and the backseats of '39 Buicks, it was the primary form of entertainment in America.
And then television arrived and the minor leagues died. By 1964 there were 132 teams and attendance had dipped to 10 million. The revitalization kicked off in the late '70s and early '80s (Louisville drew a million fans in 1983), but "Bull Durham" helped stir new interest and new money in the game. New ballparks replaced old relics like Durham Athletic Park. Attendance, which had reached 20 million in 1987 for the first time since 1953, reached a new record of 43.2 million in 2008.
63. No. 1 Miami beats No. 2 Florida State 26-25 in 1987 when Bubba McDowell knocks down Danny McManus' two-point attempt in the final minute
Song title: Rock You Like a Hurricane / Scorpions
Yes, before there was Wide Right, there was this contest. FSU coach Bobby Bowden went for two, in part, because the Florida State kicker had already missed an extra and a field goal (that, yes, went wide right). Miami would remain undefeated and then beat No. 1 Oklahoma in the Orange Bowl to win its second national title.
Song title: Run To You / Bryan Adams
Georgia was undefeated late in the season but trailed Florida 21-20 and faced third-and-11 on its 7 with just more than a minute left. Georgia fans know the call of broadcaster Larry Munson: "Lindsay Scott! ... 35, 40! ... Lindsay Scott! ... 45, 50! ... 45, 40! ... Run, Lindsay! ... 25, 20! ... 15, 10, 5! ... Lindsay Scott! ... Lindsay Scott! ... Lindsay Scott!" The Bulldogs went on to win the national title, beating Notre Dame 17-10 in the Sugar Bowl.
65. Blazers take Sam Bowie over Jordan in 1984 draft
Song title: It's a Mistake / Men at Work
Four notes:
(1) The Bulls apparently listened to offers for the third choice in the draft (Hakeem Olajuwon went No. 1) before GM Rod Thorn finally admitted, "He's the greatest player we've ever had a chance to get."
(2) Jordan wore a pair of black Air Jordans in an exhibition game against the Knicks as a rookie, but commissioner David Stern vetoed the shoe because it didn't conform to those of his teammates. (Jordan switched to white that season.)
(3) Jordan's impact was absolutely immediate. In a Washington Post story written five games into his rookie season, Cleveland coach George Karl said, "All I could do was wonder what Portland's gotta be thinking about."
(4) Bowie's injury problems (he had missed two full seasons at Kentucky) began immediately with Portland when he missed training camp and most of the exhibition season.
[+] Enlarge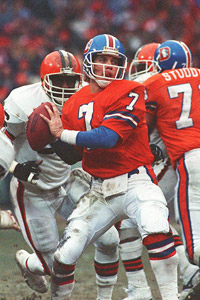 AP PhotoJohn Elway and the Broncos drove 98 yards in the final 5:32.
66. John Elway connects with Mark Jackson to complete The Drive in 1986 AFC championship
Song title: Orange Crush / R.E.M.
The 5-yard touchdown pass to Jackson was the 15th play of the drive, which began on the Denver 2-yard line, and tied the game with 39 seconds remaining. Denver would win in overtime.
67. Len Bias dies of cocaine overdose
Song title: The End of Innocence / Don Henley
Sadly, a sign of the times. Bias, Chris Washburn, William Bedford and Roy Tarpley were all top-10 picks in the 1986 draft who saw their lives ruined by drugs.
Song title: New Sensation / INXS
Kareem is out with a sprained ankle. The logical substitution? Of course, your 20-year-old rookie point guard. Magic jumped to center, played all over the court, scored 42 points, grabbed 15 rebounds and handed out seven assists.
69. Fernando Valenzuela with his eyes looking upward, 1981
Song title: Rock This Town/ Stray Cats
He was a rookie left-hander from Mexico with a most unconventional delivery, chubby cheeks and a nasty screwball that had hitters spinning in their cleats. He shut out the Astros in his first start, beat the Giants in his second, then tossed three more shutouts. By his sixth start, he was a sensation, drawing 42,000 fans in Montreal; he beat the Expos 6-1 with another complete game. He blanked the Mets before 39,000 fans at Shea Stadium, the Mets' second-largest crowd of the season. The tally: Seven starts, seven complete games, five shutouts. Los Angeles was in love. Valenzuela would go on to have a fine career -- six All-Star appearances, 21 wins in 1986, 173 lifetime victories -- but Fernandomania in the early weeks of the 1981 season was something else.
70. Ozzie Smith homers off Tom Niedenfuer in 1985 playoffs
Song title: Let's Go Crazy / Prince
Jack Buck: "Smith corks one into right, down the line! It may go ... go crazy, folks! Go crazy! It's a home run! And the Cardinals have won the game, by the score of 3-2, on a home run by The Wizard! Go crazy!"
Smith, a switch-hitter, had never hit a home run hitting left-handed.
Song title: Delirious / Prince
Joe Montana, meet Jim Burt. For the second straight season, the Giants beat the Niners in the playoffs. Burt knocked out Montana with a vicious hit in the second quarter and the Giants cruised to a 49-3 victory.
72. John McEnroe "You cannot be serious!" outburst at Wimbledon in 1981
Song title: It's So Serious / Talk Talk
Song title: Don't You (Forget About Me) / Simple Minds
The great run of NCAA championship games in the '80s culminated with Michigan's 80-79 overtime win over Seton Hall, although it's not remembered as much as the earlier games. Where have you gone, Andrew Gaze?
[+] Enlarge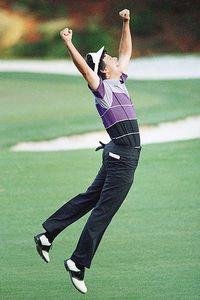 AP Photo/Joe BentonLarry Mize would win only three other events in his PGA Tour career.
Song title: Bankrobber / The Clash
Mize was an Augusta native with only one career PGA Tour victory. His opponents in a three-way playoff: two-time Masters champ Seve Ballesteros and Greg Norman, then considered the world's best player. Ballesteros dropped out on the first hole; on the second hole, Mize chipped in from off the green. Remarkably, it was the second straight major Norman had lost on a miracle shot -- Bob Tway won the 1986 PGA by holing in a bunker shot on the 72nd hole.
75. Marcus Allen's run in Super Bowl
Song title: I Ran / Flock of Seagulls
The Raiders' 38-9 win over the Redskins was the AFC's only Super Bowl victory in a 16-year stretch. Average margin of victory in those 15 NFC wins: 19 points. One thing is for sure: the Super Bowls this decade have been much, much more entertaining.
Song title: Holiday / Madonna
Yes, it's our second BYU moment! You kids will have trouble believing this, but it's true: There used to be a time when you could watch every bowl game. And you knew the names of all the bowls. And you had to win at least seven or eight games to get invited to one. And, sometimes, you'd sit on the couch with your dad, eating popcorn and watching BYU throwing the ball up and down the field in one of the most exciting games in college football history and you would be witnessing the future of the sport before your very eyes.
77. Bill James' "Baseball Abstract" published nationally for first time in 1982
Song title: Hip to Be Square / Huey Lewis and the News
OK, so you can't find this moment on YouTube, but there is no denying its importance. In '82, many baseball teams were still run by old-school baseball men like Calvin Griffith (the notorious penny-pinching owner/GM of the Twins), Phil Seghi (73-year-old GM of the Indians) and Jim Campbell (GM of the Tigers since 1963). The truth is that a lot of these guys had no clue how to build winning baseball teams. Players like Duane Kuiper and Johnnie LeMaster littered big league rosters. James introduced us to new ways of thinking about the sport and the publication of "The Baseball Abstract" is a direct lineage to today's world of Ivy League-educated general managers and statistical analysis.
78. "Rotisserie League Baseball" published by Bantam in 1984
Song title: Money for Nothing / Dire Straits
Don't cringe. If not for this book, you may not be playing fantasy baseball or fantasy football right now. By the way, Dan Okrent, the founder of the original Rotisserie League and the co-author of the book that introduced the hobby to the larger public, also introduced Bill James to a national audience when he wrote a feature story on him for Sports Illustrated in 1981. Does that make Okrent the MVP of the '80s?
79. Jimmy Chitwood hits game-winning shot for Hickory High
Song title: I Won't Back Down / Tom Petty
Still the best sports movie ever.
Song title: Boys Don't Cry / The Cure
Schmidt won three MVP awards during the '80s, but this is really just an excuse to run our favorite news conference clip.
ESPN Senior Writer
Senior writer of SweetSpot baseball blog
Former deputy editor of Page 2
Been with ESPN.com since 1995