We'll remember the sports year of 2008 for many reasons -- from the Giants' toppling of the Patriots in Super Bowl XLII, to the Phillies' win over the Rays in the World Series.
We'll also remember 2008 because of the many people who said goodbye. Here are some of our favorites.
BARRY BONDS
Officially, Barry Bonds hasn't retired. In fact, he recently told a crew for TMZ (that perennial candidate for an Edward R. Murrow Award) that he is not retiring. But it doesn't really matter what he says. The issue is whether a team will offer him a contract next year. And if no one wanted him in 2008, why would anyone want him in 2009?
Of course, I'm still trying to figure out why nobody signed him last season.
Remember, Bonds hit 28 home runs in 340 at-bats in 2007. He had a .480 on-base percentage. Heck, he even stole five bases. And, oh yeah, he broke some record or something.
Yes, Bonds had some baggage. He was facing perjury charges, but it was pretty clear there'd be no trial during the season.
Yeah, there are pretty heavy (wink, wink) "suspicions" that he used steroids. But, as a glance at big league rosters will reveal, that's hardly grounds for a player not getting a contract.
Sure, he doesn't have a great reputation -- but again, you can say that about a lot of players, including several in the Hall of Fame.
So why did no team go after the all-time home run king? Was it collusion? Or was it just 30 general managers independently deciding they didn't want to deal with the inevitable backlash if they signed him?
I don't know. But I do know this: I would have been a lot more excited to watch Bonds bat than Jose Vidro.
-- Jim Caple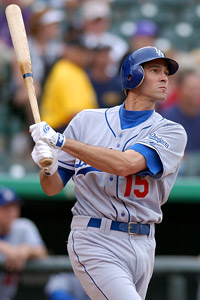 AP Photo/David Zalubowski
Green had better numbers than you thought, right?
SHAWN GREEN
In the mid-1990s, Arthur Richman, a senior adviser in the Yankees' media relations department, went into George Steinbrenner's office and insisted the Bombers go after a highly regarded minor league outfielder with a good arm, good wheels and a picturesque swing that still needed some tinkering. "This kid," Richman told The Boss, "will immediately boost our attendance."
"Are you kidding me?" Steinbrenner asked. "Who?"
"This Jewish kid in Toronto -- Shawnie Green."
Steinbrenner was stunned. "His name is Shawn," Steinbrenner said, "and he's Jewish?"
Indeed, Shawn Green, who officially announced his retirement earlier this year, never had a Bar Mitzvah. He rarely attended synagogue. He ate pork, shellfish and cheeseburgers. But he was, without question, one of us -- a full-fledged Jew, with two Jewish parents.
For 30 years, beginning with Sandy Koufax's retirement, Jews like myself had been anxiously awaiting our next sports star. Sure, we had guys like Harris Barton and Danny Schayes and Steve Ratzer (I know … who?) to be content with. But where was our Reggie Jackson? Our Dale Murphy? Our stud?
Green will not go down as one of the 200 greatest hitters in major league history. His prime years were too fleeting, his totals merely very good (.283, 328 homers, 1,070 RBIs), his outfield skills somewhat above average, his final seasons disappointing. But after years of wandering in the proverbial baseball desert, we Jews received a true gift.
We got a two-time All-Star.
Mazel tov on your retirement, Shawnie. Mazel tov.
-- Jeff Pearlman
TODD JONES
Back when I was a writer for Sports Illustrated, a colleague named Jon Wertheim would distinguish the down-to-earth athletes (from the arrogant jerks) by labeling them "one of us."
Jon didn't mean that the good guys literally bought their clothing at Marshalls and went back for seven helpings of the press box fried chicken dinner. No, he was referring to a sense of common decency and understanding; that when someone holds open a door, the automatic response should be, "Thank you."
Todd Jones is one of us.
A major league closer for most of his 16 big league seasons, Jones retired with 319 saves, ranking him 14th on the all-time list. But anyone who paid close attention to Major League Baseball throughout the 1990s and early 2000s would acknowledge that Jones was, at best, a solid reliever. Jones might save you 40 games a season, but only a handful would come without the assistance of eight to 10 Tums.
What I'll be remember most about Jones was his "The Closer" column for The Sporting News, which he'd been writing regularly since 2002. Unlike the great majority of such ballplayer-turned-scribe endeavors, Jones' offerings were almost always insightful, detailed and honest. He showed readers what it was like to be a major leaguer, be it the anxiety of the trade deadline or the inanity of superstitions.
Last May Jones wrote: "If the team is going good and you happen to have watched 'Tin Cup' to start a winning streak, guess what? You watch 'Tin Cup' until you lose three in a row. I was on a team that watched 'Major League' the entire first half of a season. … We could recite lines from that dang movie, and we'd even act it out because we knew what lines were coming."
With Todd Jones, we knew what was coming. A solid pitcher, a solid writer -- and a man who knew his fame was fleeting.
-- Jeff Pearlman
GREG MADDUX
What separates a great professional athlete from the average person is really quite simple: Great professional athletes have far superior physical gifts than you or I. They were just fortunate enough to be born that way.
It's no wonder they make their sport look so easy. Because it is easy for them. They have superior genetics.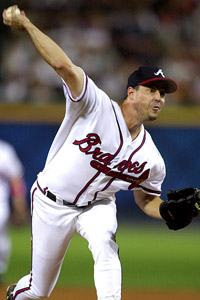 AP Photo/John Bazemore
Maddux will also be remembered for turning down that Yankees money.
Or, at least that's what we tell ourselves. But then along came Greg Maddux.
Maddux wasn't that big. He wasn't very muscular. He couldn't throw much harder than a Division III college pitcher. He wore glasses. He even developed a flabby second chin in his late 30s. He more or less looked like any guy you'd walk past in a mall in Middle America.
Yet Maddux was the greatest pitcher of his era. He has the most wins of any living pitcher (355), a career WHIP of 1.14, an ERA of 3.16, 3,371 strikeouts, four Cy Young awards and 18 Gold Gloves.
He did it all in an era of big players and bigger offensive numbers, and without the slightest implication he ever took steroids himself.
Worst of all, he made it all look easy.
Mr. Maddux, I think I speak for the rest of the average schmoes in America when I say: You, sir, are a sellout.
Enjoy your retirement, Mr. Maddux. And may the veterans at the retirement village refrain from urinating on your leg.
-- DJ Gallo
"SHEA STADIUM"
This isn't a requiem for Shea Stadium (I already wrote that piece back in September). It's for the name "Shea Stadium," which will disappear along with the ballpark.
The stadium that has been the Mets' home since 1964 was named for William Shea, an attorney who was the prime mover in bringing National League baseball back to New York after the Dodgers and Giants packed up and moved west (further details here). Can you imagine a stadium being named for an attorney today? Or for any other civic figure who doesn't have an ownership stake in the team?
Fact is, Shea's demise marks a major turning point in sports facility naming. Up until now, New York teams had avoided the scourge of corporate naming-rights deals. Let other cities have their FedEx Forums, their Qualcomm Stadiums, their Xcel Energy Centers, their Enron Fields Minute Maid Parks -- we had Madison Square Garden, Yankee Stadium, Giants Stadium and Shea. No need for that corporate nonsense here.
But with Shea gone, the Mets have opted to go the corporate route with their new ballpark. Predictably, it's already blown up in their faces -- and the place hasn't even opened yet! Plus, a name like Citi Field lends itself all too easily to a certain mispronunciation that you know fans will start chanting as soon as the team hits a losing streak.
All of which is why I'll miss the name Shea Stadium -- a name that rolled nicely off the tongue, didn't lend itself to cheap sarcasm, and was bestowed as an honor upon a guy who truly deserved it, with no money changing hands. Imagine that.
-- Paul Lukas
J.J. TRUJILLO
Who is J.J. Trujillo?
That's exactly what I said when I read the following item in the small-print Transactions column of my local sports page:
NEWARK BEARS -- Announced the retirement of RHP J.J. Trujillo.
Intrigued by the fact that a player was officially retiring from a team in the independent Atlantic League, I decided to plug his name into Baseball-Reference.com. This is what I found.
J.J. Trujillo's entire Major League Baseball career consisted of four games with the San Diego Padres in 2002. He pitched a grand total of 2 2/3 innings in the bigs, gave up three runs on four hits, and finished with a career record of 0-1.
At first I felt kind of sad for J.J. But then I thought about it for a minute, and changed my mind. Hey, this guy got to pitch in the major leagues! Whatever his career stat line, surely he made a few good memories that will last a lifetime.
So congrats, J.J. Enjoy your retirement. And savor those moments.
-- Kieran Darcy