We'll remember the sports year of 2008 for many reasons -- from the Giants' toppling of the Patriots in Super Bowl XLII, to the Phillies' win over the Rays in the World Series.
We'll also remember 2008 because of the many people who said goodbye. Here are some of our favorites.
SHAREEF ABDUR-RAHIM
His first name means "noble." His last name means "servant of the most merciful one." Yet due to circumstance, more than skill or effort, to myriad NBA fans the name Shareef Abdur-Rahim means "loser."
This is unfortunate.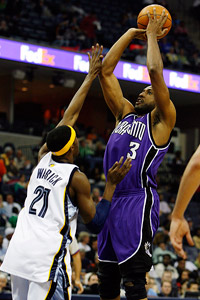 AP Photo/Alan Spearman
We remember not just the great players, but the good ones too.
Sure, Abdur-Rahim holds the NBA record for most games played before finally making a playoff appearance. But unlike, say, Robert Horry -- who owes at least some of his success to being in the right places at the right times -- Abdur-Rahim might well possess the worst geographical luck in league history. When he was selected third in the 1996 NBA draft, it was by the Vancouver Grizzlies, whose other key players were Bryant Reeves, Anthony Peeler and Greg Anthony. The Grizz stunk. When he was traded to Atlanta in 2001, he played alongside center Nazr Mohammed and point guard Dion Glover. The Hawks stunk. When he joined the Trail Blazers in 2004, the franchise was still working overtime to load its roster with every available rotten apple. The Blazers stunk. Finally, in 2006 with the Sacramento Kings, Abdur-Rahim got to play in the postseason -- that year he averaged a steady 12.3 points per game while gleefully accepting his status as a role player.
Because he was selected before Ray Allen, Kobe Bryant, Peja Stojakovic, Steve Nash, Jermaine O'Neal, Zydrunas Ilgauskas and Derek Fisher in what Slam magazine called the best NBA draft of all time, Abdur-Rahim probably goes down as a slight disappointment. But his career averages of 18.1 points and 7.5 rebounds per game tell the story of a very good NBA player who, had he been drafted by the right team at the right time, would have been significantly more appreciated.
Perhaps it's a stretch to say the league will miss Abdur-Rahim. But with a bevy of negative issues consuming professional sports, a team could do worse than having the noble servant on its side.
-- Jeff Pearlman
THE FUNBALL SUNS
It was a sad, protracted end to the joy that was "seven seconds or less."
The agile Shawn Marion was dealt for a Shaq way past his prime in February. The architect, Mike D'Antoni, left for New York in May. And earlier this month, Raja Bell -- who made the team fierce when it had to be -- and the versatile Boris Diaw were traded to Larry Brown's dour "right way" school for boys.
And so it was that the Funball Suns were dead.
Now, Charles Barkley might tell you they were nothing but an entertaining experiment, ill-suited to win when it mattered most. And old-school skeptics might claim their style was finally their undoing. But don't believe it.
The Suns were beaten soundly by a superior San Antonio Spurs team in the 2005 Western Conference finals. But in 2006, their conference finals battle with the Dallas Mavericks turned on nothing so much as a nasty tweak in Bell's left calf, which meant he was absent or ineffective in all but one of the six games in that series. And in 2007, in the conference semis against the Spurs, Phoenix lost Steve Nash in the final minutes of Game 1 when he suffered a bloody gash to the bridge of his nose. And then the Suns lost both Amare Stoudemire and Diaw to suspension in Game 5 after they stood up off the bench in response to Robert Horry body checking Nash into the scorer's table near the end of Game 4.
There is no guarantee the Suns would have beaten the Miami Heat in the 2006 NBA Finals. But they surely would have been favored. And we can't say for certain that the Suns would have gone on, like the Spurs did, to win the 2007 NBA Finals. But they would have been a good bet.
In the end, like so many who fall just short, they were victims of bad breaks and unlucky timing.
There was nothing inherently flawed about their approach, or their effort, or their constitution. They didn't win it all, but if a few things broke the other way they most certainly could have.
So when we write the history of early 21st century hoops, let's please remember that. When we imagine what can work and think of how the game can be played, let's please remember what the Suns had was not only entertaining and exciting -- it was viable.
-- Eric Neel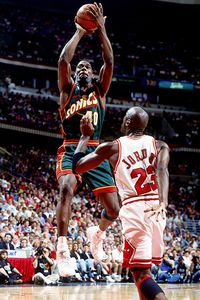 Barry Gossage/NBAE/Getty Images
We'll never forget Shawn Kemp, or the Sonics.
SEATTLE SUPERSONICS
I would write more about this, except it's the Christmas season and I'm still too damn ticked off that a team that won the 1979 NBA championship, played Michael Jordan's Bulls and Wes Unseld's Bullets in two other Finals, and was loyally and passionately supported by local fans for 41 years was yanked out of the city by a group of Oklahoma businessmen who never made any sincere attempt to keep the team in Seattle while not-so-secretly plotting from day one to move it to Oklahoma City. And rather than stop it, NBA commissioner David Stern helped grease the skids, painting Seattle as responsible for the whole mess because it was reluctant to build Clay ("I am a man possessed!") Bennett a half-billion-dollar arena after already remodeling KeyArena to the desires of a previous owner and spending nearly a billion dollars on the Mariners' and Seahawks' stadiums.
Having grown up on Seattle sports, and having covered sports in Minnesota for a decade, I'm certainly aware that owners move teams (see: the Pilots, the North Stars, plus threats from virtually every other team in those markets). But this was as cold-blooded, callous and appalling a hijacking as it gets.
But at least I can take solace in every delicious Oklahoma City Thunder loss, both on the court (24 losses and counting!) and off (co-owner Aubrey McClendon lost $2 billion in the market this year!).
-- Jim Caple
KEITH VAN HORN
In what will go down as one of the worst seasons in franchise history, the 2007-08 New Jersey Nets had little to celebrate.
They finished 34-48, traded Jason Kidd, drew about 17 fans per game and generated the passion and intrigue of a Waffle House.
And yet, just when things were at their most grim, one man swooped in and saved the day.
Thank goodness for Keith Van Horn.
Upon arriving in New Jersey as part of the Kidd-to-Dallas deal, Van Horn regained his spot among the world's greatest basketball players. For a squad lathered in mediocrity, Van Horn committed nary a turnover or foul. He was never ripped by teammates for indifference, and -- at 6-foot-10 -- was really quite tall. He's a handsome man, with a soft voice and highly praised hygiene, and … OK, OK. Really, what is there to say about Van Horn's brief return to the NBA except, well, it was ludicrous.
Although Van Horn had stopped playing after the 2005-06 season with Dallas (he was still an above-average NBA player, but wanted to spend more time with his family), he had never officially retired. Hence, because the Mavericks failed to renounce the rights to Van Horn's contract, the team could, under league rules, go over the salary cap to re-sign him (for $4.3 million) and ship him to the Nets to complete the eight-player swap.
In other words, somebody with either the Mavs or Nets called Van Horn at his Utah home one day and said, "Keith, would you be willing to sign a $4.3 million contract? You won't have to show up or play, and you'll get all of the dough."
Tough call, eh?
-- Jeff Pearlman
CHRIS WEBBER
Although Chris Webber never quite lived up to the hype that accompanied him as the top pick in the 1993 NBA draft, he will -- unlike myriad other players with similar careers -- be remembered.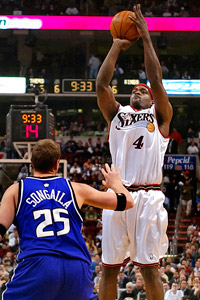 AP Photo/George Widman
Webber had some great moments, and some terrible ones, over the course of his career.
Some will remember Webber as part of the famed Fab Five of Michigan.
Some will remember Webber for his mind-numbing timeout call at the end of the 1993 NCAA title game, all but handing North Carolina the trophy.
Some will remember Webber's collegiate scandals. Some will remember his battle of wills with Don Nelson. Some will remember his soft hands, his powerful dunks, his glorious time as a Sacramento King, his five All-Star Game appearances.
I, however, will remember Chris Webber for one thing: the so-called Tyra Tirade.
On Feb. 12, 2002, the Kings opened the second half of the season by beating the Spurs for their 19th straight home triumph. Afterward, members of the media surrounded Webber's locker, looking for the standard clichéd comments about yet another victory.
Yet the normally gregarious Webber wasn't having it. A couple days earlier, the hometown Sacramento Bee had run an item detailing his relationship with Tyra Banks, the model and aspiring actress. Though Webber certainly knew the spotlight came with his profession, something about the piece irked him. He was a basketball player. An excellent basketball player. But why was his dating life anyone else's business?
"You can repeat this to the editor of the [expletive] Bee or whatever the [expletive] you want to do," a bare-chested Webber exclaimed. "Since the first [expletive] day I came here I gave you all interviews, I've done every [expletive] thing you've wanted … and you are going to violate me like that? And I know everybody didn't do it but everybody's got to pay for it … stay out of my [expletive] business. I play basketball for you all. I don't live for you all."
To many in the media, Webber's explosion was merely more blather from a coddled athlete who wanted the fame and fortune without the headaches. A handful of us, however, took his sentiment to heart. In the course of the past decade, we've become a disturbingly intrusive lot, insisting our celebrities tell all -- as if their right to privacy does not exist. Maybe, just maybe, we needed to take a step back.
Will Webber go down as one of the all-time great players? Probably not.
But I'll long remember -- and respect -- his words.
-- Jeff Pearlman