We'll remember the sports year of 2008 for many reasons -- from the Giants' toppling of the Patriots in Super Bowl XLII, to the Phillies' win over the Rays in the World Series.
We'll also remember 2008 because of the many people who said goodbye. Here are some of our favorites.
LAYNE BEACHLEY
Let me guess: You know nothing about women's surfing, but you really dig chicks who surf. Thank Layne Beachley, the seven-time world champ who will retire from full-time competition at the end of this season.
The famed Aussie turned pro at age 16, earned her first event win in 1993 and notched her first Association of Surfing Professionals world title in 1998. She nabbed the last of her seven world titles in 2006 and was inducted into the ASP Hall of Fame the very same year. And today, at age 36, she still sits at a quite respectable No. 4 in the women's world rankings.
Beachley, who -- courtesy of 29 career wins -- has raked in more cash than any other female pro ever to step on a surfboard, will be stepping away in what she described as "career-best form." She vows to use her newfound free time to pump more energy into her charity (Aim for the Stars) and her brand (Beachley Athletics). But you might see even more of Beachley -- keep an eye out for future event invites, get your hands on her biography, "Beneath The Waves," or just rent "Blue Crush" and fast-forward until you find her cameo alongside the surfing starlets.
-- Mary Buckheit
PAT FLANNERY
If you're a college hoops fan, the name Pat Flannery might ring a bell. Flannery was the longtime coach at Bucknell University -- including when the No. 14 seed Bison shocked the No. 3 seed Kansas Jayhawks in the 2005 NCAA tournament.
Flannery enjoyed a very successful career at Bucknell. In his 14 years at the helm, his teams won 234 games, an average of about 17 wins per season. But in April, at only 51, Flannery retired from coaching and took a job as a university fundraiser.
Why? It seems he was consumed by coaching. It got to the point that he started to break down, both physically and mentally, because of it. He was so stressed out that he had a fainting spell during a game last season and ended up in the hospital.
Being an avid follower of small-conference college hoops, I was familiar with Flannery, and surprised when I first heard the news. Confused, even. But a few months later, I read this story, and it suddenly all made sense.
Congrats, Pat, for choosing your health and your family over your coaching career. Now sit back, relax and enjoy it.
-- Kieran Darcy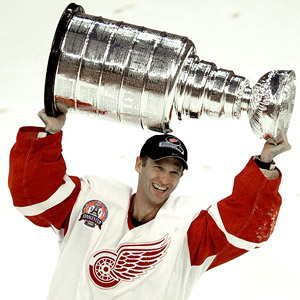 AP Photo/Paul Sancya
Hasek was, without question, one of the greatest goalies of all time.
DOMINIK HASEK
Six Vezina Trophies. Two Hart Trophies. Eighty-one career shutouts and 389 career victories. The best career save percentage in NHL history -- .922.
Dominik Hasek's credentials for the Hockey Hall of Fame are beyond question, and he rightfully is considered one of the finest goalies in NHL history. He might also be the most exciting goalie ever to play the game because of his highly unorthodox style.
He flopped. He spun. He twirled. He charged -- sometimes recklessly -- out of the net to make plays. He never bored.
Hasek is an icon in his native Czech Republic. He led his homeland to an improbable gold medal in the 1998 Olympics with a goals-against average of 0.97 and consecutive victories over the United States, Canada and Russia. The semifinal victory over Canada was arguably one of the most riveting hockey games ever played, with Hasek ultimately outdueling Patrick Roy in a shootout.
The next year, Hasek carried the Buffalo Sabres -- a team that didn't have a single scorer among the NHL's top 20 that season -- to the Stanley Cup finals, eventually falling in six games on Brett Hull's disputed goal.
He finally won the Stanley Cup with the Detroit Red Wings in 2002, backing a team that generated debate over whether it was the best ever. Hasek produced two of his finest performances ever when Detroit trailed Roy and archrival Colorado three games to two in the Western Conference finals, posting consecutive shutouts.
This year, in his third stint with the Red Wings, Hasek won his second Stanley Cup ring, and he decided to go out on top at age 43.
Of course, he always benefited from having a Slinky for a spine.
-- Thomas Neumann
CHASE HILGENBRINCK
Back in October, I wrote a profile of Chase Hilgenbrinck -- the professional soccer player who retired at 26 to enter a seminary and become a Catholic priest. I thought Christmastime would be a nice time to catch up with Chase and see how his first semester at Mount St. Mary's Seminary ended up.
"The semester has been powerful," Chase told me. "It took me some time to transition into the seminary lifestyle and get accustomed to studying again, but the transition has been as smooth as I could have imagined."
Chase sounds very happy, a half-year into the six-year process that will lead to his ordination as a priest. He does admit to missing soccer a bit from time to time, though. "The times that I have missed the game the most have been when I have watched games on TV," he said. "I think about what I would do in specific game situations."
Still, he doesn't miss the sport nearly enough to regret his decision. "Even if I were to leave the seminary today, after only a semester, it would have been worth everything that I gave up to get here."
-- Kieran Darcy
THE UNIVERSITY OF MICHIGAN BOWL STREAK
Thud. It's over. After 33 consecutive seasons with a bowl appearance, the Michigan Wolverines are staying home for the postseason following a disastrous 3-9 campaign -- the school's first losing season since 1967.
It's a streak that is even more impressive than it sounds. Bear in mind that there haven't always been 34 bowl games. In the 1975 season, when the Wolverines' streak began, there were only 11. (Michigan went a combined 30-2-1 in the three seasons before the streak, yet didn't appear in any bowls.)
The games: 14 Roses, three Citruses, two Alamos, two Gators, two Hall of Fames, two Holidays, two Oranges, two Outbacks, a Bluebonnet, a Capital One, a Fiesta and a Sugar.
Record in those bowls: 15-18 with one national championship.
A sampling of the players involved: Rob Lytle, Rick Leach, Anthony Carter, Jamie Morris, Jim Harbaugh, Desmond Howard, Elvis Grbac, Tyrone Wheatley, Tshimanga Biakabutuka, Charles Woodson, Brian Griese, Tom Brady, Steve Hutchinson, Braylon Edwards, Jake Long and Mike Hart.
Head coaches during the streak: Bo Schembechler, Gary Moeller, Lloyd Carr, Rich Rodriguez.
The torch is now passed to Florida State, which extended the nation's longest current bowl streak to 27 seasons in 2008.
-- Thomas Neumann
LUTE OLSON
Somewhere in a shoebox stuffed with loose photos crammed into a dark 'n' dusty filing cabinet buried behind the knee-high stacks of scientific papers cluttering my father's office in Tucson, Ariz., is a 20-year-old picture of me and now-retired University of Arizona men's basketball coach Lute Olson. I'm on the front end of puberty, spindly and awkward, peering through too-big glasses while wearing too-big shoes -- size 13 at age 11; no wonder I had such a lousy first step -- and clad in a billowing, too-big T-shirt reading LUTE OLSON BASKETBALL CAMP. With the exception of the stupid grin on my face, I couldn't look less like my adult self.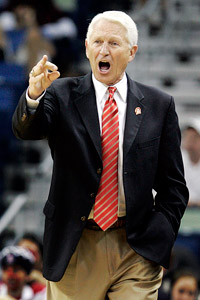 AP Photo/Bill Haber
Let's not remember the bad ending. Let's remember everything else.
And Lute? Lute looks exactly the same as he always has. Same upright, commanding posture; same slightly pained smile; same perfectly coiffed silver 'do. The Dick Clark of college hoops: older, yes, but never old. Year after year, players came and went -- Sean Elliott, Steve Kerr, Khalid Reeves, Mike Bibby, Gilbert Arenas -- growing up, going pro, having kids, retiring, coming back for charity games. I grew up, too, and moved away -- moved on with what seems like an entirely different life in an entirely separate solar system. Meanwhile, Lute kept on truckin'. Kept winning games. Kept pacing the sideline in his tan slacks and blue blazers, alert and unchanging, constant as the desert sun -- thank goodness it's a dry heat -- preserving a little piece of my past in a kind of effortless stasis. My childhood -- my childhood self -- in amber.
It was hard to watch Olson in his first post-leave-of-absence news conference this past spring -- to see him grumpy and skittish, confused and confrontational, wobbly and worn. I couldn't quite believe it. Nor could I believe Olson's sudden retirement this fall, induced by an undiagnosed stroke, the kind of thing that happens to aging movie stars and war veterans and former presidents, sure, but not Lute freaking Olson.
Until, of course, it does.
The thing is, I know this. We all know this. We know about winter and entropy and how every season and every life ends the same way. But the boy in the picture? I'm not so sure he knows. I'm not so sure he wants to. He never thought that T-shirt would end up too small. He never imagined that Lute Olson would grow old, any more than that he would.
-- Patrick Hruby
CLAUDIO REYNA
Earlier this year, when Annika Sorenstam and Justine Henin announced their respective retirements, I wrote a column contending that choosing to step away from sports with gas still in the tank is very much a woman's prerogative. But on the flip side of female athletes going out early are male athletes who just won't walk away.
Claudio Reyna is one of those guys.
I say this not so much to be critical of one of U.S. soccer's best-ever players as to point out the sad truth of legacies going stale on account of overdue exits. Reyna was the product of New Jersey's prestigious St. Benedict's Prep program, and a decorated University of Virginia star who led UVa to three straight NCAA titles. After college, he went on to have arguably the best European league career an American player has ever had -- plus, he played on three World Cup teams, including having a central role in the Americans' stunning run to the quarterfinals in 2002.
But all that success couldn't save the midfielder from criticism for his midseason MLS departure in 2008. Even longtime fans were saddened by the fading star's short and substandard stint with the New York Red Bulls.
It's too bad. Reyna was one of the first guys to truly "arrive" on the American soccer scene.
Unfortunately, many people will remember him as one of those pesky last guys to leave.
-- Mary Buckheit