Step aside Yankees Universe and Red Sox Nation
Welcome to the future of the American League East.
The Orioles are in first place, percentage points ahead of the Red Sox. Boston, hanging on to its dynasty by its fingernails, is the only thing standing between Baltimore and the fast-rising Tampa Bay Rays.
Page 2 invites you to take a closer look at the next great sports rivalry … Orioles-Rays:
---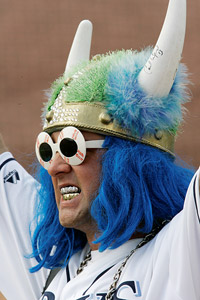 AP Photo/Gene J. Puskar
This Tampa Bay fan is already fully aware of the dizzying heights that the Orioles-Rays rivalry will reach.
A town torn asunder
Just off Interstate 95, not all too far from Florence, S.C., is a little place called Manning. In the giant battle zone that is the Orioles-Rays rivalry, this unassuming way station on the great coastal corridor just happens to be the very front line. Sitting equidistant to Baltimore and St. Petersburg, Fla., it represents the physical demarcation line of loyalties in this epic encounter of enmity. All those to the south of Manning are in the Rays' camp. All those to the north side with the Orioles. Any deviance from this geo-fandom would be a betrayal of the natural order of things.
In Manning, though, the lines are not so clearly drawn. Here, where the two great regions dominated by these team allegiances abut one another, it is neighbor against neighbor -- and very often brother against brother, father against son and pastor against parishioner.
"It's always simmering under the surface," says one town council member who prefers to remain anonymous. "But on those 19 occasions when the teams play, it all comes bubbling up and there's nothing we can do to stop it."
This isn't to say they haven't tried. To keep the great schism from ripping the very fabric of daily life, city ordinances ban the wearing of Orioles and Rays gear. Residents are free to sport the caps and jerseys of other teams, of course; Braves wear is considered an acceptable neutral choice, for instance. While free speech is still the law of the land, it is greatly frowned upon to mention either team, even in passing. Such utterances can escalate quickly and, in a moment, this picturesque town of 4,000 can become a seething cauldron of Rays-O's antagonism.
"Those bird fans think they're so high and mighty," said one resident, who surreptitiously revealed a tattoo that read "vil Rays" -- the first word showing the signs of recent laser removal. "Just 'cause they've finished ahead of us almost every year doesn't make them better than us."
Just across the street, another resident snorts derisively when asked about the Tampa Bay faction. "My sister married one. She's no longer welcome in my home."
"You can't legislate the heart," says a former town council member who refused to give either his name or team affiliation. "You just have to accept what you are and hope you and your neighbor who feels the opposite can find a way to get along."
For this one town caught in the crossfire of America's greatest sports rivalry, a shaky truce is the best they can hope for.
-- Jim Baker
---
The rivalry's 10 best games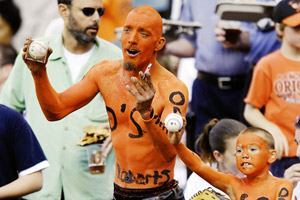 AP Photo/Nick Wass
Rooting for the Orioles for an extended period of time can certainly make people do strange things.
Ten years of games between these fierce AL rivals have yielded plenty of memorable moments and, yes, plenty of stinkers. Here are Page 2's 10 favorites:
1. Aug. 8, 2000: Orioles win 10-9 (15 innings)
The Rays scored five in the eighth to send the game to extras. It took seven more innings for the O's to win the longest game in the history of this heated rivalry. The losing pitcher was Esteban Yan, who was immortalized by Bart and Milhouse in a game of baseball in the park, still the best random sports reference in the history of "The Simpsons."
Bart: "I'm Tomokazu Ohka of the Montreal Expos!"

Milhouse: "And I'm Esteban Yan of the Tampa Bay Devil Rays!"
2. July 22, 2006: Rays win 13-12

1
2
3
4
5
6
7
8
9
R
H
E
Baltimore
3
0
0
0
0
0
9
0
0
12
22
0
Tampa Bay
0
0
0
0
10
3
0
0
X
13
17
0
Rare off games for Rodrigo Lopez and Tim Corcoran, who were Cy Young-worthy the rest of the season. When Corey Patterson goes 5-for-5 against you, it's probably time to re-evaluate your pitching staff.
3. Aug. 22, 2001: Rays win 11-10
The Orioles blow a 7-1 lead, as the Rays score 10 runs in the final four innings to win it. Jason Tyner went 4-for-6 in this game, paving the way for a future Jason Tyner Bobblehead Night … which ended with thousands of Jason Tyner bobbleheads rotting in a warehouse when Tyner was demoted just before his big night.
4. April 9, 2004: Rays win 4-3 (10 innings)
Robert Fick ties it in the bottom of the ninth with a solo homer, and Eduardo Perez wins it with a walk-off single in the 10th. What's the cut-off for the game-winning event that can no longer be described as "walk-off," by the way? My vote goes to "walk-off catcher's interference."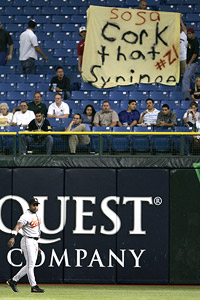 AP Photo/Chris O'Meara
The Rays-Orioles rivalry was beginning to simmer when these Tampa Bay fans welcomed Sammy Sosa to Tropicana Field in 2005.
5. April 9, 2002: Rainout
Considering the two teams combined to go 122-201 that year, it's probably just as well.
6. April 11, 2002: O's win 15-6
The Orioles scored 12 runs in the sixth inning. The rally included back-to-back homers by Geronimo Gil and Mike Bordick, followed by a rare cameo by the Four Horsemen of the Apocalypse.
7. April 11, 2004: Rays win 10-1
It was an impressive start by Victor Zambrano, who allowed just one run in 6.2 IP in running his record to 3-0. So impressive, in fact, that a Mets scout filed a glowing report on Zambrano after the game, prompting an aggressive deadline trade to get him later that season. Say, whatever happened to Zambrano anyway? Oh … right.
8. Aug. 11, 1999: Orioles win 17-1
The Rays' most effective pitcher in this game gave up three hits and one run in 1.1 innings with one strikeout. That pitcher? Wade Boggs.
9. April 14, 2005: Rays win 12-7

Baltimore Orioles
IP
H
R
ER
BB
SO
HR
ERA
S Ponson, L (1-1)
3
7
9
9
4
1
1
13.50
It's absolutely befuddling to consider that Sir Sidney was once a good pitcher. It's like if Neifi Perez were once a 30-30 guy.
10. Aug. 5, 2007: Orioles win 11-3
Any time you get a rubber ducky named Leroy in honor of a victory, it's a big day.
-- Jonah Keri
---
The O's and Rays are headed for the playoffs, that much is a given. But what about the fans? For most of them this is their first time headed to a game in October, too.
Here are a few tips on how to gear up for the game … and how not to.
ORIOLES FANS
Sure, you can go old school if you want. Feel free to go with this or even this. But if you're trying to avoid getting smacked with a crab cake, you should probably leave No. 43 at home. (Same goes for No. 88, by the way).
Even if you're new to being a fan, you probably don't want to upset the karma gods, so
sporting a No. 1
might not be the best bet either.
Ladies, if you're looking to meet Mr. Right, but you're not ready to admit you're on the wrong side of 30, your pregame prep should probably include a homage to this guy right here. If that's not enough for you, there's always the Palmiero Method.
At the end of the day, you're best bet is investing in one of these and staying home.
RAYS FANS
While the Rays don't have a storied past to fall back on, they still have a Hall of Famer, even if he did do this once.
All the old-school stuff isn't so bad, if you want to go that way. But some of it might make you a little too mad, and who wants to be mad? You're in the playoffs!
You might be new to this, and you've probably seen people bring gloves to the game, but don't try to mix it up with one of these.
So to play it safe. Forget about all this other stuff, just get one of these and be done with it.
-- Mike Philbrick