By Darren Rovell
Page 2
As NBA deputy commissioner Russ Granik nervously tore open the lottery envelopes on Wednesday night to reveal the selection order for next month's draft, he might have had another game on his mind.
A troubling game, at least for him. And now his secret is out: He's a great right-hand man to David Stern, but he's a sub-par golfer.
"OK, so I let you win the lottery, now what was that about hooking me up with Tiger?"
"I'm trying," Granik told Page 2. "But I'm in the office so much, it's hard to concentrate on my game. My wife is much better than me -- by 10 strokes."
Granik's game is showing some sign of improvement. After last shooting a 106 on Oct. 5, 2003, Granik shot two sub-100 rounds -- a 99 and a 98, respectively -- two weeks ago. His first action in 2004 bumped his handicap down to 23.
But that still won't cut it in the big-stakes world of professional sports.
Golf, an extremely frustrating game even when you're out among your buddies, might get even more vexing to high-profile duffers like Granik when they realize the cruel truth that their scores are available for the world to see.
We know, for example, that NHL commissioner Gary Bettman's handicap has reached a career high of 27.4. His last time out, on May 9, he shot a 109 on his home course in New Jersey. Perhaps we should cut Bettman some slack, though. He likely was worrying about the possibility of a work stoppage next season, and negotiations for the league's next television contracts.
Here's how it works for the people who religiously keep track of their handicaps. After each of their rounds, they enter their score, along with where they played and the date, into a computer. If the program is part of the Golf Handicap and Information service (GHIN), a network currently consisting of approximately 9,700 golf clubs and 1.9 million members, each round's particulars are posted on the organization's Web site.
That's how we know Texas Rangers owner Tom Hicks' ability to smack the ball off the tee wasn't hindered by his team's ugly play over the past few seasons. In 2003, Hicks shot an average score of 89.5. Even so, his game is clearly not "up to par" with NFL great John Elway. Elway, who has a locker in the same Castle Pines Golf Club (a Jack Nicklaus-designed course in Castle Rock, Colorado) as Hicks, consistently shoots 72s and 73s.
A closer examination of these public golf scores reveals some interesting information.
On April 13, San Francisco Giants slugger Barry Bonds hit home run No. 661, putting him in sole possession of third place on the all-time home run list, one ahead of his godfather, Willie Mays. The next day, according to GHIN data, Bonds shot an 86 on his home course in Northern California. That night, as the Giants lost to the Milwaukee Brewers at SBC Park. Bonds didn't start. But he pinch-hit in the seventh inning and walked. Mays, meanwhile, has a handicap of 17.1, though he hasn't registered a score in almost two years.
His manslaughter trial must have kept former New Jersey Nets star Jayson Williams from the links. He didn't log any scores in either 2003 or 2004, though GHIN records show that Williams played 10 times in the months following the death of his limo driver, Gus Christofi.
Some other tidbits ...
New York Yankees great Yogi Berra, who once reportedly said "You can't hit and think at the same time," is still hacking away at the ripe age of 79. Berra, whose handicap is currently 21.9, has a good day when he breaks 100.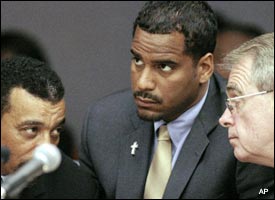 "So we all agree? Jayson needs to open his stance a little and those sand traps won't be a problem."
Since winning the national championship, University of Connecticut men's basketball coach Jim Calhoun has been honing his game -- he played three times in April. His handicap is 7.8. UCONN women's coach Geno Auriemma, who also took home a national championship this year, carries a 5.4 handicap.
College coaches can log some serious time on the course during their offseasons. Among those whose scores are available for all to see: Kansas hoops coach Bill Self (10.2 handicap), Colorado football coach Gary Barnett (6.3) and Missouri basketball coach Quin Snyder (13.6). The most active of coaches is likely Hawaii football coach June Jones, who has played 16 times this year. His last recorded round was an 80 at his home course, Waialae Country Club, on April 21.
The links records for Mark McGwire, whose handicap is about 5, have been sparse of late, his last registered outing coming more than a year ago. McGwire, who quit baseball in his sophomore year at Damien High School in LaVerne, Calif., to play a season with the school's golf team, has a swing clocked at more than 140 miles per hour on a drive, according to an article in Golf Digest. That story says PGA Tour players typically approach the ball in the 115-to-125 mph range.
Despite the controversy swirling around his brother's refusal to play for the San Diego Chargers, Indianapolis Colts quarterback Peyton Manning is having a good offseason on the course. His scores ranged from 74 to 85 in his six registered outings during April and May.
Manning hasn't been quite as active as Jerry Rice, the Oakland Raiders' 41-year-old wide receiver who has logged 16 rounds of golf in the past two months alone. Rice, who maintains a handicap just north of 3, has a career best round of 72. So to all the athletes and sports executives out there who think the exclusivity of their country clubs will shield them from nosy fans like us ... think again. Every time you're out on the course, we'll be watching you.
And don't think we don't know about those mulligans!
Darren Rovell, who usually covers sports business for ESPN.com, can be reached at darren.rovell@espn3.com. His handicap is 2.5, thanks to impressive scores at miniature golf courses across America.
Darren
Rovell
GOLF CONQUERORS ALL