By Darren Rovell
Page 2
There might be a few longer-than-usual pauses between second-round picks at Thursday night's NBA draft.
That's because sources tell Page 2 that a handful of teams will consider choosing Chimezie Kudu, a 7-foot-11 center from South Africa who will likely become eligible for the draft Thursday morning.
The late notification of Kudu's status is due to the recent discovery of a piece of paper found at NBA headquarters just last week. The letter, which was postmarked May 10, stated Kudu's intention to enter the draft.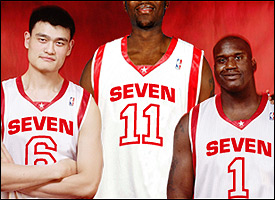 And you thought Shaq and Yao were tall!
But because Kudu speaks a dialect of Hottentot, the letter -- written using the modern Latin alphabet -- was mistakenly thrown out by a high-ranking league official's assistant.
A summer intern who studied Latin at Columbia University came across fragments of the letter in a recycling bin, loosely translated it and immediately notified NBA deputy commissioner Russ Granik.
"This is an awful misunderstanding," said a league source, who did not want to be identified. "As far as we know, Mr. Kudu never followed up on his letter, though we are not entirely sure. It's very possible our switchboard hung up on him several times since he doesn't speak English."
Only one independent scout, a man named Salongo Sefu, has seen Kudu play. The 19-year-old South African phenom has only practiced on a single hoop in a local park in his native land -- the rim made out of antelope horn, the netting from the skin of a zebra.
Page 2, though, got an exclusive breakdown from Sefu on Kudu's game -- though, in fairness, we should point out that it's difficult to trust Sefu's evaluations. The scout likely will become Kudu's agent as soon as his eligibility is made official.
According to Sefu, Kudu is a "true" 7-11 and weighs a tad under 265 pounds. He has a standing reach of 10 feet and has huge hands that are "deceptively soft."
Sefu says he is "proportionally skinnier than Shawn Bradley," and has one-percent body fat, which is concentrated in his cheeks and the back of his knees. "He has to bulk up," Sefu admits. "Because he's exactly 7-foot-11, I'm already talking to the people at 7-Eleven and they might want him to endorse their new cheesy hot dog."
"Right now, he doesn't look athletic," Sefu says. "But consider the fact that he's never even seen a free weight and has existed on a diet of only fruit every day of his life."
Sefu says that his client-to-be has never played anyone of NBA-caliber. Actually, under Page 2's questioning, Sefu admitted he's never played anyone, period -- although "the kid can play with his back to the basket ... but you probably have to remind him, at some point, to face the hoop before he takes his shot."
As for the arc on his shot, Sefu echoes a comment made by one high-profile analyst about potential top-five pick Andre Iguodala: "He's not a great shooter, but he shoots a good ball."
"Darko (Milicic) was taken second overall last year and averaged 1.4 points per game," Sefu says. "I'm sure Kudu could do better, even though he has some problems jumping because of chronic foot issues."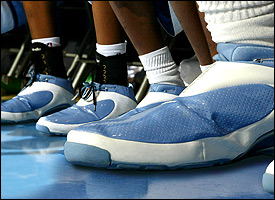 Sefu's only photo of Kudu is of his big feet.
He's never shot a free throw, according to Sefu. But the scout insists, "He can't be much worse than Shaq."
Kudu's defense is expected to be poor. And he might have some initial trouble passing the ball, since he's never really practiced. But Sefu says Kudu's upside is so great that he feels many teams might not be able to pass on him.
"He's certainly not polished, but the kid's clearly a freak -- and I mean that in a positive way," Sefu says. "He's a project, but his potential is unlimited once he grows into his body."
Sefu is not sure if Kudu will be willing to block shots, despite his height.
"He's a very sensitive guy, and he might not want to hurt the feelings of those playing with him," he says. "We might have to work that into his contract as an incentive, but I can't guarantee anything on that front. I can guarantee that the kid can dunk."
One final factor for a team that has Kudu under draft consideration is the language barrier. Although he can write using the modern Latin alphabet, his Hottentot dialect was previously believed to have been extinct.
Sefu has seen him play several times, but he has actually never spoken to him. As far as Sefu knows, no person who speaks Kudu's dialect also knows English.
"But I think it's safe to say that we all speak the language of basketball," Sefu says. "Even though Chimezie has been playing all his life with a ball made out of fused sheep's testicles."
Darren Rovell covers sports business for ESPN.com. He can be reached at Darren.Rovell@espn3.com.
Darren
Rovell
A GIANT SLEEPER