By Darren Rovell
ESPN.com
After receiving thousands of handwritten letters from Page 2 readers who inquired about our "Balco Beginner 146-piece chemistry set," we must stress that that the items published in last week's guide were not real. In order to satisfy those who jammed up the mail system here in Bristol, we decided to offer real alternatives to spend your money this holiday season.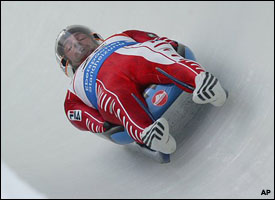 Ahh, the thrill of riding down blindly on a sheet of ice.
Attend a luge fantasy camp
Why settle for playing a couple baseball games with former big leaguers you've never heard of when you can risk your life doing the sport you marvel at every four years? Yes, 1998 Olympic silver medalist Gordy Sheer and three-time Olympian Duncan Kennedy will teach you the basics of "sled control and safety." You'll be housed in the U.S. Olympic Training Center in Lake Placid, N.Y., where real Olympic doctors will give you all the attention you need minutes after you are thrown from the apparatus into a wall of ice.
The cost is $2,000 for the camp, which takes place March 11-13 in Lake Placid. Check out their website or call 1(800) USA-LUGE for more information.
Buy a syndicate in a horse
Tired of watching your degenerate gambler lose his fortune at the race track? Suggest buying a stake in a horse -- that way he can still lose money while spending quality time with friends and family. A 10 percent share in horses we found on the Internet costs about $6,500 for the initial investment and the first year of upkeep.
Visit horsepartners.com to buy a stake in a New York-bred yearling colt by Kentucky Derby winner Real Quiet.
Buy naming rights to your high school's stadium
Still ticked that you didn't make it into honor society and will forever be known among former classmates as the class clown? Well, the joke will be on them when you buy the naming rights to your local high school football field. Enjoy slimy school administrators who will shake your hand and shower you with praise. Exert your influence as you recommend that school should end 15 minutes earlier.
Many schools have been hemorrhaging money. Naming rights to football fields and gymnasiums can be had by writing a check in the $100,000 to $1 million range.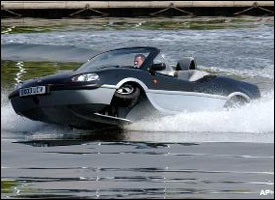 Just think: you could buy a small island and commute to work.
Purchase the amphibicar
By land or by sea? It's your choice when you fork over the dough to buy the Aquada, an amphibious car commissioned by British billionaire Sir Richard Branson. The car can reach speeds of 100 miles per hour on land and 30 miles per hour in the water. In June, Branson used his Aquada to cross the English Channel in two hours.
When it was unveiled in 2003, the initial price was $230,000, but the price has since been cut in half. If that's somehow not affordable, Sharper Image sells a remote control amphibicar for $69.99.
Buy a gym franchise for your friend
The perfect stocking stuffer for a friend who stopped working out. It's no fun to get him just a couple pieces of workout equipment, so pay a few dollars extra for a franchise like Gold's Gym or Bally's. Or if he's a fan of the movie "Dodgeball," try to see if Peter La Fleur will sell you rights to a Globo Gym (motto: "We're better than you, and we know it"). When your friend's family goes on vacation, put a swipe card machine outside his front door and put coupons in the local Pennysaver for a free trial to the gym inside his house. Then make sure you move to a new neighborhood by the time he comes home to find all his towels in a laundry basket and three men showering in his bathroom.
Gym franchises typically cost about $60,000. Well-known franchises cost more.
Darren Rovell is a staff writer for ESPN.com. He can be reached at darren.rovell@espn3.com.