Single page view
By Darren Rovell
ESPN.com
No one is supposed to be talking about Amanda Beard.
No matter how motivational their stories, the lifespan of Olympic athletes in the marketing world is fleeting. Thanks to endless television promos, they can become household names in the weeks leading up to the Games; but the memories of their great Olympic moments often get swallowed by the start of the NFL and NBA seasons, as well as the baseball playoffs.
Yet, here we are, more than six months after Beard's last race in Athens (and more than eight years after she made her Olympic debut in Atlanta), and the 23-year-old breaststroker is at the height of her popularity.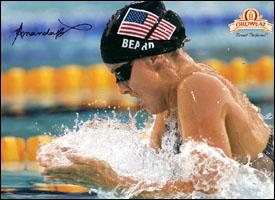 Beard is already endorsing products like Orowheat bread.
Tuesday, ESPN.com's readers named her Page 2's Hottest Female Athlete for 2005. She earned nearly 62 percent of the more than 157,000 votes cast, trouncing triathlete Lokelani McMichael in the finals.
Beard is a proven winner, starting when she brought a teddy bear to the Olympic podium to receive her gold medal for taking part in the 400-meter medley relay as a 14-year-old in Atlanta. Since then, she has picked up six more Olympic medals, including a gold in the 200-meter breaststroke this past summer.
It was in Athens that the world began to notice Beard's looks. Revealing photos in FHM suddenly catapulted her to the top of the list of the most searched athletes on the Internet.
Soon, she was listed among the stars scheduled to show up at Super Bowl parties in Jacksonville (like a true star, she didn't show), and was recently asked to participate in an upcoming Toyota celebrity grand prix race in Long Beach, Calif., with the likes of Nicollette Sheridan, Karl Malone and Meatloaf.
"It's to the point where if she walks down the street in New York City, people are asking for her autograph on the back of cab receipts," says Evan Morganstein, Beard's agent.
Beard already has deals with swimsuit manufacturer Speedo, energy drink Red Bull, oxidized water Penta, financial service company Mutual of Omaha and bread brand Orowheat. In recent months, Morganstein has been getting pitches for a reality television show, and Beard has signed up for two calendar deals, including one with a European publisher.
"When I first met Amanda four years ago, I knew what a great swimmer she was and I knew that she was obviously beautiful," Morganstein says. "What I didn't know was that I would be working as CEO of Amanda Beard Inc."
Those already doing business with Beard have stepped it up.
"She's doing something that has not been done before in terms of popularity in post-Olympic marketing," says Craig Brommers, vice president of marketing for Speedo, which is using Beard to launch the women's line of its daily performance product, Axcelerate.
"She's not only an authentic athlete who is the best at what she does, she also is the fusion of fashion and sport," Brommers says. "She's just as eye-catching as a model as she is when she is competing."
Darren
Rovell
HOTTEST ATHLETE