By Darren Rovell
ESPN.com
Some musicians might feel slighted that their hit song is broadcast only once a year.
Not David Barrett. He's fine with that arrangement.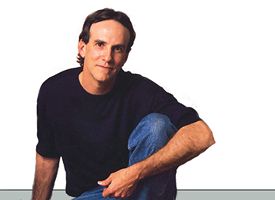 www.davidbarrett.com
David Barrett will forever be known as the 'One Shining Moment' guy.
Late Monday night, for the 20th straight year, Barrett's "One Shining Moment" will be paired with a highlight reel at the end of the CBS broadcast of the NCAA Tournament championship game. And unless you're a wedding guest, a video game enthusiast or an iPod downloader who goes in search of the song, that's it. That's the last time you're likely to hear it until the championship game next year, at least over the air.
Which is fine with Barrett. "I'm thrilled with how it turned out because I pretty much just wrote this song for my own amusement," said Barrett, who trademarked the song title in August 2003. "The fact that it found its way into the right place is a miracle. And how many people can say that they've had their song played for two decades like this?" Inspired by highlights of Larry Bird on "SportsCenter," Barrett penned the song on a napkin back in 1986. He sent a tape of it to his high school friend, CBS reporter Armen Keteyian, who passed it up the network's food chain. And the rest is history. Now, "One Shining Moment" might be the most famous original sports theme still being played, at least since
John Tesh's "Roundball Rock"
went off the air in June 2002. Barrett won't say exactly how much he has made from the song, but it certainly has turned into a cottage industry. He licenses it to CBS television and radio, giving CBS sole broadcast rights to it during the tournament. And video game players are well aware that the tune is used to help celebrate a championship in Electronic Arts' NCAA March Madness '06. "I could have lived off what I have made if I was still that young kid who could still go to the bar and order drinks," said Barrett, who is 51. "But I have to provide for my wife and two children."
Barrett also sells signed sheet music, and his new book, also titled "One Shining Moment," includes photos and a CD single of the song. A nice addition to Barrett's revenue stream is the success of iPods. Apple's iTunes has seven versions of the song, each of which sells for 99 cents.
"It has done very well for us," said Eddy Cue, vice president of iTunes. "Particularly at this time of year."
One Shining Moment
The ball is tipped
and there you are
you're running for your life
you're a shooting star
And all the years
no one knows
just how hard you worked
but now it shows ...
(in) ONE SHINING MOMENT, IT'S ALL ON THE LINE
ONE SHINING MOMENT, THERE FROZEN IN TIME.
But time is short
and the road is long
in the blinking of an eye
ah that moment's gone
And when it's done
win or lose
you always did your best
cuz inside you knew ...
(that) ONE SHINING MOMENT, YOU REACHED DEEP INSIDE
ONE SHINING MOMENT, YOU KNEW YOU WERE ALIVE
Feel the beat of your heart
feel the wind in your face
it's more than a contest
it's more than a race ...
And when you're done
win or lose
you always did your best
cuz inside you knew ...
(that) ONE SHINING MOMENT, YOU REACHED FOR THE SKY
ONE SHINING MOMENT, YOU KNEW
ONE SHINING MOMENT, YOU WERE WILLING TO TRY
ONE SHINING MOMENT ....
-- © David Barrett

Barrett spends most of his work time writing sports theme songs and composing scores for documentaries, but it always comes back to "One Shining Moment." He has granted permission for people to play it at weddings and funerals, and a law firm recently inquired about how much it would cost to use the song in its corporate video. Earlier this year, Comedy Central paid Barrett to run it on "The Daily Show" in a tribute to retiring Federal Reserve Chairman Alan Greenspan. Barrett estimates that a version of "One Shining Moment" in which he sings the song himself has run at the end of games about 10 times. Other versions CBS has used include vocals by Teddy Pendergrass and Luther Vandross. On Monday, CBS again will play the rendition sung by Vandross, who recorded it in March 2003, a few weeks before he had a stroke. It is believed to have been the last song ever recorded by Vandross, who died last year. For his part, Barrett doesn't mind that viewers won't hear his voice Monday night. Nor does he care whether CBS even mentions his name as the composer. "Contractually, they are supposed to do it, but sometimes they don't because they get behind and the game goes long," Barrett said. "One of the cool things about the song is that it's not about me. It's not about the announcers. This tournament is all about the kids." His contract with the network runs for two more years, but Barrett probably shouldn't worry about being left behind. CBS has the rights to the tournament locked up through 2011; and Sean McManus, president of the network's news and sports division, said last year that CBS "never really considered
not
doing 'One Shining Moment.'" Although his career achievements include Emmy Awards and credits for the background music for a number of PBS documentaries, Barrett isn't upset that people might think his life has been defined by "One Shining Moment." "I've written hundreds of themes and tons of scores," he said. "But [being] the 'One Shining Moment' guy is cool enough for me."
Darren Rovell, who covers sports business for ESPN.com, can be reached at Darren.rovell@espn3.com.