By Darren Rovell
ESPN.com
Bryan Lyons considers himself a savvy collector of sports memorabilia, but he knows he can never be 100 percent sure what he's buying is real.
"In a hobby that's riddled with forgeries, frauds and fakes, and just as many people trying to get rich off of an item as you have people trying to purchase an item, it's very tricky to pick what's authentic and what's not," Lyons said. "I look for a unique item with perhaps a family letter or something that's very difficult to dispute the authenticity of."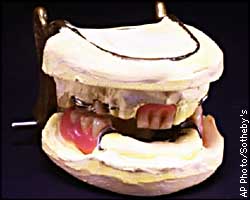 On the day Tiger Stadium closed, Karen Shemonsky bought Ty Cobb's dentures.
In recent years, Lyons has acquired a picture of a baby Bob Cousy, Cal Ripken's flip glasses and Ty Cobb's pajamas.
Cousy's photograph came from an auction of items consigned by his family. Ty Cobb's pajamas were authenticated by Rod Gailey, a relative of the slugger.
Despite the apparently clear chain of custody, though, Lyons isn't completely sure he has the real deal. When asked if Cobb, known as one of baseball's surliest players, would wear pink pajamas, Lyons admitted, "It's questionable."
Julie Ridgway, curator of the Ty Cobb Museum, questions the items' authenticity, as well.
"You sure they weren't Ty's wife's pajamas?" Ridgway asks. "No, in my wildest dreams, I could not see Ty Cobb wearing pink pajamas."
And what is it about Cobb, who died in 1961, that so many of his personal items have been sold in recent years?
In addition to the pajamas, Lyons also owns the blueprints to the mausoleum in which Cobb is entombed. Among the other items linked to Cobb that have been sold since his death are his knife, pipe, hat, gun, robe and dentures.
GET YOUR FETISH ON
From jock straps to bone spurs, chewed gum to old dentures, fetish memorabilia collectors are on a quest for the bizarre. Story

• Price on history: From Schilling's bloody sock to O.J.'s white Bronco.



• Blood, sweat and gear: Players are cautious about what they throw away.

• Buyer beware: Determining the authenticity can be an inexact science.


Most of the Cobb items were originally sold to collectors or auctioneers by Al Stump, Cobb's official biographer. Josh Evans, chairman of the sports auction house Leland's, said he once auctioned off items of Cobb's passed along by Stump. After noticing that some of the items were "fresh-looking," Evans said, he called Stump and questioned the authenticity of the collectibles.
"He got very nervous, and I never saw another piece go on the market after that," Evans said.
Stump died in 1995, but his family issued a statement to ESPN.com: "Al Stump was an accomplished and respected journalist whose credibility was achieved over more than 40 years of award-winning work. We knew him as a principled man who would have no need or interest in engaging in such activity. These unsubstantiated allegations are regrettable."
Karen Shemonsky paid $8,000 for Cobb's choppers in 1999 and said she isn't worried about their legitimacy.
Said Shemonsky: "I know they're the real McCoy and not a fake or someone just making up history."
Darren Rovell, who covers sports business for ESPN.com, can be reached at darren.rovell@espn3.com