By Darren Rovell
ESPN.com
Years ago, it might have been Curt Schilling's glove or a game ball on display in Cooperstown. Instead, the cleats and the bloody sock he wore in his only World Series start for the Boston Red Sox are on display at the National Baseball Hall of Fame.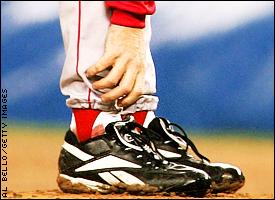 Getty Images
The famous bloody sock.
Perhaps nothing better signifies the 86 years of perseverance, the 86 years of pain, that Red Sox players and fans had endured since the team last captured the World Series title in 1918.
Despite the searing pain of an Achilles injury, Schilling pitched six strong innings to earn the victory in Game 2 of Boston's four-game series sweep of the St. Louis Cardinals. Television cameras focused on the pain in Schilling's face and the blood-soaked sock that covered his sutured tendon.
Which is why the Hall came calling for it. And why it almost became one of the most valuable pieces of sports memorabilia.
In February, Schilling had expressed interest in auctioning off the sock, with proceeds earmarked for ALS research. Bryan Lyons, a Red Sox fan and collector who owns many game-used items, said he would bid on the sock and predicted it would sell for at least $600,000.
"Initially," Schilling told ESPN.com, "the sock from Game 6 [of the ALCS vs. the Yankees] got thrown away, and it's funny it happened because I remember taking it off after the game and throwing it on the floor and thinking, 'You know, I should probably save that. But nah. No big deal.' But I saved the one from Game 2."
GET YOUR FETISH ON
From jock straps to bone spurs, chewed gum to old dentures, fetish memorabilia collectors are on a quest for the bizarre. Story

• Price on history: From Schilling's bloody sock to O.J.'s white Bronco.



• Blood, sweat and gear: Players are cautious about what they throw away.

• Buyer beware: Determining the authenticity can be an inexact science.


Though the significance of the sock makes it unique, it is hardly unusual that a single piece of clothing worn by a player can become so coveted by fans.
The phenomenon first came to light three years ago when Ruben Rivera was caught pilfering the belongings of Yankees shortstop Derek Jeter. It was only a glove and a bat, which Rivera reportedly had sold for $2,500. Pocket change for a big leaguer, even if he was a journeyman. The incident, though, ushered in a new reality for today's professional athletes who guard their valuables, whether it's a gold wristwatch or an elastic wristband, from finding their way from their lockers to the black market of sports collectibles.
Now, after answering probing questions from the media about how they feel after winning or losing the games, today's players linger a little longer around their lockers, using a black Sharpie to mark out their names or a pair of scissors to cut out their numbers from garments both outer and under.
"Anything with my number or 'Rocket' on it comes up missing," Roger Clemens told reporters after the Rivera incident in 2002. "I can't even throw underwear away. I have to cut my number out of it or they'll take it. I guess it's meaningful to some people."
Luis Gonzalez, the Arizona Diamondbacks outfielder known as much for a fan's selling a wad of his chewed gum for $10,000 as he is for his World Series-clinching hit in 2001, follows a postgame ritual similar to Clemens' routine.
Jock straps. Sliding shorts. Socks. Anything with an exhausted life cycle, anything destined for a landfill, is destroyed beyond recognition.
"We kind of cut it up and disperse it in separate places, in different trash bins, so people don't really know that the equipment is yours," Gonzalez said. "I don't want somebody to have something like that."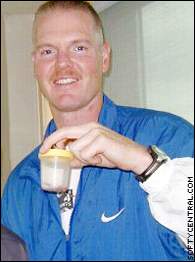 A spur in Jeff Nelson's elbow became a windfall for charity.
Mariners pitcher Jeff Nelson, who auctioned off the bone chips that were surgically removed from his right elbow for $2,000, doesn't understand why people want the personal items but said players are aware of the demand for such memorabilia.
"Especially from the Yankees," said Nelson, who pitched in the Bronx during 1996-2000 and for a brief stint in 2003. "If you can get it authenticated, people will bid on it."
Late last year, collectibles company Steiner Sports formed a partnership with the Yankees, giving it the rights to sell team-owned, game-used memorabilia such as jerseys, pants and hats and anything inside the stadium such as seats and dirt. The company recently sold the chair that was near Alex Rodriguez's locker on Opening Day.
The partnership does not include the rights to more personal items, said Sean Mahoney, executive vice president of Yankees-Steiner.
Anything personal has to be obtained through a deal with the player. Steiner does have a separate agreement with Jeter. Steiner sells Jeter's game-used bats and batting gloves, but the only oddball item it has sold was a pair of used socks (purchased for about $1,000).
Josh Evans, chairman of sports auction house Leland's, said that personal items sometimes reach the black market only for players to question their authenticity.
"You have to be very careful, because the players can misdirect collectors," Evans said. "The players don't like the idea that you are taking this thing that kind of makes fun of them in a way, and you're making money out of it or making it a national story. So you have to be very careful about listening to what the players say."
Darren Rovell, who covers sports business for ESPN.com, can be reached at darren.rovell@espn3.com