Luis Gonzalez
, the
Arizona Diamondbacks
outfielder known as much for a fan's selling a wad of his chewed gum for $10,000 as he is for his World Series-clinching hit in 2001, follows a postgame ritual similar to Clemens' routine.
Jock straps. Sliding shorts. Socks. Anything with an exhausted life cycle, anything destined for a landfill, is destroyed beyond recognition.
"We kind of cut it up and disperse it in separate places, in different trash bins, so people don't really know that the equipment is yours," Gonzalez said. "I don't want somebody to have something like that."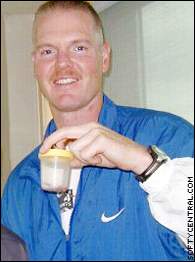 A spur in Jeff Nelson's elbow became a windfall for charity.
Mariners pitcher Jeff Nelson, who auctioned off the bone chips that were surgically removed from his right elbow for $2,000, doesn't understand why people want the personal items but said players are aware of the demand for such memorabilia.
"Especially from the Yankees," said Nelson, who pitched in the Bronx during 1996-2000 and for a brief stint in 2003. "If you can get it authenticated, people will bid on it."
Late last year, collectibles company Steiner Sports formed a partnership with the Yankees, giving it the rights to sell team-owned, game-used memorabilia such as jerseys, pants and hats and anything inside the stadium such as seats and dirt. The company recently sold the chair that was near Alex Rodriguez's locker on Opening Day.
The partnership does not include the rights to more personal items, said Sean Mahoney, executive vice president of Yankees-Steiner.
Anything personal has to be obtained through a deal with the player. Steiner does have a separate agreement with Jeter. Steiner sells Jeter's game-used bats and batting gloves, but the only oddball item it has sold was a pair of used socks (purchased for about $1,000).
Josh Evans, chairman of sports auction house Leland's, said that personal items sometimes reach the black market only for players to question their authenticity.
"You have to be very careful, because the players can misdirect collectors," Evans said. "The players don't like the idea that you are taking this thing that kind of makes fun of them in a way, and you're making money out of it or making it a national story. So you have to be very careful about listening to what the players say."
Darren Rovell, who covers sports business for ESPN.com, can be reached at darren.rovell@espn3.com