Commentary
Tim Flannery takes a musical journey
Originally Published:
July 8, 2010
By
By Gideon Rubin
| Special to Page 2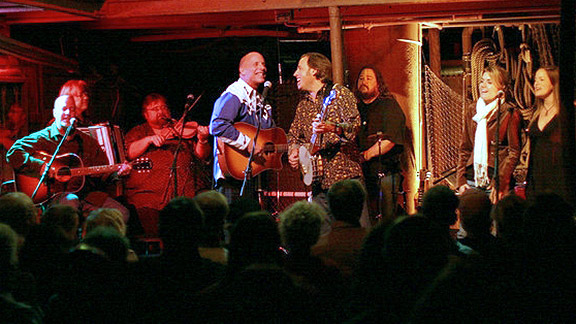 Dennis Anderson photoTim Flannery and The Enablers perform aboard the historic Star of India ship in San Diego.
SAN FRANCISCO -- When he's under the bright lights at AT&T Park, San Francisco Giants third base coach Tim Flannery has to think quickly.
"The scoreboard dictates how you make your decisions," said Flannery, who admits that he sometimes finds himself sprinting "up and down the line to buy an extra moment."
But when he's clutching a guitar on a candlelit nightclub stage, Flannery doesn't keep score or angle for more time. The critically acclaimed singer/songwriter has all the time in the world when he plays bluegrass ballads. On stage, he's accompanied by an orchestra of banjos, guitars and accordions and plays packed small- to medium-sized venues, telling stories about his life, his travels and the "characters" he's met along the way.
He's played with Tony Gwynn and coached Barry Bonds, and has performed live gigs with the likes of Merle Haggard.
"I'm a baseball man who's always played music," said Flannery, who cites his primary musical influences as the Kentucky hillsides and his Celtic roots.
Flannery was a utility infielder with the San Diego Padres in the 1980s. An uncle, Hal Smith, was a guitar-strumming catcher who won a World Series with the 1960 Pittsburgh Pirates. Flannery even found a baseball card from the 1960s with Smith holding a guitar.
Nearly everyone in Flannery's family plays music. His younger brother Tom sings opera in three different languages and has directed choirs at the Vatican.
Last year, Flannery released his 10th album, "Travelin' Shoes," an upbeat collection that features the sounds of the Celtic bouzouki, an instrument similar to a mandolin.
Flannery's previous works include the intensely personal "Pieces of the Past," in which he documents the experience of losing his father to Alzheimer's.
He waded into controversy in 2002 with "The Baseball Song" and video, which included digs at steroids and skyrocketing salaries. "The Baseball Song" was produced at a time when he questioned the game's ethics and the loyalty of the Padres, the only team he'd ever worked for at the time.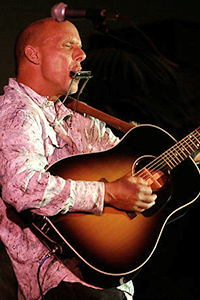 Dennis Anderson photoWith 10 albums to his credit, it's safe to say Flannery knows his way around a fretboard.
The Padres, who dumped salary after playing in the 1998 World Series, fired Flannery in 2002, ending an association that lasted 24 years.
Flannery quoted lyrics from the song: "It was the truth, think about the predictions that were in there ... Commissioner's getting angry, balls are flying through the fences."
Flannery offers no apologies, but said he doesn't blame the Padres for dismissing him, acknowledging that he probably needed time away from the game to address a shoulder injury. Music helped pay the bills during the hiatus.
"I needed to get fired," Flannery said. "I needed to go home. I needed to get healthy, and I needed to heal up. But I also needed to eat."
He returned to baseball in 2005, when he worked Padres games as a TV and radio broadcaster.
When longtime Padres manager Bruce Bochy took the Giants managerial job in 2007, he tapped Flannery to be his third base coach.
Bochy is a fan of Flannery's music, too.
"He's got a lot of passion for music and it shows in the way he plays," said Bochy, noting that Flannery's music sometimes plays on the clubhouse speakers.
Known for his hustle during his playing days, Flannery brings the same energy to the coaching box, entertaining fans and engaging players along the way.
Flannery's propensity for going all-out is an act worth watching on the diamond or in a concert hall.
"I'm maybe not good enough to just be mellow. I have to be in the moment," Flannery said. "That's the way I perform. That's the way I coach. That's the way I eat a cheeseburger."
Gideon Rubin is a freelance writer for Sports Media Exchange, a national freelance writing network.