By Rob Ryder
Special to Page 2
LONG BEACH, Calif. -- No one's lying to these guys. They're lying to themselves. It's the price of admission, and they pay it willingly.
We're down at Long Beach State in the big blue Pyramid. Twenty-six teams have entered this year's 15-day summer league. Ten of them are from bona fide NBA franchises -- Lakers, Clippers, Kings, etc. The league provides playing time for the young bench guys like Luke Walton and Chris Wilcox, plus it lets coaches and scouts get a look at some prospects.
The 16 teams in the free-agent division consist mainly of guys playing overseas, or in the NBDL, the CBA, the ABA, the USBL or the NWABA (ask Ice Cube).
And these players are the lucky ones. At least they're on a team.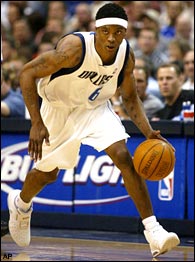 Marquis Daniels' scoring hasn't equaled victories for Dallas.
See, before the games begin, the Summer Pro League runs what they call a supercamp. For 340 bucks, all the wanna-bes, has-beens and never-weres get to walk onto the same floor as the big boys and pretend they can ball.
This is where all that "And1 showball artistry" hits a metal-bladed fan known as "tenacious defense." Out of 134 prospects in supercamp, 113 leave in shreds.
But, hey, they gave it a shot; and God knows, someday their grandkids are gonna hear about it.
As for the ones who actually make a team, listen to Larry Fox: "They're clueless. They're delusional. Every one of these guys thinks he's gonna end up on an NBA team."
Fox is a young agent out of New York. He's got a few guys in camp. He's trolling for a few more.
"How many actually get to the NBA?" I ask.
"Out of these guys? The guys who aren't already with somebody? Three? Maybe five? But you can't tell 'em that. They don't listen. You know why?"
"Why?"
"Marquis Daniels."
Marquis Daniels came out of Auburn undrafted in 2003. He got into last year's Summer Pro League and tore it up. The Mavericks grabbed him. He just signed for $30.6 million over five guaranteed years, with a sixth-year option at $7.9 million.
The exception to the rule.
I ask Fox, "Is he one of yours?"
He throws me a look.
"I wish."
The odds are stacked against Kimani Ffriend sticking with Sacramento.
---
The best way to enjoy the SPL is to keep strolling. Even on a day like today -- when the NBA teams are on the schedule -- the Pyramid doesn't quite fill up, and the atmosphere is desultory. Sure, there's a game going on, but there's another after that, and then another ...
Five in all, so you gotta pace yourself.
The Kings beat the Clippers at the buzzer. I catch Kimani Ffriend heading off the court. He's an amicable seven-footer out of Kingston, Jamaica. He tells me his story in a deep, soft, island accent that sounds like this:
"I go from Jamaica to da University of Nebraska. You talkin' culture shock ... mon, you don't know. But it was good for me. No trouble in Nebraska. Then I played pro in China, and then Belgrade. The ball dere in Belgrade is very good. And here I am now wit da Kings."
Not for long, I think, but don't say. He just got schooled by big, goofy, efficacious Chris Kaman of the Clippers.
The Kings' summer team is run by my former coach at Princeton, the old Yoda, Pete Carril (all 5-foot-5 of him). Pete and I had our "creative differences" way back when, but all is forgiven. I catch his attention as he walks by.
"Hey, coach, you won," I say.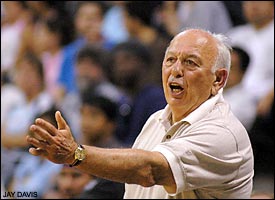 Former Princeton head man Pete Carril just can't stop coaching.
"Yeah, that happens sometimes," he says.
I turn to the towering, raw Jamaican.
"Hey, Kimani, does Petey yell at you like he used to yell at me?"
"He might yell," Kimani Ffriend says. "But I don't listen anyhow."
We all laugh. And old Pete Carril trudges away. The basketball jones is so deep in his bones, it's marrow. For guys like Petey and Tex Winter and Pete Newell, basketball isn't a choice. It's what you do when you get up in the morning.
---
Joonho An coaches the Samsung team in Seoul, South Korea. I catch him way up high in the arena, pouring over his stat sheets.
"What are you looking for?" I ask.
He answers in his best fractured English. It sounds like this: "Two playa. A two. And a five. Guard can shoot. And big man. This, I need."
"So these American guys, do they like to play in Korea?"
"Yes. Like lots. See, Seoul big city. We have T.G.I Fridays. We have Outback. We have Wendy's."
"Good luck," I say, thinking, you better have some hard cash too.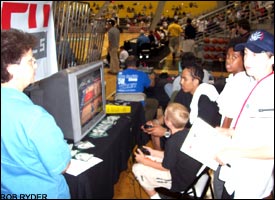 Shaun Livingston can't play for real, so he's playing video games instead.
---
The Clippers' first-round pick, high-schooler Shaun Livingston, is here, but sitting out with an injury. Where's he sitting? Out in front of a video game monitor, a pack of admiring kids surrounding him.
No matter that the real action is taking place 25 feet away; 18-year-old Shaun Livingston, controller in hand, dominates the competition. Ah, the Clippers ...
---
I head down to the press tables along the sidelines and catch up with Hubie Brown.
Brown is another one of these old battle-worn lifers, only he's come back as a head coach to raise the dead in Memphis. The Grizzlies went 50-32 last year, amazing everybody.
"What's the part of your season no one talks about?" I ask him.
"Our most important stat," he says. "We only lost eight games last year by more than eight points. That's what I'm most proud of. And my guys are young. We're very young."
These are the sorts of stats that true basketball junkies relish. Straight from the horse's mouth. Every team that faced the Grizzlies last year knew it was in for a dogfight.
But me, I'm not a stats guy. So I ask him, "Hey, Hubie, what do you think of the Gwizzlies being here?"
"The who?" he asks.
"The Gwinnett Gwizzles. It's a new ABA team out of Georgia."
"The ABA? They're back?"
Yeah, they're back. And if you don't realize it, your boss, Jerry West, does. West is the president of the Memphis Grizzlies, and I hear he's ticked that the Gwizzlies are even in the same building.
What are you gonna do? Minor league basketball has the profile of a dead gnat. Teams do what they can to get noticed.
Hey, maybe that's an idea for the ABA. As long as they're gonna go with the Gwizzlies, how about making it a theme? I can see it now. It'd sound like this:
The Thuper Thonics.
The Theltics.
The Twailblazas.
And don't forget the Mavwicks.
Trademarks be damned.
---
Brenda Lundberg, you can't miss. She's smart and lovely and she moves through the rough-and-tumble basketball crowd with an easy grace. Brenda has worked for Kauffman Sports Management since she graduated from Pepperdine a few years back.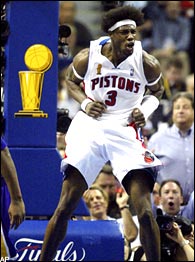 Ben Wallace may be quiet off the court, but he's dominant on it.
No one messes with her. You know why? Because you just don't, that's why. She projects class. She elevates the guys around her without even trying.
Brenda worked as an agent for a while, but now she concentrates on the marketing side. The Kauffman group represents Ben Wallace of the Detroit Pistons, among others.
Brenda says he's a sweetheart, but also a challenge.
"He grew up the youngest of 11 children in small-town Alabama. He can sit in a room with just one other person for an hour and not say a word. He's not uncomfortable. He's just quiet."
"What a welcome relief," I say.
"Except when he turns down the Jay Leno Show," she says. "But he's a terrific guy."
---
It's halftime of the last game of the night. I catch up with Clay Moser, the Summer Pro League's VP of Operations. Moser is a consummate pro -- he knows the game (coached under Jimmy Valvano at N.C. State) and also knows how to run a league (after years in the CBA).
Like a lot of people in the building, Moser is looking for his next opportunity. And any team in the NBA is crazy not to pick him up.
"You gotta blow your own horn," I tell him.
"Look where that got you," he answers. "You're interviewing me."
We spend a moment looking over the motley assortment of players returning to the floor for the second half.
"Here's the problem for these guys," says Moser. "If they hold out to make an NBA team, they may lose out on Europe. And that fast, you can fall right off the map."
Clay Moser is right.
Six months from now, one of these players is gonna find himself munching a Wendy's burger in Seoul, South Korea.
And you know what? He'll be one of the lucky ones.
Rob Ryder played basketball at Princeton and works as a screenwriter and sports advisor in Hollywood. He can be reached at robryder@adelphia.net