By Joe Santoliquito
Special to ESPN.com
EDITOR'S NOTE: In February, Joseph Santoliquito wrote for ESPN.com about the tragic story of Pennsylvania high school wrestler A.J. Detwiler, who watched as both of his parents were shot and killed last summer. Today, we update A.J.'s story as his prep wrestling career ended at the Pennsylvania Interscholastic Athletic Association state championships last weekend. Read Joseph's original piece on the Detwilers here.
HERSHEY, Pa. -- These days, A.J. Detwiler tries to insulate himself against the special occasions, because the special occasions are always going to be the most emotionally draining. Holidays. Anniversaries. Family functions. For the Detwiler family, wrestling matches were always a family function. A special occasion.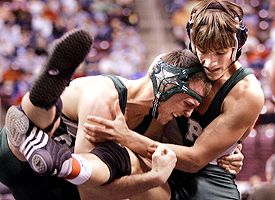 A.J. Detwiler, right, won this preliminary match against Central Dauphin's Jake Pelletier at the PIAA championships last weekend.
So as Detwiler, a Pennridge High School senior, stood on the awards stand on Saturday at the Pennsylvania Interscholastic Athletic Association Class AAA state wrestling championship in Hershey's Giant Center, he swayed back and forth, carrying an uneasy smile. While he awaited his medal for finishing in eighth place in the 160-pound class, he tried to think about anything other than the two people with whom he most wanted to share the moment.
His parents. A.J. entered the PIAA state championship as one of the favorites to win the 160-pound state title, so he didn't place as high as he wanted to, or expected to, at Hershey. But he did medal, an accomplishment achieved under very tragic circumstances. On the morning of June 18, 2005, in a fit of rage, his father, Andrew, shot and killed his mother, Suzanne, who died in A.J.'s arms in the backyard of the family's East Rockhill Township home about 40 minutes north of Philadelphia. Moments later, Detwiler's younger brother, Corey, turned a gun on his father, who still was wielding a gun, and killed him in self-defense. A.J., a state medalist last year as a 145-pound junior, clearly found something of a haven in his wrestling career this season. The past month has been a fulfilling ride, starting with the sectional tournament in mid-February when Detwiler handed Upper Perkiomen's Brent Fiorito, the eventual 160-pound state titlist, his only postseason defeat. "There was pressure, but I don't think anyone put any more pressure on me than I put on myself," said Detwiler, who finished the season with a 26-8 record and is receiving college interest from the wrestling programs at the Air Force Academy, North Carolina and Boston University (where his older sister, Brittany, plays for the softball team). "The states are all about wrestling your best and getting a little lucky with the draw. I didn't get either. "I just couldn't put anything together at all," Detwiler said. "I wasn't distracted. I came in prepared. But this whole season was very difficult. When I was on that medal stand, I tried not to think about my parents. It would have been too hard. But there are a lot of things I'll look back on this year, and what me, my brother and my sister went through. All three of us pulled together and got through everything. This time is probably the hardest thing we ever had to get through." With many aware of his personal story at the three-day state tournament, Detwiler became a fan favorite. After the 160-pound medals were awarded Saturday night, as Lizette Fiorito waited to embrace her son, Brent, she couldn't help herself. She hugged A.J. first. "I think, knowing the situation, you just can't help but cheer for A.J.," Lizette Fiorito said. "It's hard watching A.J.'s matches, knowing what he went through. It's even harder being the parent of someone he had to wrestle three times to get here. You can absolutely feel for A.J., being a parent."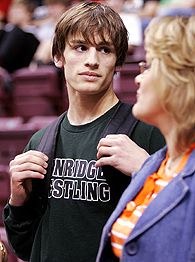 A.J. waits in the stands before one of his matches at state.
Corey Detwiler, now a sophomore at Pennridge, watched every one of A.J.'s matches this season. Corey didn't come back to wrestling this season, as A.J. did, but he plans to be on the team again next fall.
"Watching him wrestle is like I'm out there wrestling," said Corey. "It's like a roller-coaster ride, watching him wrestle. But I know he could have wrestled better at states, because he's better than what he did. Every year, my parents and us went to states. I could tell A.J. wasn't into it as much. "There will always be the little things that make us think about our parents. Wrestling is one of them. It's not upsetting, because you don't think about the bad times. You think about the good times. We just all know from experience what can happen to you so quickly. That's why we all just try to have as much fun as we can." Then Corey paused, and a tear fell from his eye. "It's nice that he thinks of me as his hero, because in a lot of ways, he's mine." Finishing eighth last weekend was a disappointment. But for anyone familiar with A.J.'s story, the simple fact that he was able to put on a wrestling singlet and compete at all this year is worth a gold medal in itself. "That first day of practice, I got emotional and left," A.J. said, "because wrestling will always remind me of my parents."
Joseph Santoliquito is the Managing Editor of Ring magazine and a frequent contributor to ESPN.com. Sound off to Page 2 here.