FATHERS AND SONS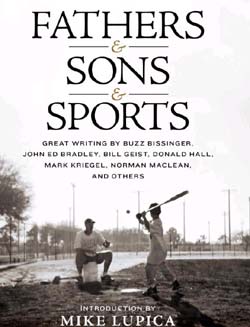 Purchase "Fathers & Sons & Sports"
Excerpts
•
Tom Friend: Worlds apart
•
Jeremy Schaap: A father's gift
•
Wright Thompson: Holy ground
•
Steve Wulf: Bo knows
From ESPN.com
•
Eric Neel: Practice swings
•
Ivan Maisel: Coach and QB
•
Mary Buckheit: Don't give up on golf
•
Kieran Darcy: Remembering life on 9/11
My father saw Bill Mazeroski end the 1960 World Series with a home run, he saw Jerry Kramer throw the block that won the Ice Bowl, he saw Muhammad Ali and Joe Frazier pummel each other in Manila, and he saw Reggie Jackson hit one home run in Game 6 of the 1977 World Series. Jackson, of course, hit three home runs to help the Yankees beat the Dodgers in that game. My father saw him hit the first, off Burt Hooton. When Jackson hit his second, my father was at a concession stand buying me popcorn. When Jackson hit his third, my father was buying me a soda.
Eventually, he forgave me. I think.
A year after Jackson's big night, my father took me to Fenway Park for a one-game playoff between the Red Sox and the Yankees. I was too young to sit in the press box, so he asked some players if anyone had spare tickets. "Sure," said Yankees shortstop Bucky Dent. "You can have mine." That's how we came to be sitting in Bucky Dent's seats when he hit the game-winning, three-run home run that Boston fans still cry over.
I was privileged to spend those moments with my father, to tag along at Super Bowls, Olympics and World Series. But the moments I remember best were the quieter ones watching him at work. For me, my father is a sound: the steady click of his fingers on the keyboard, a cadence I remember awakening to from earliest childhood.
There was always something that had to be written, usually at six in the morning. A book, a television script, a magazine article, a theater review, a radio or TV commentary. He loved writing. My father often said that when you love your job as much as he did, it isn't work. That's why I wanted to be a sports reporter -- I wanted to have as much fun as he had.
I would love to go with him to one more game at Lambeau Field or Madison Square Garden. But what I'd really like is to wake up once more to that sound, the clack-clack of the keyboard -- the soundtrack of his life.
Jeremy Schaap is an ESPN anchor and national correspondent. He is the author of "Cinderella Man: James J. Braddock, Max Baer and the Greatest Upset in Boxing History," a New York Times best-seller, and "Triumph: The Untold Story of Jesse Owens and Hitler's Olympics." Schaap is also a regular contributor to ABC's Nightline and World News. Dick Schaap, who wrote nearly 30 sports books and was the avuncular host of ESPN's "The Sports Reporters," died at age 67.