Single page view
By Aaron Schatz
Special to Page 2
Imagine a draft that goes like this: a future Hall of Famer in the first round; a future Hall of Famer in the second round; another in the fourth round; and a final future Hall of Famer in the fifth round.
One team actually did that in one draft. While that draft class has to rank as the best ever by one team, we thought it would be fun to start at the beginning of the combined AFL-NFL draft in 1967 and list the best drafts. To be rated, a team had to grab a number of good players who had long careers, with some of them making multiple Pro Bowls, while mixing great early picks with steals in the late rounds.
NFL draft coverage on ESPN.com
Get your complete coverage of this year's NFL draft at NFL Draft Central.

You can also get complete draft history since 1990 here.
1970 Pittsburgh Steelers
Since 1967, only twice has a team found two Hall of Famers in the same draft. The '70 Steelers took two Hall of Famers this year (they would draft nine total in six drafts from 1969 through 1974). But there wasn't much else found in this draft besides QB Terry Bradshaw, taken with the No. 1 overall pick out of Louisiana Tech, and CB Mel Blount, taken in the third round out of Southern University. Second-round selection Ron Shanklin was Pittsburgh's leading receiver for three years and made the 1973 Pro Bowl, but quickly lost his place on the team to two rookies from the 1974 draft (more about them later) and was out of the NFL by 1977. Two late-round receiver selections, Jon Staggers (fifth round) and Dave Smith (8th round), did manage to stick around the league for a few years.
1973 Buffalo Bills
The 1973 Bills had one of the deepest drafts of all time, but their first choice, No. 7 overall selection TE Paul Seymour out of Michigan, was a bust. He played only five years and never caught more than 20 passes in a season. Second-round pick, DT Jeff Winans, never panned out; neither did DT Bob Kampa (third round) or CB Donnie Walker (fourth round).
But the Bills had two picks in round one, and the other guy, guard Joe DeLamielleure from Michigan State, became the Hall of Fame leader of the Buffalo offensive line known as the "Electric Company" because they "turned the Juice loose." The Bills found their starting quarterback for the next 12 years, Joe Ferguson of Arkansas, in the third round. The lower rounds found numerous players who would have long NFL careers. Defensive lineman Jeff Yeates (fourth round) played 11 years and was a starter in Atlanta from 1978-1983. WR Wally Francis (fifth round) played nine years and was a starter in Atlanta from 1977-1981. They found two starting linebackers in Jeff Skorupan (sixth round) and Merv Krakau (14th round). And in the 15th round the Bills took LB Joe Rizzo out of King's Point College; he ended up a four-year starter in Denver and even started a Super Bowl.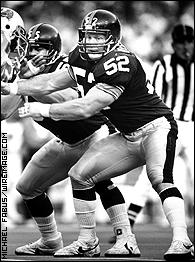 Webster and the '74 draft class helped the Steelers win four Super Bowls.
1974 Pittsburgh Steelers
Here you go, the only team that has ever chosen more than two Hall of Famers in the same draft – and Pittsburgh chose four for good measure. Even better, the Steelers were able to find these four legends despite drafting near the bottom of the draft. Pittsburgh took WR Lynn Swann out of USC with its first-round pick, 21st overall, LB Jack Lambert of Kent State in the second round, and WR John Stallworth of Alabama A&M with the first of their two fourth-round picks. Their best choice, however, was Mike Webster of Wisconsin, in round five. Webster became the best center of all time, playing 17 years and making the Pro Bowl in nine of them.
For good measure, this draft also included fourth-rounder Jimmy Allen, who won two Super Bowl rings as the nickel back before starting in Detroit as a safety, and Charlie Davis, who ended up playing seven years and was the starting nose tackle in St. Louis from 1975 through 1979.
1981 Washington Redskins
Four players from this draft were starting for a Super Bowl champion one year later, and two others were starters by the time the Redskins won their next Super Bowl. With their first two picks, the Redskins grabbed two of the legendary Hogs, tackle Mark May (first round, 20th overall) and center Russ Grimm (third round). Fifth-round selection Dexter Manley became one of the most intimidating defensive linemen in football with 97½ career sacks. Although he had a short career of only six years, WR Charlie Brown (eighth round) started two Super Bowls. In the ninth round the Redskins found Darryl Grant, who was an offensive lineman in college and by his second season was starting at defensive tackle in the Super Bowl. And with their final pick, they grabbed TE Clint Didier (12th round), who played eight seasons and caught a touchdown in Super Bowl XXII.
Aaron
Schatz
GREATEST DRAFTS