Single page view
By Aaron Schatz
Special to Page 2
It seems like we've been waiting for the inevitable return of Ricky Williams practically from the moment he announced his retirement last July. After all the aborted comeback announcements and the interviews in which he said he is coming back, followed by the interviews in which he said he isn't coming back, it seems as if he really means it this time.
Don't count on Ricky running the Dolphins offense.
This time, reporters actually have spoken to Ricky, and not just his agent, about a comeback. Despite the fact that he hasn't practiced in a year and apparently spent the last 12 months on the Lindsay Lohan Diet Plan, Ricky Williams is coming back to the Miami Dolphins.
To which I say: Who cares?
The new Dolphins general manager probably doesn't care all that much. Randy Mueller, who took the job on Monday, has already traded Williams once, in March of 2002 when Mueller was the GM of the New Orleans Saints. Mueller might not have the final say in Williams' future in Miami – new head coach Nick Saban has that power – but Mueller won't be laboring under any misconceptions about Ricky as the team's savior. And rightly so.
"My opinion of Williams has not changed since our first encounter in the offseason of 2000," Mueller wrote in a May 23 column for ESPN.com, before he took the Dolphins' job. "He's a good guy. He has a big heart. He's not out to hurt anyone. He is not a problem in the locker room. He just marches to the beat of a different drummer. He has always been very unpredictable, and that will never change."
Williams is not going to save the Miami Dolphins. In fact, Williams isn't going to help Miami win a single game that the Dolphins wouldn't win otherwise. If Miami fans think they will be watching Ricky the super-stud running back this season, I've got some bad news: That guy doesn't exist anymore.
In fact, that guy existed for only one season, 2002. And his 383 carries that year burnt him out for good.
Ricky apparently has told a reporter that he feels he has a couple of 2,000-yard seasons left in him. Which is true, I suppose, if you want to count both rushing and receiving yards. And the pre-season. And scrimmages.
Remember the Ricky Williams of 2003? He suffered through a six-week stretch when he never hit 100 yards. In three different games, he couldn't even gain 40 yards. He dropped from an average of 4.8 yards per carry in 2002 to 3.5 yards per carry in 2003.
The only running back who had at least 250 carries with a worse average was Eddie George.
But the important number in explaining why Ricky won't help the Dolphins is 392, which is how many times Williams carried the ball in 2003. That is the sixth-highest single-season total in NFL history. And it followed his 383-carry season in 2002 – the 13th-highest total in NFL history.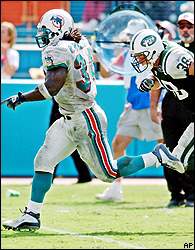 Ricky's best days are definitely in his past.
The roll call of running backs atop the all-time single-season carries list reads like a who's who of players whose careers fell off a cliff. These backs basically fall into three categories: guys who got injured the next year, guys who were never as good again, and guys named Eric Dickerson.
The first category includes (among others) Jamal Anderson one year before he blew out his ACL, Terrell Davis one year before his blew out his ACL, Edgerrin James one year before he blew out his ACL, and Barry Foster (who played only 20 more games in his entire career). If a running back is lucky, like James Wilder or LaDainian Tomlinson, he manages to get in an extra season before the overuse leads to injuries.
The second category includes (among others) Eddie George after 2000, Emmitt Smith after 1995, Marcus Allen after 1985 and, possibly, Jamal Lewis (unless he rebounds this season).
The third category includes ... well, Dickerson, who led the league in carries in season after season with no ill effects. Oh, and to a lesser extent, Walter Payton after 1984.
Maybe with a year off, Ricky will be refreshed and just as strong as he was before 2002. But guess what? That running back wasn't so great, either. Beginning in 1999, Williams' rushing yardage totals are 884 in '99, 1,000 in 2000, 1,245 in '01, 1,853 in '02, and 1,352 in '03. His yards-per-carry averages are 3.5, 4.0, 4.0, 4.8 and 3.5, respectively.
Aaron
Schatz
RICKY'S RUN OVER