4. Dick Wood, 1966 Miami Dolphins (3-11)
Actual stats:
14 G, 83-for-230, 36.1%, 993 yards, 4 TD, 14 INT
2004 projection:
16 G, 124-for-264, 46.9%, 1,189 yards, 4 TD, 10 INT
Well, somebody from an expansion team had to show up. As you can see from this photo, Wood is trying to push a television camera aside so nobody will see how bad he's playing. In the film version of "worst quarterback seasons ever," Wood will be played by Peter O'Toole.
3. Dan Darragh, 1968 Buffalo Bills (1-12-1)
Actual stats: 11 G, 92-for-215, 42.8%, 917 yards, 3 TD, 13 INT
2004 projection: 13 G, 167-for-305, 54.7%, 1,321 yards, 4 TD, 10 INT
Hey Falcons fans, remember how angry you were when your star quarterback was lost for most of the 2003 season thanks to an injury in a preseason game? Imagine if instead he had been lost with a knee injury in a full-contact intersquad scrimmage. That's what happened to the Bills' Jack Kemp in 1968. Backup Tom Flores went down in camp, as well, leaving the team in the hands of rookie Dan Darragh, a 13th-round draft pick from that famous football factory, William & Mary. Seriously, would you trust a quarterback with hair like a troll doll? By the middle of the season, Darragh was knocked out, too, thanks to the porous Buffalo line, and by the end of the year, the Bills were so desperate they moved return specialist and part-time wide receiver Ed Rutkowski behind center. Take that, Troy Brown! Darragh's name might sound like a Welsh curse word but he was a blessing to the Bills -- because his poor play helped them get the top pick in the joint AFL-NFL draft, and that pick became O.J. Simpson.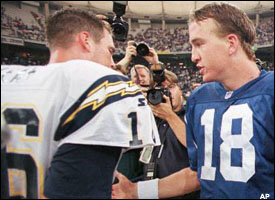 Remember when the Colts considered drafting Leaf over Peyton Manning?
2. Ryan Leaf, 1998 San Diego Chargers (5-11)
Actual stats: 10 G, 111-for-245, 45.3%, 1,289 yards, 2 TD, 15 INT
2004 projection: 10 G, 116-for-243, 48.0%, 1,320 yards, 2 TD, 15 INT
Yes, he was as bad as you remember.
1. Gary Marangi, 1976 Buffalo Bills (2-12)
Actual stats: 11 G, 82-for-232, 35.3%, 998 yards, 7 TD, 16 INT
2004 projection: 13 G, 135-for-335, 40.3%, 1,513 yards, 10 TD, 15 INT
But this guy was worse. Marangi managed to lead the Bills to eight straight losses despite the presence of NFL rushing champion Simpson. The 1976 Bills were 2-4 through six games even though veteran Joe Ferguson was having a strong season (9 TDs, only 1 INT). When Ferguson was lost for the year with an injury in Week 7, third-year backup Marangi took over and put on the worst passing performance in NFL history -- so bad that this ranks as the worst quarterback season ever, even though Marangi had positive value when he ran with the ball (230 yards on 39 carries with two TDs).
Marangi managed a handful of touchdowns because Simpson's legs kept putting the Bills into good field position, but check out that completion percentage. Marangi is the only quarterback in history who, even after adjusting to the friendly 2004 offensive environment, ends up with a completion percentage below 45 percent. The 1976 Bills ended up 2-12, and no game tells the story of this season like their Thanksgiving matchup with Detroit. Simpson broke his own NFL rushing record with 273 yards, but Marangi passed for just 15 yards and the Lions beat the Bills 27-14.
Aaron
Schatz
WORST QB SEASONS