Commentary
'The Rise and Fall of Art Schlichter'
Originally Published:
September 2, 2009
By
Art Schlichter
and
Jeff Snook
| Special to Page 2
Editor's note: The following is excerpted from "Busted: The Rise and Fall of Art Schlichter,"
© 2009 by Art Schlichter with Jeff Snook. Reprinted by arrangement with Orange Frazer Press, Inc.
Chapter seven: Who wants to be a celebrity?
One of my favorite movies of all time is "The Natural" starring Robert Redford, because I could relate to his character in the movie. I identified with the line when he said that all he wanted in life "was to walk down the street and have somebody say, 'There goes Roy Hobbs, the greatest ballplayer to ever have played the game.'"
I knew what he meant.
Too, I had a weakness for women like he had. I didn't really care about fame, fortune, or anything that accompanied it, just as Roy Hobbs hadn't. All I ever wanted was for people in my little hometown to say, "There goes Art Schlichter, the greatest ballplayer to ever come out of here."
My dad, on the other hand, mapped it out for me to become a collegiate superstar, then a professional athlete, and eventually a sports legend (I made two out of three anyway). He always had the bigger dreams for me, the bigger goals, all rounding into the bigger picture.
Those things weren't on my mind.
Nevertheless, whether I wanted it or not, fame and celebrity were gaining on me like a runaway locomotive by the end of the 1979 season, especially after we beat Michigan to finish 11-0, win the Big Ten championship and secure a Rose Bowl berth opposite USC.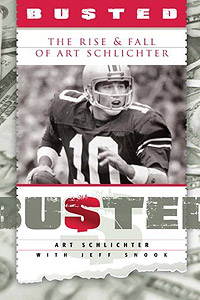 Orange Frazer Press Former Ohio State quarterback Art Schlichter recounts his rise and fall in "Busted."
Buy the book here
.
Life as the starting quarterback at The Ohio State University couldn't have been much better. For starters, I loved winning as much as anyone who had ever played the game. And we'd won them all for the Buckeyes' first unbeaten regular season in four years, before the Rose Bowl loss.
I'd become, in all modesty, a huge name in the state of Ohio, even though that was never my goal. It just worked out that way.
I was voted to most All-American teams and would finish fourth in the Heisman Trophy voting that season (won by USC's Charles White), the highest finish for a sophomore in the 45 years of the award. This was 28 years before a guy named Tim Tebow became the first sophomore to win the Heisman.
Columbus wasn't a celebrity-driven town like Hollywood or New York. Woody Hayes was a celebrity in Columbus, during and after he was head coach. If you were a starter for the Buckeyes, you were a celebrity. That included the quarterback, especially the All-American quarterback of an undefeated team.
But my level of celebrity had reached heights even I had never imagined. It seemed that everybody in the state knew me, or wanted to talk to me, or have me talk to them, or just wanted to touch me or take my picture.
During the final week of November, I was pictured on the cover of Sports Illustrated for the second time in three weeks. The first time I shared the cover with four other players from the nation's top-five teams -- Alabama's Steadman Shealy, Nebraska's Jarvis Redwine, Florida State's Jimmy Jordan and Houston's Dedrick Brown. The cover headline read: "Who's No. 1?" as each of us waved our index finger.
But it was the November 26 cover photo of me scrambling against Michigan that meant the most to those around me. I didn't know about it until Dad called me and told me when the issue hit the newsstands.
I can honestly say that it wasn't that big of a deal, unlike seeing my name in the Street and Smith's magazine two years earlier. It just went along with everything else that was happening and I didn't get too excited about it. But to Dad, it was huge. I think my family might have bought 100 copies. I know I never bought a single one. Today, I still sign those covers and see them on eBay. In fact, I've probably signed about 200 of them in just the past year.
SCHLICHTER: OUTSIDE THE LINES
Art Schlichter was profiled in this 2008 "Outside the Lines" feature by Ben Houser for ESPN.com: Crossing the Line
To put it in perspective, all the publicity and fame was surreal for me, I guess because I had very low expectations for my career.
The day after the Michigan game, I was invited to Beulah Park, the fall-winter horse track on the south side of Columbus, to be the guest trophy presenter to the winner of the featured race.
I was near the grandstand that day when I was introduced to a man named Perry Bayley, one of those old-time horse trainers who worked about eighteen hours a day in a barn. He seemed to warm up to me immediately, and he innocently mentioned, "I really believe my horse is going to win this race."
Hearing Perry's confidence and deciding immediately that he was a straight-shooter and genuine nice guy, I walked away and bet $100 on it. Sure enough, his horse won and I cashed the ticket for $600.
I thought, "Hey, this Beulah Park place is for me …"
I had already beaten a path to Scioto Downs, the local harness-track, plenty of times, but now, I had found a new betting playground for the winter months. That moment sucked me in to that track for the next twenty years. What I wouldn't give now for Perry's horse to have finished dead last that day.
Public appearances were common for me then. I was invited virtually everywhere in Ohio -- to cut a ribbon at a gymnasium opening, to make a speech or present a trophy.
There's a certain feeling celebrities know when they go out in public. They can just feel people staring at them. I felt that every moment of every day at Ohio State. I still know that feeling, but not to the same degree as when I played for the Buckeyes. You learn to feel the eyes on you, even without looking, but I must admit that there is something about it that you always love. I don't know, but I guess it makes you feel special. As my career wore on and the recognition mounted, I would've liked some anonymity. I rarely had any of it.
When I went into restaurants, I was mobbed at my table for autographs and pictures. The thing is, I usually enjoyed meeting people, especially kids. I knew that an autograph or a smile or small talk would make their day and I was glad to do it. It was the grownups who were a bit too much.
I suppose I lived the life of a guy who had everything at his feet and I didn't know what to do with it. I would've been happy back on the farm, but I was sprung into this new way of life and it was like a runaway freight train.
At times, I just felt overwhelmed by it.
Even in the solitude of my dorm room, which should have been a refuge in which to sleep and study, it became very difficult to enjoy any privacy. A good night's sleep was out of the question.
Women would come up to my door at all hours of the night, wanting to meet me. They would knock at two or three in the morning. There were times I had a date in my room, but that didn't stop other girls I had never even met from knocking.You can imagine how that looked.
Other times, I would open the door, half-asleep, not knowing who was on the other side.
"I just wanted to meet you," some strange girl would say as I wiped the sleep out of my eyes, except she didn't always use the word "meet."
It sounds superficial and shallow, but it happened more times than I can count.
After my freshman year, my parents rented an apartment for me out behind the OSU golf course, a few miles west of campus, so I could have some privacy. As a student-athlete, the rules at Ohio State dictated that I live in the dorm, but I had figured my way around it. I would sleep in the dorm one night a week and at my apartment the other six.
This didn't help me grow close to my teammates, either, since they were together all the time and I was isolated in my home away from campus.
When it came to girls, I needed more discipline than I had back then.
I knew I could go into any bar in Columbus -- although I hated bars and didn't drink -- and walk out with the prettiest girl. I wasn't naive enough to think it was my charm. I knew that there was an ego trip for them to tell people they were Art Schlichter's girlfriend.
This obviously made it difficult on the steady relationships I did have. I had dated a cheerleader steadily as a freshman and my longest relationship in college -- with another cheerleader named Maria Ciminello -- began near the end of the 1979 season.
I can't say that I didn't care for the girls I dated while at Ohio State. I did care for them. I can't say I was ever in love back then, because I probably didn't know what love really was. When Maria left me before my rookie season in the NFL, my heart hurt a little.
Dad influenced me a great deal. I never dated anyone without his approval. I think he had a vision of me being like Tom Brady is today, dating movie stars and models. So no girl was good enough for him.
I had just begun dating Maria by the time we arrived in California for the Rose Bowl when Jim Hill, the L.A.-based broadcaster asked, "Art, can you give me an interview?''
"Sure, if you can get me two tickets to the Celtics-Lakers game," I answered.
It was the first time Larry Bird and Magic Johnson -- the same Magic over whom I'd scored that basket a year earlier -- were facing each other in the NBA and I wanted to be there to see it.
"No problem," Jim told me. "I'll get a car to pick you up. How many tickets do you need?"
Jim sent a limo to L.A. to pick up Maria where the cheerleaders were staying, and then they headed out to Pasadena to pick me up at the team hotel. I'd never been in a limo. When it pulled up to the entrance of the Forum, we strolled out like movie stars, settling into prime seats, courtside.
The entire week leading up to the game put me on "cloud nine."
Dick Enberg, then with NBC, which was broadcasting the game on New Year's Day, walked with me to do an interview after practice one day and that was a thrill. I'd always admired Dick and his "Oh my!" calls on basketball and football. He was my favorite announcer. I'd studied sports announcers because I considered getting into the broadcasting field following my playing days.
He wanted to know everything about my childhood and my background because I grew up on a farm and I could tell he didn't know much about farming.
Then on the bus before the game, O.J. Simpson interviewed us.
"How are you feeling?" the Juice asked me. I know I gave some politically correct softball answer, even though I was anxious as a pig at a bacon factory. Little did we both know that O.J. and I would each run into our own set of problems, spend time in prison, and become two of the most infamous athletes in history …
The one goal I had the week of the Rose Bowl was to meet and date the Rose Bowl queen, just like Ohio State quarterback Rex Kern had done eleven years earlier. Rex, who also wore number 10, met the queen before the 1969 Rose Bowl, which the Buckeyes won 27-16 over O.J.'s USC team to win the national championship. Recently inducted into the College Football Hall of Fame, Rex and his Rose Bowl queen are still happily married to this day, living in California.
I did go out with the queen that week. Her name was Julie Raatz and I met her at Disneyland the day the team took its traditional trip to the amusement park before the game. We never got married, of course, but she called me years later and we had a nice conversation.
Anyway, to meet O.J. and Dick Enberg was beyond the wildest dreams of this farm boy. Following the loss to USC in the Rose Bowl, Dad and I went to the Santa Anita Park racetrack for a few days, to relax, and Dick invited us to sit in his box. He was down to earth and friendly. I thought he was one of the coolest guys I'd ever met.
I had no idea what I was doing with the horses back then, but it got my juices flowing, being there in that atmosphere. I figured if horse racing was good enough for a guy like Dick Enberg, then it would be okay for me, too.
Being a well-known athlete in Ohio gave me the opportunity to meet other athletes, such as Bengals quarterback Kenny Anderson and many of the Cincinnati Reds. I'd always been a fan of the Big Red Machine and the broadcasters who called the games on radio. Joe Nuxhall and Marty Brennaman, guys I grew up listening to, would have me on the air with them all the time.
I was invited into the Reds clubhouse many times and got to know Pete Rose, Johnny Bench, Tom Seaver, and the entire team. Johnny was from Oklahoma and always busted my balls about how the Sooners were better than the Buckeyes. And Seaver would talk about how great USC was.
But Pete loved Ohio State.
At about the same time, a book about my life was being released. There aren't many college kids who have a biography written about them, but it happened to me. A Dayton, Ohio, sportswriter named Ritter Collett, a good guy and a friend of the family, approached my dad about writing a book on my life and it resulted in "Straight Arrow."
I think I still have a copy. Maybe it was goofy to most people, but to me it was a nice little book about how I grew up. I know people take potshots at the title since my troubles became public. I take potshots at the title, too, joking it should've been called "Broken Arrow" or "Straight Zero," but at that time, I'd always tried to do the right things, for the most part.
I never drank alcohol or experimented with drugs like other college kids. I never even smoked a cigarette. I didn't believe in putting those things into my body. I didn't grow my hair long or get a tattoo. I always believed, and still do, that drinking and drugging were nasty things to do to your body. I was brought up to not abuse your body or put anything in it that would put you at a disadvantage and I lived by that. I just don't like the taste of alcohol and I never liked it. Diet Coke was my drink. Today, it's root beer. I drank alcohol twice in my life. I never hung out with the guys who were going to the High Street bars to go drinking. That wasn't my scene.
I remember Playboy magazine's All-American team of 1980, for example. The magazine gathered its All-Americans in Lake Geneva, Wisconsin, following spring practice, to shoot the annual pre-season issue. I remember walking into a hotel room that weekend to see a few of the players lying there with cocaine and booze all over the place. It wasn't the scene for me. I was happy playing golf with Cris Collinsworth and a few other guys on the team.
In other words, that "Straight Arrow" stuff was accurate in many ways.
The Columbus media often treated me like a king. Few may have known of my gambling issues while I was in college. Channel 6, the ABC affiliate, produced a show about my first three years. They played my highlights in slow motion to the song, "One In A Million,'' by Larry Graham and after my career, Channel 10, the CBS affiliate, produced a 30-minute show called "The Schlichter Years." It was a documentary of my career and the station hired people to play me in my early life, including a kid named Tobin Hoppes, from my hometown, to play me as a boy. The funny thing was, he was a left-hander and they had to teach him how to drop back and throw right-handed for the documentary.
Things like that made me feel that my own life was something that existed beyond me. I know I was starting to struggle with the celebrity issue and I began to isolate myself more during my junior and senior years.
All the while, I knew Dad was living vicariously through me. He was so proud of me. I wanted to win games, be an All-American, win a Heisman Trophy, and do all those great things for my dad as much as for myself. Mom loved me no matter what I did, or didn't do, on the field.
But Dad, he was a different animal. As much as he was living through me, he still never had any usable advice as to how to handle celebrity. Nobody did. He just told me, "Be careful how you handle yourself," and things of that nature. There was no guidebook to read on the subject.
I soon discovered one place where I was left alone and it became my refuge.
Scioto Downs, the harness-racing track south of Columbus, was a popular place in the 1970s and '80s, with 3,500 seats packed nearly every night and hundreds more milling around. It was always a happening place -- my type of place. Horse racing fans were there to watch the horses and to gamble, too, so they just didn't bother me. I was there to get away, look at the program, have supper, place a few bets, and relax.
I've always liked having private moments like those I experienced at Scioto. Other people love to go out to bars and restaurants, but I didn't. I didn't want to go to a bar because I didn't drink. I couldn't concentrate on a movie because everybody knew me and wanted to shake my hand or interrupt the conversation with my date.
The people I met at Scioto were my type of people.
I loved horse people, who make a living owning and training horses, rather than gambling on them. They're hard-working, honest people and I felt comfortable around them from the beginning, partly because I was raised on a farm. They're different from the people who go to casinos, play blackjack and try to make an easy buck sitting on their butts.
While my teammates and most Ohio State students would hang around High Street, the campus' Mecca for bars and nightlife, I would be 20 miles away in my element at Scioto.
I can remember the first time I saw the track as if it were yesterday. On any given night during the summers in high school, I would ask my buddy what he was doing.
"Going up to the racetrack," he'd say.
"The racetrack?" I would ask. "What's so fun about that?"
I had never even thought of going to the racetrack.
Then one day, he got me and my friends all fired up. There was a sure-fire way to make some spending money, he told us.
"Listen guys, they're are going to fix a race at Scioto Downs, and we can bet on it," he said.
I didn't know what a fixed race was, but my friend explained how it would go down. A guy was driving one horse and he and some other guys would work together to fix the ninth race that night.
"They're going to tell us the details after the seventh race, so we'll have time to bet on it," he told us.
"Ninth race?" I asked. "You mean we will have to sit there for eight races?"
Other than the possibility of winning some money, I wasn't too thrilled with the idea. My buddy said we would bet something called "trifectas," which he explained amounted to picking the top three horses in the race, and that we would "clean up big-time." He explained that we would bet on longshots, probably 20-to-1 or 30-to-1 odds. I did understand how the odds worked, but that was about it.
I got $300 out of my bank account. My buddy Scott got $200 and my friend … well he never had any money, so I don't know what he put into the pot.
By the time the eighth race finished, my buddy had received his tip before taking all of our money and darting to the betting window.
As the race started, it was raining so hard you could barely see the track. One of our horses was in the one-hole and that was the best place to be in harness racing, he told us. Another of our horses started on the outside. Sure enough, as we stood there screaming like the foolish teenagers we were, our three horses came trotting around in a 1-2-3 finish just as he had been told.
"Oh my God!" I shouted. "How much will this be worth? Twenty thousand? Thirty?"
Well, the guy who owned one of the horses must have figured what had happened, because they were down on the infield arguing after the race ended, about the same time we were figuring how to spend the money. I think the trifecta paid about $200 per ticket and we had that several times over.
I know one thing. We never cashed the tickets that night because we were scared to death of getting caught. My buddy went back to the track a few nights later and cashed our tickets, and there was a big investigation, but I don't remember much about how it ended or if the public ever heard about it.
That was the first time I ever saw Scioto Downs. And it was that night when I lost my gambling virginity, other than a few nickel bets when I was a kid, playing cards with Uncle Jesse and my cousins.
By the time I visited Scioto while I was in college, people recognized me at the track's ticket window and probably wondered where I received the money to gamble. After all, I was an amateur athlete and not supposed to be walking around with thousands of dollars in my pocket.
But I was making speaking appearances for alumni groups like the Kiwanis and got paid anywhere from $100 to $500 a pop, which I'm sure was against NCAA rules back then. Then again, the coaches had not arranged it.
Anyway, I always had spending money. And spending money to me meant gambling money.
In retrospect, I know that fame overwhelmed me. I was still just a few years from high school and yet, I lost who I really was. I became something I didn't want to be. People think you're the greatest thing to walk the earth just because you can play football. And if you're not careful, you start believing it, too.
All of it has nothing to do with who you really are. It was a facade for me. During those college years I became isolated and grew into thinking that my job was to play football and my recreation was to gamble and chase girls.
I lost sight of who I was.
Maybe that's why I enjoyed doing charity work so much. I worked for Easter Seals, Multiple Sclerosis, the Columbus Police Athletic League and I was chairman for the Special Olympics in Springfield, Ohio. That was the most rewarding.
I remember this one little guy who had Down Syndrome -- a short chubby guy who would run his butt off each year in the races. He loved me. He always came running up to give me a big hug. I knew I would make their day if I paid attention to them and spent time with them.
I held summer camps for quarterbacks and receivers at a camp in Springfield, which a local dentist, Ski Schanher, who also organized the "King Arthur Fan Club," had arranged for me.
Those are a few of the good things I did, but you never read much about it in the newspapers.
Why was I at Ohio State to begin with? I have more regrets about that than about anything. I rarely went to class.
I was a communications major, but I was horrible about studying. I wish I would've gone to class and taken care of what I needed to do, but I was lazy and I cut all the corners. I took the tests when I needed to or looked over somebody's shoulder if I had to. I did enough just to get by.
I was usually tired. I played football, then played basketball, then went right into spring football. I was worn out after my freshman year, so I just stopped going to school. I would go early in the quarter to figure out what I needed to do to pass and then I tried to get by as easily as I could.
The athletic department had tutors for us, too. I had a class or two each quarter in which I knew I could get a decent grade no matter what. Some professors were football fans and they'd make it easy. In one class, the professor gave out all the answers the day before the test and you just had to memorize them that night. I also had people write papers for me.
I was just hurting myself by doing all of these things. I know that now. I had a chance to get a free education and didn't take advantage of it. I've said it a thousand times -- it's one of my biggest regrets.
Today at the Woody Hayes Athletic Center, there's a long wall of portraits of the Academic All-Americans. I never did anything to earn a place on that wall. My face is in the other section, for football achievements only. When I look at my publicity pictures from Ohio State, it's a lifetime ago.
Sadly, I can't remember where or when they were taken. I only can tell I had a full head of hair, a flat stomach and I was smiling. So I must have been happy, right? At least that's what everybody believed then.
Those pictures, as well as the Sports Illustrated covers, show an All-American quarterback, someone whom everybody believed had the brightest of futures.
I believed it, too.