By David Schoenfield
Page 2 Staff
Yes, I'd like some sushi with my coffee.
It's never too early to watch something other than spring training baseball, so I crawled out of bed at 5 a.m. to tune in the opening game of the season -- live from the Big Egg.
You may mock the affectionate name the Japanese have given the Tokyo Dome, but it's a lot more creative than "Toyota Ballpark in Crowded City."
I flip on ESPN2, expecting to hear Peter Gammons and Harold Reynolds providing commentary; but instead, I get "Dream Job" winner Mike Hall reading off college lacrosse scores on ESPNews. Thanks to the wonders of the cable industry, ESPN's broadcast is blacked out here in Central Connecticut and I'm forced to instead watch the YES Network.
Too bad, because it means I can't bring up Harold's statement on "SportsCenter" last night that the Devil Rays will finish in third place ahead of the Blue Jays.
First inning
Love or hate the Yankees, you have to respect them for one thing: It's white pinstripes at home, gray on the road. None of this trend of brightly-colored batting practice tops ... except when they're playing in Tokyo, in which case they're the visiting team wearing pinstripes with a "RICOH" patch on their right sleeves and "RICOH" stenciled on their helmets.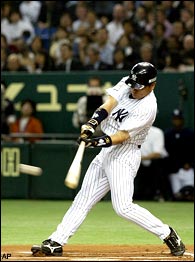 Hideki Matsui got another hit in his home country on Tuesday.
Hey, you can't blame George and Bud for allowing this blasphemy; a man's gotta pay Enrique Wilson's salary somehow.
I'm a big believer in a team's Opening Day uniforms saying a lot about the organization -- anything other than white or gray is just plain wrong and shows that your team is run by a bunch of marketing mucks.
The Devil Rays are wearing "Tampa Bay" green.
Derek Jeter is leading off for the Yankees -- another indication the Yankees are not just rich, but smart. Most teams would make Kenny Lofton their leadoff hitter, because that's what he "is." But Joe Torre understands that it's stupid to give your second-worst hitter the most at-bats on the team. Compare Torre's take on this to, say, Grady Little, who batted Johnny Damon leadoff all last year for the Red Sox even though Damon had the worst OPS on the team.
Not that you need another example that proves Joe Torre is a better manager than Grady Little.
Facing Devils Rays ace Victor Zambrano, Jeter grounds out to shortstop to begin the game. Steinbrenner immediately announces that A-Rod will be moving to shortstop if Jeter continues to stink it up like this.
With Bernie Williams injured, Hideki Matsui is hitting second. He promptly doubles into the gap in right-center ... a very small gap, mind you. The power alleys in the Big Egg appear to be the same distance from home as the fence on the softball diamond at Bristol Central High School.
A-Rod digs in for his first official plate appearance in pinstripes. Time stops. For the record, it goes like this:
Fastball up high.
Changeup inside.
Fastball down the middle, called strike.
Fastball inside, called strike. ("That's borderline," says Ken Singleton, already in midseason form.)
Curveball looking, called strike three.
Obviously, A-Rod can't handle the pressure of playing in New York.
Jason Giambi pops out to left field to end the inn ... oops! The ball barely clears the "265" sign in left-center. Yankees 2, Devil Rays 0.
I hate this team.
Second inning
Enrique Wilson flies out to Jose Cruz in right field, which gives Cruz one more catch than he made in the playoffs last fall.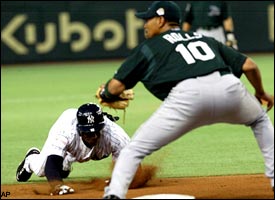 Kenny Lofton wasn't happy batting ninth, but he did fly into third for a triple.
Lofton comes up and, in a shocking development, Michael Kay informs us that Lofton is "unhappy" hitting ninth. Kenny Lofton is unhappy! Truly hard to believe.
Lofton triples, but Jeter strikes out to end the threat. Obviously, Jeter can't handle the pressure of playing alongside A-Rod.
In the bottom of the inning, Tino Martinez hits for the Devil Rays. Tino was acquired for his clubhouse presence, veteran leadership, calming influence and ability to run the poker games on team flights. For some reason, I predict Tino's "clubhouse presence" worked better when his teammates were named Jeter, Rivera and O'Neill than it will with guys named Halama, Fordyce and Baez.
Third inning
Mike Mussina, going for his 200th career victory, has a scoreless first three innings. Is Mussina a Hall of Famer? He's 35 years old, so he has a chance -- albeit slim -- at 300 wins. (Of course, with this lineup behind him, he could win 25 games this year.) His career ERA is 3.43, which, adjusted for ballpark and era, is 29 percent better than the league average -- similar to Sandy Koufax (plus-31 percent), Carl Hubbell (plus-30 percent), Curt Schilling (plus-29 percent), Bob Gibson (plus-27 percent) and Tom Seaver (plus-27 percent).
However, he's never won 20 games, never won a Cy Young Award (and finished in the top three just once) and never led the league in ERA. He's 5-5 with a 3.06 ERA in 16 career postseason games. Nonetheless, assuming good health, I think he's in, even if he falls short of 300.
Fourth inning
After Mussina walks two batters, Julio Lugo hits a slow roller toward third base. For some reason, everybody has been saying this play will be the most difficult adjustment for Rodriguez. I'm not sure why, since shortstops also have to make that underhand throw on slow rollers from time to time. A-Rod handles the play flawlessly and Lugo is out by half a step.
Toby Hall singles in two runs with a two-out blooper to right field to tie the game.
Baseball can be beautiful at 6 a.m.
Fifth inning
I'm tooling around on the Devil Rays Web site, where I see that general manager Chuck LaMar has received a two-year contract extension. Really, this is too easy. I refuse to jump on the "Rip Chuck LaMar" bandwagon that has swept through the sabermetric community. I mean, come on, he's only lost 100 games twice in six seasons. And, true, you can mock his Greg Vaughn signing, but Vaughn is still third on the team's all-time home-run list.
Plus, consider this, trumpeted in a story on the Web site: "At $25 million, not counting deferred salaries, the Rays have the lowest payroll in the Majors again this season. But what general manager Chuck LaMar did, basically, was take the money the Rays paid Greg Vaughn ($9 million) and Ben Grieve ($4 million) in 2003 and turn it into 11 new players."
So there you go. Name another general manager who can turn $13 million of wasted contracts into 11 new players!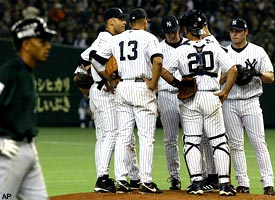 The Yankees had to have a few conferences on the mound during the game.
I also notice that Eduardo Perez is writing a diary on his Japan experiences. Unlike some player "diaries" you see, I actually believe Perez is writing this. A few years ago, while Perez was on the Reds, I took a short flight from Cincinnati to Milwaukee. There, crammed in among us lowlifes in the back of the coach section were ... the Cincinnati Reds! Barry Larkin was sitting in front of me (he was the only player who had his own row). Anyway, while most of the guys were playing cards, Perez was on his laptop.
Back to the game ... the Devil Rays put runners at the corners with two outs and Aubrey Huff -- the one legitimate offensive threat on the team -- up. From the broadcast booth, Yankee legend Joe Girardi suggests that he won't be surprised if Damian Rolls takes off from first base. This doesn't make any sense to me. If Rolls steals, that would allow Mussina to pitch around Huff. Rolls stays, and Huff lines out to Gary Sheffield in right.
Sixth inning
A-Rod leads off the sixth with a double into the right-field corner, his first hit as a Yankee. Bud Selig comes out of the stands and stops the game, as a podium is hastily assembled near the pitcher's mound. "This is a great day for baseball," Selig begins ...
After Giambi grounds out, Sheffield checks his swing on an 0-2 pitch above his head. He makes contact and hits an excuse-me double into right, giving the Yankees a 3-2 lead. Singleton can't contain himself: "He's going to have a great year!"
I really hate this team.
In the bottom of the sixth, Jose Cruz hits a long home run to right field. Well, it looks long because it's 15 rows deep, but I'm not really sure how far he hit it. Tino then displays some veteran leadership by doubling past Giambi into the corner. (Yankee fans should get used to hearing that.)
And just because I need to say it: Tino Martinez has the ugliest left-handed swing in baseball.
Julio Lugo doubles over Lofton's head in center. (Yankee fans should get used to hearing that, too.) And the Devil Rays take the lead!
Hall then doubles into the left-field corner. Four straight extra-base hits and the Rays lead 5-3 and Mussina is gone. That's it, I'm not drafting the Moose for my fantasy team this year.
Seventh inning
Tampa replaces Zambrano with Lance Carter to start the inning. That's All-Star Lance Carter, mind you.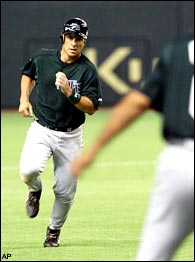 Tino Martinez had to feel good about homering against his former club.
After All-Star Lance Carter pitches a 1-2-3 inning, Rocco Baldelli leads off with a bunt single. Felix Heredia replaces Paul Quantrill and immediately throws away a pickoff attempt; Heredia gets the error, but it should have gone to Giambi. Hey, he's still getting used to being able to bend over again.
Baldelli, meanwhile, easily scoots over to third on the play. Last year, some scouts said Baldelli was faster from home to first than Ichiro; and remember, Baldelli is a right-handed batter! Is this even possible? And does that make Baldelli the fastest white man in baseball over the past 25 years? Who can match him? Dave Collins, the Rapid City Rocket? A young Paul Molitor?
Huff then singles in Baldelli and Tino goes yard for an 8-3 lead. What are the odds Heredia will still be on the roster by the time the Yankees open at home next week?
Eighth inning
Carter pitchers another scoreless frame. Looks like another All-Star season in the works.
Ninth inning
The Devil Rays bring on their new closer, Danys Baez. Baez, of course, is a Proven Closer, as shown last year with Cleveland, when he went 2-9 with a 3.81 ERA and blew only 10 of 35 save chances. It's signings like this that earned Chuck LaMar that two-year extension.
Ruben Sierra strikes out (Ruben Sierra?!!). Enrique Wilson flies to left.
Baez, by the way, is throwing some serious heat.
Lofton walks. Nothing like a two-out walk while leading by five runs. That brings up Jeter, who is 0-for-4 and not handling this A-Rod thing very well at all. His face has broken out in a splotchy rash, which I can only ascribe to the pressure to prove he deserves to play shortstop. Which, in turn, is affecting his hitting.
Jeter grounds out, game over. Yankees lose! Yankees lose!
And I swear I just saw Lou Piniella flip off Steinbrenner.