By David Schoenfield
Page 2
Twenty-seven up, 27 down -- the sweetest possible words for a pitcher.
It takes equal amounts skill and luck to throw a perfect game. But most of all it takes dominance -- which Randy Johnson delivered with nine wonderful innings Tuesday night.
So here is one man's opinion of the most dominating pitching performances over the last 25 years (what we like to call the "ESPN era"):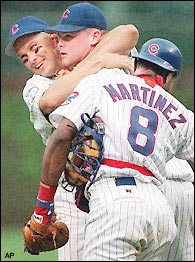 Wood came on the scene as the next big thing with his 20K game in 1998.
1. Kerry Wood fans 20 Astros
In just his fifth major-league start, Wood baffled the Astros with dazzling heat and a dizzying curveball that left Astros hitters lunging at air. True, the weather that May day in 1998 at Wrigley was dark and drizzly, but Wood tied Roger Clemens' record of 20 strikeouts and allowed only an infield single to a good-hitting team while giving up no walks.