By David Schoenfield
Page 2
OK, I'll say this up front: I own a set of golf clubs. But they're in the basement, collecting dust, mold and whatever creatures find their way into the bottom of the bag.
Also, I don't consider golfers athletes. (Except Tiger, of course).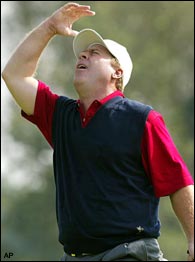 Captain Hal might not be a happy man on Sunday.
I mean, have you ever seen Davis Love walk?
You know where I'm going with this: Why the hoopla over the Ryder Cup? And how did the U.S. team once again manage to wear team shirts that look like captain Hal Sutton picked them out from the discount rack at Sears?
Just three holes into their morning four-ball (don't ask me to explain) match on Friday, Tiger and Phil were quickly down two holes. I'm convinced it was related to their blue shirts with red and white stripes. Tiger would never wear such a shade of blue on his own, and Phil prefers silk shirts he can sweat through. Remember, since golfers aren't athletes (except Tiger), attire is important; and these guys look uncomfortable. I'm predicting Europe in an easy victory.
What, you think that's a stupid rationale? Well, a special Ryder Cup preview issue of a certain national sports magazine appeared in my mailbox the other day. It included a feature on players' wives, with the subtitle, "They're an integral part of the Ryder Cup scene, yet we know so little about them."
Players wives are integral? What's next? A baseball playoff issue analyzing the importance of the wives of the Red Sox and Yankees?
"RED SOX FAVORED TO BEAT YANKEES BECAUSE SHONDA SCHILLING SUPPORTS HER HUSBAND'S HOBBY OF PLAYING WORLD WAR II BOARD GAMES"
"PLAYER SURVEY SAYS A-ROD HAS LACKED INTENSITY SINCE GETTING MARRIED"
"WAKEFIELD'S KNUCKLEBALL BACK IN FINE FORM AFTER RECEIVING NAIL-FILING TIPS FROM WIFE"
"YANKEES WOULD HAVE HAD AN EVEN BIGGER DYNASTY -- IF ONLY JETER HAD MARRIED!"
(Now, if it was all really just an excuse to run that topless photo of Elin Nordegren, then ... well, we need to develop such creativity here at Page 2.)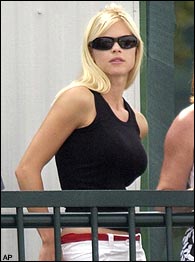 Elin's presence will be critical to the U.S. team's chances.
Seriously, the Ryder Cup is the only thing making the NHL feel good about itself these days. Quit hammering us about this ridiculous notion that golf can be really exciting as a "team sport" with a bunch of made-up competitions. Let's see: Yanks-Sox, NFL, Florida-Tennessee, tearing old wallpaper off my living room walls, Ryder Cup ... let's just say the wallpaper doesn't finish last.
And since when is "Europe" a team? We're supposed to believe that the Scots don't hate the Brits and the Germans get along just fine with the Danes and everyone loves the French? We're supposed to believe just because they share the "Euro" they're a team? What national pride are they playing for? Or is it just a lame attempt to gang up on the U.S., as if Chad Campbell is the one who decided to invade Iraq?
Not to mention that I've seen story after story about the captains, Hal Sutton and Bernhard Langer, as if they have the ability suddenly to prevent Fred Funk from choking in crunch time. Captains? In golf? Sutton has been on a mission to create a "team concept"? Next thing you know, I'll be reading about how Jay Haas' "intangibles" help develop a winning chemistry in the U.S. clubhouse.
And get this -- Sutton has two assistants! I can't even make a joke about that.
Put it this way: If I hear the story about Ben Crenshaw's inspirational, Rockne-like speech before the final day in '99 one more time, I will throw up in my mouth (thanks to the Sports Guy for the line). What, did Justin Leonard finally start driving the ball further than Laura Davies because of that speech? Did he sink that Cup-winning putt because he was inspired by Crenshaw to beat those damn, dirty Europeans?
Of course not. It's a ridiculous notion that insults our intelligence. Golf is hardly a sport (wait, I mean activity) played on emotion and adrenaline. Don't pretend it's football. It's not. A captain doesn't matter, although I'm sure that won't prevent TV viewers from being subjected to countless shots of Sutton looking all nervous and concerned after David Toms slices a four-iron into the rough.
(Of course, Sutton may actually be nervous because he's standing next to Toms' wife, who, I've learned this week, is a "perennial contender for best-looking wife" as voted by the PGA players.)
Finally, since Elin is Swedish but engaged to Tiger, who will she be rooting for?
And can Page 2 dig up that photo?