By David Schoenfield
Page 2
Day Five ...
There was no "Monday Night Miracle" this time.
Just a whole lot of whuppin'.
In other words, it was a couch potato's dream -- you could doze off and not miss anything except Curtis Martin running for another eight yards up the middle.
But here's what I didn't miss:
Six punts in the first quarter. And not one by Reggie Roby.
Kelly Ripa making a guest appearance in the booth. I know what you're wondering: What does she have to do with football? I mean, I understand the desire for ABC to want to promote her sitcom ("Hope and Faith," Fridays, 9 p.m. ET), but is there a carryover audience from "Monday Night Football" to her show?

I shouldn't vent about this. But I sat through a 41-14 football game. It angries up the blood a bit, is all.
The amazing speed of Jets' end John Abraham, who leads the NFL in sacks and chased Jay Fiedler down from behind for a sack as Fiedler was rolling out of the pocket away from him. As John Madden said, "No tight end can block him."

[This space formerly occupied by good line about Kelly Ripa censored by network executives.]

Monday Scorecard
Food consumed during game: With the late start, it was just a few snacks -- chips, ice-cream sandwich, granola bar.

Diet sodas: 2

Salsa: Chi'Chis chunky fiesta salsa (mild). I'm not usually a fan of mild or chunky, but this wasn't too chunky and, while mild, had a nice flavor to it. A surprising three stars out of four.

Weight gained so far: Two pounds. Salsa may be non-fattening, but the chips are doing me in. Must start riding exercise bike.

Or rake more leaves.

Mental state of mind: Better than Dave Wannstedt's.

Times dozed off: Once. The fourth quarter.

Stat of the night: Wayne Chrebet's career stats: 549 catches, 13.5 per catch, 40 TDs; Keyshawn Johnson's career stats: 633 catches, 13.2 per catch, 52 TDs.

More shocking than Ralph Nader winning the election: Still waiting for the first "male enhancement" ad. Man, after seeing them every other inning during the baseball playoffs, I expected to be deluged with them.
Discussions of Ricky Williams' whereabouts. Apparently, he's in California, auditioning for a guest appearance on "Hope and Faith." We were treated to this interesting fact, however: Williams' 775 carries in 2002-03 were the most ever over a two-year span.

Williams had a monster 2002 -- 1,853 yards, 16 TDs and a 4.8-yards-per-carry average. However, that was an outlier in his otherwise undistinguished career. He's never averaged more than 4.0 per carry in any other year, or rushed for more than nine TDs.

With that heavy workload, it's possible Williams would/will never be the same back again, anyway. For precedents, check out Earl Campbell after 1980 and Emmitt Smith after 1995. Neither was ever the dominant back after back-to-back years of 740-plus carries.
A halftime feature on this ridiculous notion that the outcome of the last Redskins' home game before a presidential election somehow predicts the winner.

Look, it's a cute coincidence. THAT'S ALL IT IS. It's a nice piece of trivia to throw out at the end of "SportsCenter." It has no statistical or predictive value whatsoever. Why is this being splashed everywhere?

It's like gamblers who bet on the Jets because they're 12-5 against the spread on Monday nights going back to 1985. As if how the Jets fared in 1985 has one bit of predictive value as to how they'll do in 2004.
Dave Wannstedt's last game as the Dolphins' coach.

Not to knock a guy when he's down, but I suspect Dave may be looking for a new job by the time I get up in the morning.

Advice: Lose the moustache before your next head coaching interview.

Final game score: One potato.

E-mail of the Day
I'm a student at Arizona State and I think that you are fulfilling any football fan's dream. I just wanted to show my support for what you are doing, as I have been watching all the games that I can and plan on watching every game during these 19 days of heaven. Keep up the good work.
-- Chris Acker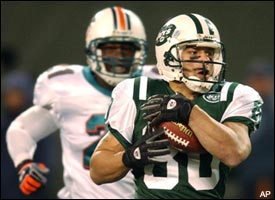 Wayne Chrebet caught a touchdown pass Monday night in the Jets' domination of the Dolphins.

Thanks, Chris. I'll need all the support I can get if these games keep rating at one potato.

Love the running diary assignment. Keep giving it 110 percent!

You and I both know that it is more fun to have something riding on the games. There are 15 games left and I get the feeling you are resisting calling Rocco and laying down some plays or signing up for one of the offshore wagering accounts to parlay Toledo and the over on Tuesday night.

So I have a proposal for you. I'll watch the games, too, and we can bet on each of the remaining 15 matchups. Not for cash, but something creative like a Diet Cherry Coke on tonight's game ... Clark Construction knickknacks vs. ESPN knickknacks ... salsas ... you name it.

Let me know if you are up for the challenge. (Picking the games in the SportsNation poll just doesn't get the JUICE flowing.)
-- Chris Denison

P.S.: I'll take my Dolphins plus the seven tonight!

Chris, you only lost that game by 20 points! With that kind of betting acumen, how can I not take you on? We'll let readers vote in the poll to the right as to what we're betting. As for tonight, I'll take Miami (-4).

Just a little note on running through walls:

This March, I was just getting back into softball after a long hiatus; and in my fervent attempt to score points with my new team and my elation just to be back on the field, I took off at a full sprint for a ball that was so hopelessly out of play nobody else was even moving! (Note: this was just a practice!). I kept my eyes glued to the ball until I ran full speed into a stucco wall.

I smashed my right cheekbone and broke my left knee. I'm still rehabbing and hope to be playing next spring.

Moral of the story: Even giving 110 percent, running into and/or attempting to run through any type of wall is not conducive to a lengthy playing career!
-- Donald Salmi

You need to eat some fruits and veggies!!
-- Love, Mom

David Schoenfield is an editor for Page 2 in his day job. He can be reached at davidschoenfield@yahoo.com.