By David Schoenfield
Page 2
Day Fourteen ...
Well, you had to see this coming:
TCU entered the game leading the nation in most passing yards allowed per game.
Louisville entered the game ranking 11th in yards passing per game.
Final score: Louisville 55, TCU 28.
The Cardinals have appeared twice during the 19 days of football, and both times they've scored more than 50 points.
Needless to say, I've developed an appreciation for quarterback Stefan LeFors (how about a little Heisman love?) and coach Bobby Petrino. I like points, I like big plays, I love QBs who do a little of everything. If Utah doesn't get a BCS bid and fulfills its contractual obligation to play in the Liberty Bowl, it will likely face Louisville. Lefors vs. Alex Smith? That may be the most exciting bowl game of the season.
Quarterbacks like Lefors and Smith are a big reason I prefer watching college football over the NFL. Yes, it's time to present the Official Couch Potato College vs. NFL Showdown:
Style of play
College: Quarterbacks who run. Option plays. More long passes. Wacky formations. More wide-open, more unpredictable.
NFL: One-back sets. Short passes to the wide receivers. Quarterbacks who don't run. All schemes appear very similar, unless you count Peyton Manning's hand gestures.
Edge: College
Wednesday Scorecard
Food consumed: Pepperoni and onion pizza. Three lemon cookies. Chips and salsa.

Diet sodas: 2

Non-diet sodas: 1

Salsa: Pedro Salsa, Southwest corn and bean. Yes, this is Pedro Martinez's salsa. I had looked for it in several stores after several readers recommended it and finally came across a jar today. It didn't seem to have lots of corn or beans it, but I give it a very solid three-and-a-half stars out of four anyway.

Weight gained: Didn't weigh myself, but had to have added a pound or two tonight alone.

Hours spent watching Maryland's famous 42-40 comeback win over Miami in 1984 on ESPN Classic earlier in the day: 2

Hours spent watching taped version of "Desperate Housewives" from Sunday: 1

Hours spent raking leaves: 0
Big plays
College:
Who doesn't like big plays? They happen all the time in college. The Oklahoma-Oklahoma State game from Day Three had touchdown plays of 39, 50, 72 and 80 yards. This game had touchdowns of 25, 32, 42, 48 and 72 yards.
NFL: A big play is Jamal Lewis breaking a 14-yard run.
Edge: College
Quality of play
College: Mistakes are expected -- and sometimes frequent (although I think that is part of the beauty of the college game).
NFL: ESPN's skycam is a great view on how fast these guys actually are. Seeing how Ray Lewis rampages to the sideline to make a one-arm tackle is amazing. Mistakes are few -- but costly.
Edge: NFL
Drama
College: With two good teams, no lead is safe (just ask Michigan State). There are more points and more plays from scrimmage in college, and thus more dramatic comebacks (ask Marshall). And with no playoff system, it does make every game a playoff-like situation (ask Oklahoma).
NFL: Yes, every game is important. And there's the whole saying, "On any given Sunday ..." But comebacks of more then 10 points are extremely rare, and a loss or two doesn't wipe out the season.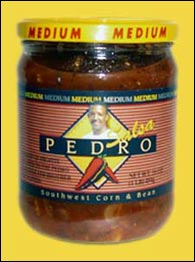 Yes, that's right people -- Pedro Martinez has his own salsa.
Edge: College
Announcers
College: Keith Jackson.
NFL: Cris Collinsworth.
Edge: College
Sideline reporters
College: I've been surprised by the quality contributions here. Heather Cox is an up-and-comer for ESPN. I'm not trying to suck up to the network bosses here, but it seems like this is something ESPN/ABC has upgraded in recent years (not including the Lisa Guerrero fiasco last year on "Monday Night Football").
NFL: Suzy Kolber is the best in the business.
Edge: NFL
Cheerleaders
College: USC. Louisville. Oklahoma State. Memphis ...
NFL: Eagles. Colts. That guy in Minnesota with the horns.
Edge: College (did I mention USC?)
Fan enthusiasm
College: College kids with adult beverages.
NFL: Pro Player Stadium was half empty on Sunday.
Edge: College
Hype
College:
"College GameDay" on Saturday.
NFL: Six days of analysis, one day of games!
Edge: College
Commercials
College: Fast food, SUVs, deodorant.
NFL: Viagra, Cialis, light beer.
Edge: Tie
Fantasy Football
College: USC cheerleaders.
NFL: $##!*%!*&@! Vinny Testaverde. Nice game Sunday.
Edge: College
There you have it. My vote goes to college football in a clear landslide.
E-MAILS OF THE DAY

I thought you were giving 110 percent, maybe the past few days you've been asked to do 125 percent filling in for the Daily Quickie. It's just like those all-nighters back in your college days; remember those days?
-- Norman
Barely. But I know I didn't get paid to do it back then.
I was young when Cosell was the star and also look back nostalgically at that time -- he is/was a larger-than-life sports announcer. However, I think the more likely reason MNF has lost its luster is the veritable cornucopia of games on every weekend, the NFL Sunday Ticket, etc. As you well know, Mr. Couch Potato, there is plenty of football on TV nowadays and MNF just doesn't stand out like it did in the '70s and '80s when there were only a handful of college and pro games on, and cable/satellite TV had not gripped America yet. Remote controls were not even that prevalent then. Today, by the time Monday rolls around, there have been 30+ games (pro and college) available to watch on the weekend. Who can get excited about MNF?
-- Jeff Leonard
Jeff, you're right, of course. It's a fine line -- part of what makes the NFL special is it's once a week. MNF still does well in the ratings, but no doubt it's lost a little of its uniqueness. But then, how many prime-time programs last 35 seasons?
David Schoenfield is an editor for Page 2 in his day job. He can be reached at davidschoenfield@yahoo.com.