By David Schoenfield
Page 2
When LeBron James was an 18-year-old high school senior, there were those who doubted he'd become an NBA superstar. One pundit right here on Page 2, who shall remain nameless (not I!), suggested he would be a boy playing against men.
Well, the boy has become a man. He turns 20 on Dec. 30 and is making a case as the NBA's most valuable player in his second season.
But will that make him one of the top 10 20-year-old pro athletes of all time? Here's our list:
1. Wayne Gretzky
1981 Edmonton Oilers: 55 goals, 109 assists, 164 points, MVP
You don't become the Great One by being a late bloomer. Besides Gretzky, the '81 Oilers also had 20-year-old Mark Messier (63 points) and 20-year-old Paul Coffey (32 points) on the same team. Imagine that: three of the sport's greatest of all time, all born in the same year (1961), all on the same team. Has there have been a greater convergence of young talent on one team?
2. Dwight Gooden
1985 New York Mets: 24-4, 1.53 ERA, 268 K's, 8 shutouts, NL Cy Young
Gooden gave up four runs in his first start of the season -- and then allowed that many only once more. He allowed 0 or 1 run in 18 of his 35 starts. A lot of people suggest Gooden was never the same after entering drug rehab in spring training in 1987, but that's not quite accurate; Doc was still a good pitcher (if not at his '85 level) until July of '89, when he hurt his shoulder. He came back and won 19 in 1990, but it's likely that all the innings at age 19, 20 and 21 had taken their toll.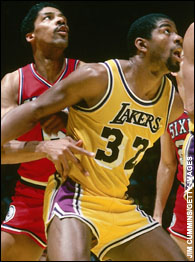 Magic's Lakers held off Dr. J and the Sixers for the 1980 NBA title.
3. Magic Johnson
1980 Los Angeles Lakers: 18.0 ppg, 7.7 rpg, 7.3 apg, 53% FG, All-Star
Magic was a few months older than LeBron -- he turned 20 before the season started, but was spectacular in his rookie season after leaving Michigan State following his sophomore year. Yes, he had Kareem to help, but with Kareem out with an injured ankle in Game 6 of the 1980 Finals, the rookie point guard moved to center and scored 42 points and grabbed 15 rebounds to lead the Lakers to the title.
4. Mike Tyson
In 1986, he became the youngest -- and perhaps scariest -- heavyweight champion ever. At the age of 20, he won seven fights, including a 2nd-round knockout of Trevor Berbick to win the WBC heavyweight title. He then beat Bonecrusher Smith for the WBA title and defended both against Pinklon Thomas.
5. Steffi Graf
She dominated the courts with her vicious power game in 1989, owning an amazing 86-2 match record and winning three Grand Slam events (losing only in the final of the French Open).
6. Spencer Haywood
1970 Denver Nuggets (ABA): 30.0 ppg, 19.5 rpg, MVP and ROY
Haywood had perhaps the greatest single season in ABA history (setting the league's rebounding record), but he's more famous for jumping ship to the Seattle Sonics the following season. Because the NBA prohibited underclassmen from signing (Haywood had left the University of Detroit after his sophomore season), the NBA took Haywood and the Sonics to court. But the Supreme Court ruled in Haywood's favor -- paving the way for underclassmen and high-school kids to jump to the NBA.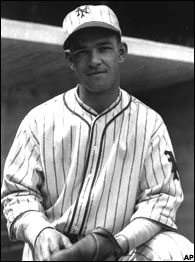 Mel Ott led the NL six times in HRs and finished second seven times.
7. Mel Ott
1929 New York Giants: .328, 42 HRs, 151 RBI, .449 OBP, .635 SLG
Ott would hit 511 home runs and drive in over 1,800 runs in his Hall of Fame career, but his 1929 totals were both career highs. He had originally signed with the Giants when he was 17 and played sparingly for two years before becoming a regular at 19.
8. Tiger Woods
After two years and one NCAA title at Stanford, Tiger turned pro in the summer of 1996. He finished 60th in his first tour stop as a pro, but in his seven remaining events, won two (Las Vegas Invitational was his first PGA victory) and finished third twice.
9. Mario Lemieux
1986 Pittsburgh Penguins: 48 goals, 93 assists, 141 points
The first overall pick in the 1984 draft, Lemieux was an immediate star, scoring 100 points as a rookie and 141 as a 20-year-old. OK, so Lemieux didn't lead the NHL in points in his second season -- some guy named Gretzky set the all-time record with 215 -- but he did finish second.
10. Al Kaline
1955 Detroit Tigers: .340, 27 HRs, 102 RBI, .421 OBP, .546 SLG
Kaline would collect over 3,000 hits and make the Hall of Fame -- but this was the best season of his career. He led the AL in batting average and hits and finished second in runs, on-base percentage, slugging percentage and the MVP voting (to Yogi Berra).
Also receiving votes: Ty Cobb (1907 Detroit Tigers), Bob Feller (1939 Cleveland Indians), Patrick Roy (1986 Montreal Canadiens), Kevin Garnett (1997 Minnesota Timberwolves)
Note: We focused on professional sports only, and didn't include Olympic sports like gymnastics, swimming or track and field. We also focused on sports popular in North America, thus we didn't include soccer star Pele. Also, athletes could not have turned 21 during the season, thus eliminating the likes of Ted Williams, Alex Rodriguez and Shaquille O'Neal.