St. Louis Cardinals: There is nothing wrong with this team that the Genius won't figure out how to fix.
NL West
Arizona Diamondbacks: On the bright side, Troy Glaus has only missed one game so far. Of course, there are 142 games remaining.
Colorado Rockies: Trying to explain the reasoning behind these black and purple sleeveless uniforms is like trying to explain the popularity of Maroon 5.
Los Angeles Dodgers: I have vowed not to jump on the popular trend among LA's media elite to bash Paul DePodesta. I will not be a hater. But Scott Erickson? That has as much chance of working as Ben and Jen's engagement.
San Diego Padres: All the Pads need to do is transplant a little bit of Jake Peavy's fastball into Sean Burroughs' bat and they'll be just fine.
San Francisco Giants: "Excuse me, does that bottle of fluid belong to Moises?" "No, sorry, that was drained from Barry's knee."
AL East
Baltimore Orioles: And for the seventh straight season all the O's need is for Sidney Ponson to finally harness his "talent," win 24 games, capture the Cy Young Award and they will knock off the Yanks and Sox.
Boston Red Sox: The Red Sox are the greatest franchise in the history of sports. I have nothing negative to say about a team headed to its second straight World Series title. I'm glad they're finally getting some national exposure after all these years. I love this team!
New York Yankees: Baseball Prospectus keeps track of a statistic called "Defensive Efficiency," which is simply the percentage of batted balls in play that each team turns into outs. The top team through Sunday was the Marlins, who turn 74.75 percent of balls in play into outs. The league averages are 69.3 percent in the AL, 69.8 percent in the NL. No team is below 66.8 percent ... except the Yankees, who have turned just 63.87 percent of balls in play into outs. The Prospectus Web site lists this statistic back to 1972, and the worst team in that span has been the 1999 Devil Rays, at 66.17 percent. In other words, the 2005 Yankees are looking like a historically awful defensive team, one of the worst of all time. And that, Yankee fans, is why your team will miss the playoffs.
Tampa Bay Devil Rays: As ESPN.com's Jayson Stark has pointed out, the Devil Rays have a payroll of about $29 million. Yet they'll bring in about $30 million in revenue redistribution and another $30 million in various national television, radio and licensing deals. So they're $30 million ahead before selling one ticket. And you thought Vince Naimoli was a little cracked.
Toronto Blue Jays: This is your best pitcher right now.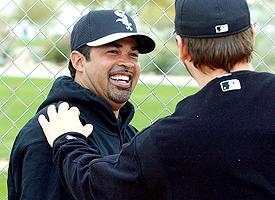 AP Photo/Charles Rex Arbogast
Ozzieball won't be so funny come September.
AL Central
Chicago White Sox: Ozzieball is a crazy, wonderful thing when it's working like it is now. But let's interrupt the fun to point out that the Sox have drawn 41 walks in 20 games and have a .300 team on-base percentage. Unless the pitching continues to pitch like the 1906 Sox, Ozzieball will turn ugly by July.
Cleveland Indians: There are bad front-office decisions and then there are decisions like giving Scott Elarton another chance in the rotation. This guy has started 67 games since 2001 and won 11 of them. There have to be 150 guys in Triple-A better than him. Has Gabe Paul been rehired to run the team? Was Neal Heaton unavailable to pitch? Someone please explain this to me.