Single page view
By Pittsburgh Joe
Special to Page 2
EDITOR'S NOTE: Baseball's biggest rivalry resumes this weekend in ... no, not the Bronx. (Yankees-Red Sox is soooooooo overblown.) We're talking B.I.G. Much bigger than Boston-New York. We're talking about the four Games to End All Games in Cincinnati between the Pirates and the Reds. These two storied franchises have been battling for National League supremacy for over 100 years ... and there's often blood involved. So Page 2 contacted Pittsburgh Joe to get his take on the rivalry and his life as a Pirates fan.
Look, I'm only going to say this once: Lay off the yellow uniforms.
As my friend Weevil says, "All seven of us remaining Pirates fans in the 'Burgh can never, ever make fun of four things: the Disco Era, Kent Tekulve's glasses, Jennifer Beals in 'Flashdance,' and those glorious yellow unis of the '79 Pirates."
Yes, in Pirates Nation, yellow is good. Back in the '70s, the Pirates were hip-hop before hip-hop was happenin', with our polyester pullovers, our Latin players groovin' to Manny Sanguillen's 8-track, our Astro Turf, and our Sister Sledge pumping up Three Rivers with "We are Fam-i-lee."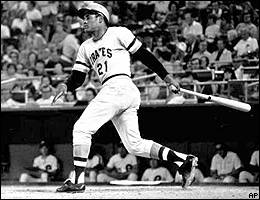 Pittsburgh fans have gotten to enjoy great heroes like Roberto Clemente.
We believed in Roberto Clemente, the Baseball Jesus.
We believed in Willie Stargell, the original Big Papi.
And we believed the Cincinnati Reds were a bunch of … wait, I can't print that word.
The Reds and Pirates first started playing each other in 1882. We Pittsburghers have generations of Cincinnati hate in our blood. Pete Rose is our vile and sworn enemy. My older brother still brings out his ratty and torn "Reds are Communists" T-shirt from the 1990 NLCS. My father still gets chafed over that play in 1978 when George Foster topped one of Bert Blyleven's big curves down the first-base line and tried to slap the ball from Blyleven's glove as Bert tried to make the tag. My grandfather went to his grave still incensed over that time in '73 when Cesar Geronimo knocked poor ol' Danny Murtaugh, our beloved skipper, out of his rocking chair because of a beanball incident.
So you want real passion action this weekend? Make sure you catch the Pirates and Reds showdown.
Weevil tells a story. He swears it's true, but with Weevil, he might be stretching it a bit. It never made it on "SportsCenter" or even in the local papers, because it happened back in the early '90s when the Pittsburgh newspaper guys were on strike. He was sitting down by the Reds' bullpen and ragging Rob Dibble and Norm Charlton and all those Nasty Boy flameouts about how lousy the "world famous" chili in Cincinnati really is. Weevil has a voice, believe me. Anyway, Charlton apparently asked one of the groundskeeper guys to tell Weevil to cram it. Next thing you know, Charlton and Dibble have the groundskeeper in a headlock and are wrestling him to the turf next to the railing.
Weevil says he accidentally knocked his beer on Randy Myers – although, knowing Weevil, I suspect that might not be exactly the way it went down. Well, Myers – and he was a bit nutty you know – just about knocked Weevil's pillbox hat off, but held back. The whole situation nearly erupted into a riot.
Pittsburgh
Joe
WAR OF THE WORLDS