By David Schoenfield
Page 2
This is the way things work at Page 2: I'm on the phone Monday afternoon with Bill Simmons, talking about random topics like the downfall of the Canadian government, the likelihood of a filibuster during Samuel Alito's Supreme Court nomination hearing, and Bruce Bochte's pinch-hit RBI single in the 1979 All-Star Game in Seattle.
I tell Bill that Bochte's hit in front of the home crowd was probably the greatest highlight from the first decade of the Mariners' history, right next to Bill Caudill's half-mustache, Maury Wills' ordering the grounds crew to enlarge the batter's box by a foot (which, not too surprisingly, led to Wills' getting fired and freebasing cocaine for seven years), Rick Honeycutt's pitching with a thumbtack taped to his glove, and Gaylord Perry's getting ejected for the only time in his career for throwing a spitball, which instigated a memorable brawl against the Red Sox.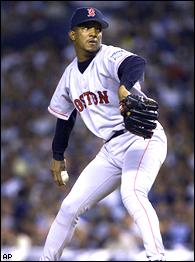 AP
Pedro only notched 17 K's against the Yanks in '99 -- but it meant so much.
Anyway, to cut to the story here, we started debating Roger Clemens' 20-strikeout game against the Mariners in 1986, vs. Pedro Martinez's 17-strikeout game against the Yankees in a pennant race in September of 1999: Which was really the more dominating performance?
Sure, Clemens became the first pitcher to strike out 20 in nine innings, but check out that Seattle lineup: the Mariners fanned 1,148 times in '86 (only one other AL team whiffed even 1,000 times). In their lineup that night was Phil Bradley (134 K's that season), Ken Phelps (96 K's in 344 ABs), Gorman Thomas (55 K's in 170 ABs), Jim Presley (172 K's and 3,548 cup adjustments), Danny Tartabull (157 K's) and Dave Henderson (110 K's). It was a perfect storm.
(As was Clemens' second 20-strikeout game, against the Tigers in 1996. Detroit fanned an AL-record 1,268 times that year, and in that game featured such hackaholics as Melvin Nieves, Tony Clark, Ruben Sierra, Phil Nevin and Travis Fryman.)
Pedro, on the other hand, was facing a Yankee squad that not only scored 900 runs that year, but was also one of the toughest lineups in the league to strike out. He did it with the Red Sox battling for the playoffs in early September (they trailed the Yankees by 6½ games, and they led the A's by just 3 games for the wild card). And he did it at Yankee Stadium, fanning more Yankees than any pitcher had ever done before.
In retrospect, which performance was more impressive? Pedro's.
So that debate led to this column. I know it's not baseball season. Yes, the Colts are undefeated, the NBA is in full swing and college basketball players everywhere are skipping class and getting help from their personal tutors to finish their "homework." But let's mix it up. A little baseball to help soothe the soul after a long day at the mall. From discussion to column in one day. That's the magic of Page 2. Let's call it the Pedro Index or some such name: the 10 most dominating/memorable pitching performances you can think of.
But there are some rules here:
1. It had to have happened during your active baseball-watching years. For me, that starts in 1976.
2. You had to have seen the game, listened to it on the radio, or at least remember watching the highlights on SportsCenter.
3. No Google searches for "Most strikeouts one game" allowed. If you can't recall at least some of the bare details off the top of your head, go back to watching reruns of "Will and Grace."
4. You can assign extra credit any way you want to. Is 14 strikeouts in a playoff game against a great offensive team more dominating than 18 strikeouts against a crappy team in May? Do you automatically discount any games in which Neifi Perez was in the opposing lineup?
5. Don't overrate no-hitters and/or perfect games. They are usually a function of luck as much as domination. (After all, Tom Browning and Kenny Rogers have thrown perfect games.)
6. Don't overrate postseason games. Remember, we're talking domination here, not clutchness. If we're just talking clutch, we start and end with Jack Morris in 1991 and end this column right here.
7. Relievers need not apply. Anybody can throw filthy stuff for an inning.
8. Exception to rule No. 1: Any performances from before your active baseball-watching years are acceptable if you've watched the game on ESPN Classic.
OK, here's my top 10.
AP
The Rocket was at his best against Seattle that day.
Roger Clemens, 2000 ALCS vs. Seattle. How comes nobody ever talks about this game? The Yankees led the Mariners two games to one, playing Game 4 at Safeco Field. Seattle had a great offensive team (it led the AL in runs per game on the road), featuring A-Rod, Edgar, Johnnie O. and Mike Cameron. Clemens sailed a 96 mph heater at A-Rod's ear in the first inning, and I don't think another Mariner hit with both feet in the batter's box again the rest of the night. The game was over with the score tied 0-0. Clemens allowed just one hit -- an Al Martin double in the seventh that tipped off Tino Martinez's glove -- and destroyed the M's down the stretch, fanning nine of the final 13 batters and finishing with 15 K's. And when you factor in that it was a playoff game, so the Mariners were probably on a double dosage of greenies and still striking out, it's even more impressive.
Kerry Wood's 20-strikeout game, 1998. I didn't see this game as it happened, but I've watched the replay a couple times. No pitcher ever had movement like Wood did that day against the Astros. His slider/curve/slurve was moving about 4 feet. It was like trying to hit a 97 mph Wiffle ball. No wonder Wood blew his elbow out; a pitch like that exists only in Disney movies. Houston won 102 games in '98 and led the NL in runs; this team could mash, yet couldn't get the ball out of the infield that day. The Astros' one hit was a Ricky Gutierrez infield single that should have been ruled an error. Astros fans will tell you it was a dark and wet afternoon at Wrigley, and so Wood's performance should be discounted. But hey, they had built lights by then.
Pedro's 17-strikeout game vs. Yankees. He faced 28 batters and fanned 17 of them. The only blemish was a Chili Davis home run, ruining the perfect game. There may have been no greater pitcher -- ever -- than the Pedro of 1999 and 2000, and this game was his Mona Lisa.
Ron Guidry fans 18 Angels in 1978. This is one of the six games the YES Network cycles through its programming schedule, along with the Bucky Dent Game, the Aaron Boone Game, the David Cone Game, the Byung-Hyun Kim Game and, for some odd reason, the Steve Balboni Game. What's startling about Guidry in his dream season (25-3, 1.74 ERA) is that he weighed only 123 pounds yet threw like Randy Johnson. And keep in mind Guidry fanned 18 in a different era -- the Angels struck out just 682 times that year (17 teams struck out at least 1,000 times in 2005). The other funny thing from this game is watching Dave Chalk hit for the Angels. He was choking up on the bat about 6 inches -- and he was their No. 3 hitter!
Randy Johnson strikes out 19 in 1997. This may not have been Johnson's best linescore -- he's pitched a perfect game and struck out 20 another time -- but those games both come with an asterisk. The perfect game came against a Braves team that had several subs playing and had fanned 18 times in their previous game against Ben Sheets. The 20-strikeout performance vs. the Reds in 2001 came against an abysmal lineup that had Donnie Sadler hitting leadoff and Alex Ochoa hitting cleanup. Plus, I didn't see those games. But I watched this one against the White Sox. Chicago's 2-3-4-5 hitters, featuring two guys named Belle and Thomas, went a combined 0-for-15 with 14 K's. And the White Sox had the fewest whiffs in the AL that season.
Clint Zavaras' major-league debut. Of course, I remember it as the game Nolan Ryan one-hit the Mariners in 1989. Harold Reynolds led off the game with a single … and that was it. Ryan's had bigger strikeout days (he had 11 this day) and of course he has the seven no-hitters, but I was in the fifth row behind the Rangers' dugout for this one. Close enough to hear Ryan grunting with every 98 mph fastball.
Sandy Koufax, 1965 World Series. I'm not one to worship at the Altar of Koufax, but this game -- once a staple of ESPN Classic, thus making it eligible for my list -- shows how he became a legend. Pitching Game 7 against the Twins on two days' rest, Koufax pitched a three-hit shutout and struck out 10. Sure, it was a different time and strike zone -- just imagine if Roger Clemens or Randy Johnson could throw pitches near the shoulders that were called strikes -- but considering the situation, this performance was electric. The Twins couldn't catch up to Koufax's high fastball, which he mixed with a big, hard curve. Just two pitches, but that's all he needed. And they say he didn't even have his good stuff that day.
AP
Just another no-hitter for Nolan Ryan, right? Wrong.
Nolan Ryan fans 16 Blue Jays, throws no-hitter, 1991. I remember watching the SportsCenter highlights of this one while in college, one of those montages where they showed every strikeout, ending with Roberto Alomar's feeble whiff to end the game. Just a complete and thorough behind-the-woodshed beating, probably the second-best beating Ryan gave in his career next to Robin Ventura.
Kevin Brown, 1998 playoffs vs. Astros. Another game nobody talks about, in part because nobody likes to say good things about Brown. In Game 1 of the division series between San Diego and Houston, Brown squared off against Randy Johnson and crushed the Killer B's with hard sinkers, darting fastballs and DDT. He pitched eight scoreless innings, fanned 16 and allowed just two hits in a 2-1 victory. It's easy to forget how nasty Brown was from 1996 to 2000, especially in light of his recent catastrophic (yet so enjoyable) seasons with the Yankees, but remember: he was a sinkerball pitcher who threw 96 mph and fanned 200-plus hitters a year. There really has never been another pitcher like him.
Josh Beckett, 2003 playoffs vs. Cubs. Beckett's World Series-clinching 2-0 shutout at Yankee Stadium was an ultimate "walk into the other team's ballpark and shove fastballs down their throat with the season on the line" performance, but he was even more dominating against the Cubs in Game 5 of the NLCS. The Marlins trailed three games to one, the Cubs were prepping the champagne, nobody had heard of Steve Bartman, yet … and Beckett pitched a two-hitter, striking out 11. (Not to mention that he came back in Game 7 and pitched four innings of one-hit relief.) Red Sox fans can only hope Beckett learns to channel October 2003 over a full season.
And that's my list. The fun thing about this is that it becomes very personal, kicking your memory back to some of your favorite (or most frustrating) games.
Plus, it gets us thinking of baseball for a few hours.