Page 2
No introduction needed. Here are 100 reasons we're going to love this year's baseball playoffs.
1. Anything can happen. Since 1990, only one team that had the best regular-season record has won the World Series (the 1998 Yankees).
2. More proof that anything can happen: We will have the sixth different World Series champion in six seasons; if the Yankees don't win, it will be the seventh different champ in seven years.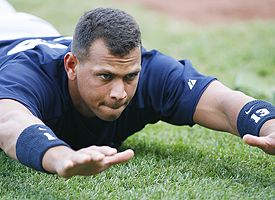 Newman Lowrance/WireImage
Another October means another opportunity for A-Rod to change his image.
3. Alex Rodriguez hoping to erase a difficult regular season to become Mr. October for the Yankees. (FYI: A-Rod's career postseason numbers: .305 BA/.393 OBP/.534 Slg.; Derek Jeter's career postseason numbers: .307/.379/.463.)
4. Minnesota ace Johan Santana's changeup.
5. Detroit starter Justin Verlander's fastball.
6. David Wright and Jose Reyes of the Mets. It's not really fair that one team has two young players (both are just 23) this good and this fun to watch.
7. Will the A's avoid another crushing Game 5 loss in the Division Series? They lost in five games to the Yankees in 2000, in five games to the Yankees in 2001, in five games to the Twins in 2002, in five games to the Red Sox in 2003. Amazingly, they are 0-9 in games in which they could have clinched a series.
8. Not being able to sleep for hours after any extra-innings game.
9. The blast of the home crowd on any "strike three" looking to end an inning with two opposing runners on base.
10. The old closers: Trevor Hoffman (Padres) and Mariano Rivera (Yankees).
11. The young closers: Joe Nathan (Twins) and Huston Street (A's).
12. The closers who, if they're your team's closer, make you bite your cuticles until they bleed: Todd Jones (Tigers) and Braden Looper (Cardinals).
13. The possibility of St. Louis slugger Albert Pujols facing Hoffman in the bottom of the ninth with the game on the line.
14. Even better: The possibility of Pujols facing Mets closer Billy Wagner in the bottom of the ninth with the game on the line.
15. Kenny Rogers trying to erase his postseason demons. He's 0-3 with an 8.85 ERA in nine career playoff games (five starts), including infamous blowups while with the Yankees in 1996 and Mets in 1999. In fact, the Tigers will start Rogers in Game 3 in Detroit to avoid his starting at Yankee Stadium.
16. The potential of Torii Hunter of the Twins and Mike Cameron of the Padres making two web gems apiece each game.
17. Watching players who you may not have realized had big years, like Padres first baseman Adrian Gonzalez (.304, 24 homers) and Twins right fielder Michael Cuddyer (24 homers, 109 RBI).
18. Boof Bonser!
19. The funky delivery of Dodgers closer Takashi Saito. By the way, he's damn good: .177 batting average against, 24 saves, 107/23 strikeout/walk ratio in 78.1 innings.
20. Seeing if El Duque has more playoff magic in his ancient right arm. (He's 9-3 with a 2.55 ERA in 106 career postseason innings.)
21. Kyle Farnsworth. Guaranteed to cost the Yankees a game.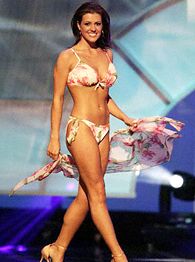 Chris Gardner/AP Photo
Mauer's probably gonna want to hold on to this one if he can.
22. Potential camera shots of Twins catcher Joe Mauer's girlfriend, former Miss USA Chelsea Cooley.
23. Potential camera shots of Tigers manager Jim Leyland stealing a smoke.
24. Potential camera shots of Francisco Liriano chewing his nails in the dugout every time a Twins starter gives up a run.
25. Watching the Smartest Pitcher Who Ever Lived back in the postseason spotlight.
26. And hopefully watching him face ex-teammate Tom Glavine in Game 2 of the Dodgers-Mets series.
27. Bobby Kielty's hair.
28. The possibility of Carlos Beltran doing for the Mets what he did for the Astros in 2004.
29. Making jokes that you don't have the "expressed written consent from Major League Baseball" to talk about last night's game.
30. Graphic of Frank Thomas and his $500,000 salary compared to Paul Konerko ($12 million) and Jim Thome ($14 million).
31. Watching Tigers catcher Ivan Rodriguez throw bullets to second base.
32. Watching Padres catcher Mike Piazza throw two-hoppers to second base.
33. Joel Zumaya coming in with the bases loaded in a tie game in the bottom of the seventh to face Alex Rodriguez.
34. The potential for Randy Johnson to pitch poorly for the Yankees, leading to clips of Kevin Brown from the 2004 playoffs.
35. The potential for Randy Johnson to dig deep, overcome his back pain, come up with a 13-strikeout game and remind us why he's one of the greatest pitchers ever.
36. Seeing Pedro Martinez root on his Mets teammates, knowing how helpless he must feel.
37. The possibility of Brad Radke pitching Game 4 for the Twins, surviving on guts, Elmer's glue and duct tape.
38. Seeing if Padres reliever Cla Meredith is really as good as his 1.07 regular-season ERA.
39. Gary Sheffield playing first base for the Yanks.
40. Nomar Garciaparra's pursuit of a World Series ring.
41. When Joe Buck reminds you "It's game time, so grab an ice-cold Budweiser."
42. More camera shots of Joe Mauer's girlfriend.
43. The Red Sox aren't in it this year.
44. Neither are the Braves.
45. Highlights of the 1991 World Series anytime the Twins are playing.
46. Tim McCarver talking about David Eckstein's "grit, hustle, heart, determination and hustle."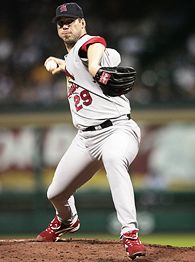 Bob Levey/WireImage
Carpenter's better than people realize -- too bad he's the only starter the Cards can depend on.
47. Chris Carpenter's attempt to prove a one-man starting rotation is good enough to lead a team to a World Series title.
48. Jeff Weaver starting Game 3 for the Cardinals. Seriously.
49. The potential of Mike Piazza vs. the Mets or Dodgers in the NLCS.
50. Johan Santana's fastball.
51. Barry Zito's curveball.
52. The inevitable camera shot during a Steve Trachsel start of fans falling asleep in the stands.
53. The camera sweeping across the outer facade of Yankee Stadium on Tuesday, showing the years of all 26 World Series championships.
54. Can Detroit's young guns Justin Verlander and Jeremy Bonderman overcome sluggish finishes? Verlander had a 6.83 ERA in August and 4.82 in September; Bonderman had a 4.87 ERA after the All-Star break.
55. Seeing a guy who hit .341 (Robinson Cano) batting ninth for the Yankees.
56. The deafening noise in the Metrodome.
57. The best fans in baseball showing up in a sea of red in St. Louis.
58. Tony La Russa looking into his little black book for any little possible strategic edge.
59. Seeing it backfire.
60. Seeing Fox pan to the stars of "Vanished" 14 times during Game 2 of the World Series.
61. Coming to the conclusion that if Nick Swisher were an adult film star his stage name would be … Nick Swisher.
62. The feeling of dread (or happiness) when Mariano Rivera starts warming up in the bullpen.
63. Watching Eric Chavez play third base.
64. Derek Jeter rising to the top step of the dugout to pump his fist after a teammate hits a home run.
65. Successfully predicting the number of times an analyst will say Derek Jeter "wills his team to victory."
66. Hoping Jake Peavy's Game 1 start in the Division Series versus the Cardinals this year is more successful than his Game 1 start versus the Cardinals last year (4 1/3 innings, 8 runs). Because the average fan deserves to know he's a very good pitcher.
67. Seeing Chien-Ming Wang's microscopic strikeout rate (just 3.14 per nine innings), wondering how he won 19 games, and then watching him throw groundball after groundball and understanding "that's how."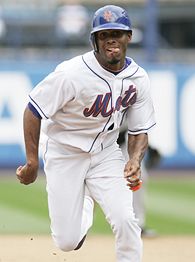 Bryan Yablonsky/WireImage
Jose Reyes on the basepaths is a sight to see.
68. Watching Jose Reyes go from first to third.
69. Running out from work during the day games to catch a couple innings of action.
70. Finding out who Pat Neshek is. (He's a sidearm reliever for the Twins who allowed just 29 base runners in 37 innings and held righty batters to a .140 average.)
71. Finding out how Dodgers rookies Russell Martin, Andre Ethier, Chad Billingsley and Jonathan Broxton react to October pressure.
72. Finding out if this will finally be the year for Pujols, Scott Rolen and Jim Edmonds.
73. Johnny Damon's stance.
74. The possibility of Justin Morneau's hitting one 500 feet, over the baggy at the Metrodome.
75. The probability of A-Rod's failing to advance a runner in scoring position and Fox's showing the clip of Rodriguez slapping the ball away from Bronson Arroyo.
76. Carlos Delgado, with 407 career home runs, finally appearing in the postseason.
77. The top of the first inning of Game 1 of any series.
78. The bottom of the ninth inning with a one-run lead and the other team's 3-4-5 hitters coming up.
79. Johan Santana's slider.
80. Joe Buck telling us that Bruce Bochy's head is so big New Era needs to design a special hat just for him.
81. Possible updates on Carl Pavano and Dmitri Young.
82. Highlights of Kirk Gibson homering in the 1984 World Series whenever the Tigers are playing.
83. Highlights of Kirk Gibson homering in the 1988 World Series whenever the Dodgers are playing.
84. Any rainout that forces back-to-back-to-back playoff games.
85. Wondering if your team's ace can come back on three days' rest or pitch in relief if necessary.
86. Female pop stars wearing official World Series jackets that are five sizes too big when they sing the national anthem.
87. Jason Giambi drenched in sweat after the game's third pitch.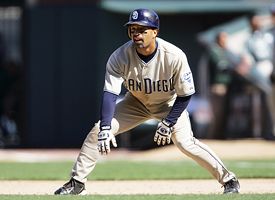 Greg Trott/WireImage
Despite the different uniform, the sight of Dave Roberts still spooks Yankees fans.
88. Dave Roberts on first base with no outs, ninth inning, trailing by one run.
89. The nervous groan of the home fans after their pitcher walks two hitters in a row.
90. The sarcastic cheering of the home fans when their pitcher throws a strike after walking two hitters in a row.
91. Waking up in the morning and hearing the weather in Detroit or New York is going to be "44 degrees with slight drizzle" and wondering whether your team's starting pitcher likes cold weather.
92. Bernie Williams' curtain calls with the Yankees.
93. Getting to see those highlights of the Dodgers' back-to-back-to-back-to-back shots against the Padres.
94. When a guy who is 2-for-23 in his career against a pitcher rips the game open with a key hit.
95. Did we mention Albert Pujols yet?
96. The fright/roar of the crowd during an F-16 flyover.
97. Wondering who is going to be the hero.
98. Wondering who is going to be the goat.
99. The possibility of Julio Franco, 48 years young, delivering a pinch-hit single in the ninth inning of Game 7 of the World Series to win it for the Mets.
100. And then announcing in the postgame celebration, with tears and champagne flowing from his eyes, that "No, I'm not going to retire. I love this game so much I want to play another year."
David Schoenfield, Michael Philbrick and Kieran Darcy are editors for Page 2. Sound off to Page 2 here.