The first suspended game in World Series history had fans of both teams crying foul. Phillies fans say the Rays gained an advantage by playing an extra half-inning in the rain, tying the game in the top of the sixth (although it's unclear why hitting in the rain would be considered an advantage). Rays fans can complain that a potential clinching game shouldn't be played in a downpour (hard to disagree with that).
Which team will benefit from the suspended game? The Phillies won't have Cole Hamels available when Game 5 resumes, and since he had thrown only 75 pitches he easily could have pitched another two innings. On the other hand, with Game 6 likely pushed to Thursday and Game 7 to Friday, this could end up benefiting the Phillies, who can bring Hamels back on three days' rest in Game 7 or have him available in relief. How has Mother Nature affected other key games in World Series history? We take you through some of the what-if scenarios: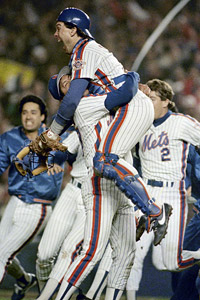 AP Photo/Paul Benoit
Would Jesse Orosco and Gary Carter have celebrated a Game 7 victory if Oil Can Boyd had started for Boston?
1986 Game 7: Red Sox at Mets

Situation:
After Boston's infamous Game 6 collapse, a day of rain postponed Game 7.
What it meant:
For the Red Sox, Bruce Hurst started on three days' rest instead of Oil Can Boyd. Hurst had won Games 1 and 5, allowing just two runs and pitching like the postseason ace Roger Clemens was supposed to be that season. Boyd had given up six runs in Game 3 and had also struggled in the ALCS. Plus, Boyd had the emotional stability of a 4-year-old who just downed an entire of box of Fruity Pebbles (the Red Sox had suspended him in July when he raged about not making the All-Star team) and reportedly cried when told Hurst would draw the start.
What happened:
Hurst and Boston led 3-0 after five innings, but the Mets tied it with three runs in the bottom of the sixth. Manager John McNamara pinch-hit for Hurst leading off the seventh (he had thrown just 74 pitches) and brought in Game 6 loser Calvin Schiraldi. Now, nobody paid attention to pitch counts back then, but consider: Schiraldi had thrown 55 pitches two nights before, was still dripping in nervous sweat 48 hours after blowing the biggest game in Red Sox history and was asked to enter a tie game. No wonder Ray Knight greeted him with a home run. The Mets scored three runs off Schiraldi, Boyd never did pitch and the Mets went on to an 8-5 victory.
If no rain:
Boyd was a wild card, no doubt, equally capable of giving up four runs in the first inning (like he did in Game 3) or pitching a gem. The Mets would have started Ron Darling on three days' rest for the second time in the series (he had done so just once in the regular season). Just like the real game, it likely would have come down to the bullpens, and that's where the Mets held a huge advantage. 1975 Game 6: Reds at Red Sox
Situation:
With Cincinnati up 3 games to 2, Game 6 was delayed three days by rain.
What it meant:
The Red Sox brought back ace Luis Tiant for his third start of the series. The Reds could have used Game 5 starter Don Gullett, their best pitcher, on four days' rest, but went with Gary Nolan.
What happened:
One of the greatest baseball games ever played. Tiant and Nolan were both long gone by the time Carlton Fisk homered in the 12th inning to force Game 7. Bill Lee faced Gullett and Boston took a 3-0 lead in the third inning, but Lee and the Boston bullpen couldn't hold the lead. Joe Morgan's two-out bloop single in the top of the ninth scored Ken Griffey Sr. with the winning run in a 4-3 victory.
If no rain:
The Reds gained an advantage by being able to use Gullett (15-4, 2.42 ERA) for a third start (although he actually didn't pitch well in Game 7). Instead, they would have gone with Jack Billingham in Game 6 and Nolan in Game 7. The Red Sox likely would have gone with Lee in Game 6 and then Tiant. Statistically, all these starters were pretty equal in '75 (Tiant only had a 4.02 ERA). Bottom line: The Reds had the deeper and better bullpen and would likely have pulled out one of the two games.
1962 Game 6: Yankees at Giants

Situation:
With the Yankees leading the series 3 to 2, Game 6 was delayed three days by rain. (Mark Twain would not have been surprised.)
What it meant:
The Yankees could bring back Whitey Ford, who had already started Games 1 and 4, for Game 6 and have a well-rested Ralph Terry, a 23-game winner, ready if needed on five days' rest for Game 7. This would be a huge break for the Yankees, as their rotation was thin behind Ford and Terry, who ended up starting six of the seven games.
What happened:
The Giants beat Ford in Game 6 but Terry outdueled Jack Sanford 1-0 in Game 7, with Willie McCovey lining out to second base in the bottom of the ninth with runners on second and third for the final out.
If no rain:
Bill Stafford would have started Game 6 and Ford Game 7. Stafford had beaten the Giants in Game 3 but was only a decent No. 3 starter. On the other hand, the rain also arguably helped the Giants: Game 4 starter Juan Marichal had broken a finger on a bunt attempt and wouldn't have been available. The team would have started Sanford (who won 24 games that year) on two days' rest or Game 1 starter Billy O'Dell (who had won 19 himself and also saved Game 4). Our prediction: the Giants would have beat Stafford in Game 6 and the big right-handed bats of Willie Mays, Orlando Cepeda and Felipe Alou would have also beat Ford in Game 7.
1925 Game 7: Senators at Pirates

Situation:
Final game postponed a day by rain.
What it meant:
There had been no off day between Games 5 and 6, so this allowed the Senators to start Hall of Famer Walter Johnson on three days' rest (he would have likely started on two days' rest anyway -- this being the 1920s and all, when pitchers were men, not coddled multimillionaires). The Pirates brought back Game 5 winner Vic Aldridge on two days' rest.
What happened:
Disaster for the Pirates, as Aldridge faced six batters in the first, walked three of them and got only one out as Washington took a 4-0 lead. But Pittsburgh chipped away at Johnson, who amazingly stayed in the game as the Pirates scored three runs in the bottom of the eighth (with the help of a crucial error from shortstop Roger Peckinpaugh, his eighth of the series) to win 9-7. After the game, AL president Ban Johnson sent an irate note to Senators manager Bucky Harris for leaving Johnson in.
If no rain:
Since Johnson pitched so poorly on three days' rest (he gave up 15 hits) it's unlikely to think he would have done better on shorter rest.
WORLD SERIES GAME 5: PHILLIES 4, RAYS 3

The Phillies won the franchise's second World Series title by defeating the Rays 4-3 in a game that spanned three days.
Story | Series page

STORIES:
• Jayson Stark: Wait finally over for Philadelphia
• Jerry Crasnick: Just the beginning for Rays
• Amy K. Nelson: Grand finale for Burrell?
• Gene Woj: Manuel's mom right again
• Jim Caple: Suspended game not so bad after all
• Hamels named Series MVP
• Lidge finishes perfect season
• In-game chat with Rob Neyer
• Game 5 blog (Part II)
• Fans in Philly soak in title
• Inside Edge reports: Phillies | Rays
• ZOOM gallery: See the series in pictures

MONDAY'S STORIES:
• Jayson Stark: Weather changes plan
• Jim Caple: Rays go hotel shopping
• Howard Bryant: Rays thought it was almost over
• Gene Woj: Bud did the right thing
• Selig: No shortened game
• In-game chat with Rob Neyer
• Game 5 blog

VIDEO:
• Phillies win first title since 1980
• BBTN looks back at World Series
• Phillies players react to championship
• Hamels talks about being MVP
• Kruk on what this means for Philadelphia
• The managers break down Game 5
• Pena, Longoria examine loss
• Rays' season in review
• Stark, Caple Game 5 video blog
• Caple: This World Series all about weather?

AUDIO:
• Postgame interviews

ESPN Top Headlines