Commentary
Mike Williams was a two-time All-Star?!
Baseball revels in its history, the unchanging nature of its game, the comparisons between generations. Prince Fielder is sort of a squat Babe Ruth. Dustin Pedroia is a shorter-but-just-as-scrappy Frankie Frisch. Albert Pujols is a right-handed Lou Gehrig. Tim Lincecum is a … well, good luck finding another Tim Lincecum.
If you could travel back in time to the first All-Star Game in 1933, you would recognize the game and even many of the players. But not everything about the game is the same. For example, the first game featured rosters of 18 players, and the National League squad brought just four pitchers to the old Comiskey Park. Now we have rosters of 33 players, each team carries 13 pitchers (you know, just in case the game goes 15 innings or something wacky like that) and the All-Star Game is littered with players casual fans may have trouble identifying (yes, we mean you, Ryan Franklin).
In that first game, all the American League position players -- except for Ruth, who was replaced defensively in the ninth inning -- played the entire game. Lefty Gomez and Lefty Grove each pitched three innings for the AL and guys named Pepper, Chick, Pie and Gabby played. There was no Home Run Derby (admittedly, a home run derby with Ruth, Gehrig and Jimmie Foxx would have been pretty cool).
But there was a game and it mattered, even if only for bragging rights and not home-field advantage in the World Series.
So let's take a random stroll through some of the names, numbers and lineups in All-Star history.
All-Star name game
The number may shock you: There have been 1,519 different major league players who can call themselves All-Stars, including 29 first-timers in 2009 (Zach Duke, come on down!).
[+] Enlarge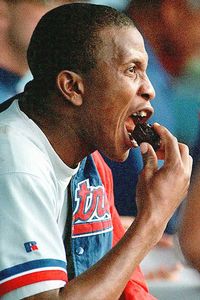 Dan Groshong/AFP/Getty ImagesUnconfirmed reports suggest this impressive wad of chew earned Carlos Perez an All-Star spot in '95.
Every letter of the alphabet except X has been represented with a surname, including three Q's (Paul Quantrill, Carlos Quentin, Dan Quisenberry), three U's (Dan Uggla, Ugueth Urbina, Chase Utley) and nine Z's (Pat Zachry, Frank Zak, Carlos Zambrano, Al Zarilla, Gus Zernial, Don Zimmer, Jeff Zimmerman, Richie Zisk, Barry Zito), but only two I's (Jason Isringhausen, Cesar Izturis).
There have been 10 All-Stars named Davis (Alvin, Chili, Curt, Eric, Glenn, Jody, Mark, Ron, Tommy and Willie) and 10 All-Stars named Jones (Andruw, Bobby, Chipper, Cleon, Doug, Randy, Ruppert, Sam, Todd and Willie) and 10 All-Stars named Wilson (Brian, Dan, Don, Glenn, Hack, Jack, Jimmy, Jim, Preston and Willie), but only one All-Star named Grabarkewitz (Billy).
Frank Thomas was a three-time All-Star. The other Frank Thomas was a five-time All-Star.
Bob Stanley, Bill Buckner, Rich Gedman and Ray Knight were All-Stars; Mookie Wilson was not.
Pascual and Carlos Perez each made an All-Star team; Melido never did.
Randy Winn was an All-Star; so was Hugh "Losing Pitcher" Mulcahy. (Yes, that was his actual nickname; he went 13-22 in his All-Star season with the Phillies in 1940.)
Kirk Gibson, who hit 288 career home runs and won an MVP award, was never an All-Star; Ellie Rodriguez, who hit .245 lifetime with 16 home runs, was a two-time All-Star.
Eddie Murray started one All-Star Game in his career; Terry Kennedy started for both leagues. Both were members of the 1988 Orioles team that began the season 0-21 and lost 107 games; that squad had 13 former or future All-Stars on its roster -- Murray, Kennedy, Cal Ripken, Fred Lynn, Brady Anderson, Mickey Tettleton, Mike Boddicker, Mike Morgan, Don Aase, Scott McGregor, Pete Harnisch, Gregg Olson and Curt Schilling -- although only Ripken made it that season. Even the manager for most of the season was Frank Robinson, who played in 14 All-Star Games.
The worst All-Star starting lineup ever
Not every All-Star Game is created equal, and not every All-Star lineup is filled with future Hall of Famers. In fact, you would be surprised at how few Hall of Famers some starting lineups have included.
This year looks pretty solid, although far from the best (or worst) in All-Star history. You have inner-circle Hall of Famers in Albert Pujols, Derek Jeter and Ichiro Suzuki. Guys like David Wright, Chase Utley, Ryan Braun, Hanley Ramirez and Joe Mauer are building excellent résumés but have years to go before we know their places in history.
What's the worst lineup one league has rolled out? We found two top candidates and will run them side by side:
NOT ON THE GREATEST HITS ALL-STAR DVD
| 1948 AL | Comment | 1962 AL | Comment |
| --- | --- | --- | --- |
| RF Pat Mullin | Only full-time season | 3B Rich Rollins | Only All-Star season |
| LF Tommy Henrich | Scored 138 runs | 2B Billy Moran | Only All-Star season |
| SS Lou Boudreau | HOFer, '48 MVP | CF Roger Maris | Hit 33 HRs in '62 |
| 2B Joe Gordon | Made HOF in 2009 | RF Rocky Colavito | Mantle unable to play |
| CF Hoot Evers | Williams, DiMaggio hurt | 1B Jim Gentile | Hit .251, 33 HRs |
| 3B Ken Keltner | Seven-time All-Star | C Earl Battey | Four-time All-Star |
| 1B George McQuinn | Hit just .248 in '48 | LF Leon Wagner | Hit 37 HRs in '62 |
| C Buddy Rosar | Hit 18 career HRs | SS Luis Aparicio | Only HOFer |
| P Walt Masterson | Finished 8-15 in '48 | P Dave Stenhouse | Just 16 career wins |
It's close, but the nod goes to 1962. Joe Gordon's induction later this summer gives the '48 squad two Hall of Famers, while the '62 team has just Luis Aparicio, hardly an inner-circle Hall of Famer (.262 career average). Plus, the '62 squad has two rookies (Rollins and Stenhouse) and Moran, a second-year player who was a regular for just two seasons.
Anyway, just remember this when your father or grandfather starts yapping about the good old days.
Looking for something more recent? The 1980 NL squad started this lineup: Davey Lopes, Reggie Smith, Dave Parker, Steve Garvey, Johnny Bench, Dave Kingman, Ken Reitz, Bill Russell, J.R. Richard. Just one Hall of Famer (Bench), but two MVPs in Parker and Garvey, and Lopes, Smith and Richard were very good players.
The best lineups? It's hard to top 1934. Seventeen of the 18 starters are in the Hall of Fame, the exception being National League center fielder Wally Berger, who was actually a better player than several of those who did make it. (AL lineup: Charlie Gehringer, Heinie Manush, Babe Ruth, Lou Gehrig, Jimmie Foxx, Al Simmons, Joe Cronin, Bill Dickey, Lefty Gomez; NL lineup: Frankie Frisch, Pie Traynor, Joe Medwick, Kiki Cuyler, Berger, Bill Terry, Travis Jackson, Gabby Hartnett, Carl Hubbell.)
Speaking of All-Star starters ...
Who have been the most anonymous All-Star starters? (Note: That's a nice way of asking who have been the "worst.") Let's do a little compare and contrast with those players who have made the most career All-Star starts at each position.
YOU KNOW THESE GUYS
| Player | Starts | Comment |
| --- | --- | --- |
| P Don Drysdale | 5 | Tied with Robin Roberts and Lefty Gomez for most starts |
| C Ivan Rodriguez | 12 | Yogi Berra with 11, Mike Piazza and Johnny Bench with 10 |
| 1B Steve Garvey | 9 | Rod Carew started seven times at 1B, eight at 2B |
| 2B Roberto Alomar | 9 | Tied with Ryne Sandberg, but Alomar made more teams (12-10) |
| 3B Wade Boggs | 11 | Brooks Robinson also with 11, but helped by two starts in '61 |
| SS Cal Ripken | 14 | Made 18 consecutive All-Star starts, including three at 3B |
| LF Ted Williams | 12 | One more than Barry Bonds (who also started once at DH) |
| CF Willie Mays | 18 | Mickey Mantle started 12 times for the American League |
| RF Hank Aaron | 14 | Also started once at CF, once at LF, once at 1B |
YOU MAY NOT KNOW THESE GUYS
| Player | Year | Comment |
| --- | --- | --- |
| P Jack Armstrong | '90 NL | Was 11-3, 2.28 at break but would finish season with just 12 wins |
| C Jerry Grote | '68 NL | Defensive whiz who hit 38 HRs in 16-year career |
| 1B Gregg Jefferies | '94 NL | Did hit .325 that year with Cardinals |
| 2B Mariano Duncan | '94 NL | Not even very good that year (.268 AVG/.306 SLG/.406 OBP) |
| 3B Ken Reitz | '80 NL | Started for injured Mike Schmidt; out of baseball by '82 |
| SS Leo Durocher | '38 NL | Hit .219 with 1 HR ... and finished 18th in MVP vote! |
| LF Ivan Calderon | '91 NL | An Expo voted in? No, replaced injured Darryl Strawberry |
| CF Vic Davalillo | '65 AL | Long career as pinch hitter, but starter for only three seasons |
| RF Pat Mullin | '48 AL | Had good season (23 HR) but only year he was a regular |
That list got us thinking
It's surprising to see that Steve Garvey started more times at first base than anybody else, yet isn't a Hall of Famer. Garvey appeared in 10 All-Star Games in his career, so we thought it would be fun to count down from 10 All-Star appearances to nine appearances to eight and so on, all the way down to one, and list the most surprising player to have made that many appearances.
(Note: That's kind of a nice way of saying "worst" player, although we don't want to suggest that all these guys are bad players. They aren't; although there are plenty of bad players to choose from when we get down to two.)
10: Steve Garvey. Forty-six players have appeared in at least 10 All-Star Games. All are Hall of Famers, will become Hall of Famers or would be Hall of Famers if not for circumstances that may prevent their eventual enshrinements. All except Garvey and Ken Boyer (who has a good case).
[+] Enlarge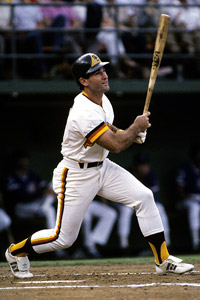 Ronald C. Modra/Getty ImagesSteve Garvey's No. 6 is retired by the Padres but not by the Dodgers. We can't explain it, but it's true.
As for Garvey, if you told a baseball fan in 1979 that Garvey wasn't a Hall of Famer he'd take a disco ball and shove it down your piehole. It's hard to describe how popular Garvey was at this time. In an era when players were growing shaggy beards and sideburns, he had the perfectly coiffed hair that mothers loved. He played for the Dodgers and had the California good looks, with eyes that made women swoon and forearms that men envied. Even after an Inside Sports magazine cover story in 1980 (headlined "Trouble in Paradise") dished on the rocky marriage between Garvey and his wife, fans kept voting him in as an All-Star starter. Even in 1984, when he was hitting .284 with eight home runs and a slugging percentage below .400, fans kept voting for him.
Now, don't get me wrong, Garvey was a very good player. His career OPS+ was 116 (16 percent better than league average), which is good, although short of Hall of Fame standards for first basemen. He was durable and consistent. But by more advanced analytical methods, he was also overrated. He didn't walk (career high of 50; Barry Bonds once drew 46 in a month), so while he usually hit around .300, his on-base percentages weren't great. Despite playing first base, he never slugged .500 in a season and never finished higher than ninth in the NL in slugging percentage. He always won the Gold Glove because he never made errors, but he never made errors because he hated to throw the ball because his arm wasn't good. Were there better choices as an All-Star starter? Let us delve.
1974 -- Famously voted a starter as a write-in candidate (he would win the MVP that season). Garvey: 21 HR, 111 RBIs, .312/.342/.469. Best choice: Garvey.
1975 -- Garvey: 18 HR, 95 RBIs, .319/.351/.497. Best choice: Garvey or Willie Stargell (22 HR, 90 RBIs, .295/.375/.516).
1976 -- Garvey: 13 HR, 80 RBIs, .317/.363/.450. Best choice: Garvey or Bob Watson (16 HR, 102 RBIs, .313/.377/458, in the tough-to-hit-in Astrodome).
1977 -- Garvey: 33 HR, 115 RBIs, .297/.335/.498. Best choice: Probably Watson (22 HR, 110 RBIs, .289/.360/.498).
1978 -- Garvey: 21 HR, 113 RBI, .316/.353/.499. Best choice: Garvey. Stargell hit .295/.382/.567, but only had 450 plate appearances.
1979 -- Garvey: 28 HR, 110 RBIs, .315/.351/.497. Best choice: Keith Hernandez (11 HR, 105 RBIs, .344/.417/.513). Hernandez would share the MVP award with Stargell.
1980 -- Garvey: 26 HR, 106 RBIs, .304/.341/.467. Best choice: Hernandez (16 HR, 99 RBIs, .321/.408/.494). Better OBP, better glove.
1984 -- Garvey: 8 HR, 86 RBIs, .284/.307/.373. Best choice: Hernandez (15 HR, 94 RBIs, .311/.409/.449) or 10 other guys.
1985 -- Garvey: 17 HR, 81 RBIs, .281/.318/.430. Best choice: Jack Clark or Hernandez.
In Garvey's defense, until later in his career, there weren't obviously better players for the starting nod. The National League first basemen were a pretty uninspiring group in this period -- guys like Watson, Dan Driessen, Richie Hebner, Bill Buckner, old Willie Stargell, Chris Chambliss. Until Hernandez emerged, it's easy to see why Garvey was starting every year.
9: Fred Lynn. Lynn made nine straight All-Star Games from 1975 through 1983, and started six of them. He was excellent in some years, very good in others and hit .219 in '81. In the end, he was too injury-prone to develop enough of a Hall of Fame résumé. Most of the players who played in nine All-Star Games have Hall of Fame credentials, Rocky Colavito joining Lynn on the outside (his nine games boosted by the two-per-year format from 1959 to 1962).
8: Del Crandall. A catcher with the Milwaukee Braves, Crandall was a good defender with some pop and regarded as a top-notch leader. But he was a .254 career hitter who made three All-Star teams in seasons in which he hit below .245.
7: Smoky Burgess. Another catcher from the '50s and early '60s, he could hit, but he somehow made seven All-Star appearances despite topping 400 plate appearances only four times in his career.
6: Sandy Alomar. We hate to keep picking on catchers … OK, we don't really mind. The fascination with Alomar never made sense. He actually started in 1991 despite finishing the season with zero home runs and seven RBIs. That's not a misprint.
5: Larry Bowa. A product of the '70s, when a lot of baseball people didn't know a ballplayer from a hamper. Bowa was scrappy and energetic, but was one of the most overrated players of the era: He had no power, didn't walk and didn't have much range in the field.
4: Brian Fuentes. Have you ever thought of Fuentes as one of the best closers in the game? Me neither. Yes, he's a solid lefty, but his lowest season ERA has been 2.73 (last year, when he didn't make the All-Star team) and his career high in saves is 31, hardly the big numbers you see today.
3: Frankie Gustine. Played 12 seasons in the majors (mostly with Pittsburgh in the 1940s). Made the NL team in 1946-1948 as a third baseman, but posted an OPS+ better than league average just once in his career.
2: Scott Cooper. Lots of fun guys to choose from here (Bruce Benedict! Dave Chalk!) but Cooper is my favorite. He basically lasted only four seasons in the bigs, two as a full-time starter -- and somehow managed to represent the Red Sox both those seasons despite being a third baseman who didn't hit .300 or hit with much power (22 home runs combined his two All-Star years).
1: Frank Zak. Actually, there is no shortage of candidates for this spot. Zak may be the most unlikely All-Star ever, so we'll pick him. A rookie shortstop with the Pirates in 1944, he had just 186 plate appearances that season (he did hit .300, although with no homers), but had just 54 plate appearances the rest of his career. The game was played in Pittsburgh and apparently Zak happened to be in town when the National League squad needed a player to replace injured shortstop Eddie Miller. (The good old days!) Sadly for Zak, Marty Marion played the whole game and Zak didn't appear in the contest.
Woe is the Pittsburgh Pirates
Ahh, yes, speaking of the Pirates. As you may know, the Pirates have been a bad baseball club for a spell. They've suffered through 16 consecutive losing seasons and appear headed for a 17th. We thought we'd grade each of their All-Star representatives during this period. Why? Because it's certainly more fun than watching them. (* -- indicates starter.)
1993 (75-87) -- OF Andy Van Slyke*, SS Jay Bell. Van Slyke finished with just eight homers but he was a funny dude, so the fans voted him in. Grade: B-.
1994 (53-61) -- 2B Carlos Garcia. Hitting .267 with three homers at the break. Pretty much the highlight of his career. Grade: D-.
[+] Enlarge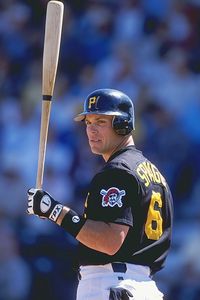 Getty ImagesWhen looking back on the 1999 All-Star Game at Fenway Park,
we think of Ed Sprague, not Ted Williams. Maybe that's just us.
1995 (58-86) -- P Denny Neagle. 13-8, 3.43 ERA on season. Only real candidate, but a good choice (better, anyway, than certain choices Neagle would make later in his career).
Grade: B
.
1996 (73-89) -- C Jason Kendall. Made it as a rookie; hit .300 with three HRs, .294 at break. Grade: B-.
1997 (79-83) -- 2B Tony Womack. The 27-year-old rookie could run but never did much at the plate. Grade: C-.
1998 (69-93) -- C Jason Kendall. A great player in his prime, hit .327/.411/.473 in '98. Grade: A.
1999 (78-83) -- 3B Ed Sprague. Let's put it this way: Had barely 200 at-bats rest of career. Brian Giles had 39 HRs, 115 RBIs that season but didn't make it. Grade: D.
2000 (69-93) -- C Jason Kendall*, OF Brian Giles. Both deserving. Grade: A.
2001 (62-100) -- OF Brian Giles. No-brainer with season marks of .309/.404/.590. Grade: A.
2002 (72-89) -- P Mike Williams. Would finish with 46 saves but mediocre peripherals. Giles screwed again (22 HRs, .299/.426/.612 at the break). Now you know why they call PNC Park "The House Brian Giles Built." Dude raked there for a few years. Grade: C.
2003 (75-87) -- P Mike Williams. Yuck. One of the worst All-Star selections ever. Was 1-3, 6.44 at the break. So bad he never pitched in majors again after 2003. Completely inexplicable. Thank goodness Eric Gagne blew the game and Williams never had to pitch. Grade: F.
2004 (72-89) -- SS Jack Wilson. Sweet fielder and hit well that year (.304). Grade: B.
2005 (67-95) -- OF Jason Bay. No, Rob Mackowiak did not make it. Grade: A.
2006 (67-95) -- OF Jason Bay, 2B Freddy Sanchez. Bay solid and Sanchez would win the batting title. Grade: A.
2007 (68-94) -- 2B Freddy Sanchez. Was hitting .296 with just two homers at the break. Grade: C.
2008 (67-95) -- OF Nate McLouth. Monster first half (19 HRs, 65 RBIs) earned bid. Grade: A-.
2009 (38-47) -- 2B Freddy Sanchez and P Zach Duke. Duke becomes the Pirates' first starting pitcher All-Star since 1995. Which kind of explains a lot. Grade: C+.
Overall, not as bad as expected. So stand proud, Pirates fans!
This isn't your daddy's All-Star Game
Jim Kern was a hard-throwing Rangers right-hander who made his third All-Star team in a row in 1979. He pitched 2 2/3 innings and got the loss. But here's the weird thing: Kern was a
relief pitcher
. After Nolan Ryan, Bob Stanley and Mark Clear had each pitched two innings, Kern entered in the top of the seventh with the AL up 6-5. He gave up a hit that inning but escaped unscathed. In the eighth, Lee Mazzilli (one-time All-Star!) led off with a pinch-hit home run. Kern fanned Dave Winfield and Keith Hernandez and came back out for the ninth.
Now, things were much different in 1979, and Kern wasn't exactly like today's coddled closers who never pitch more than one inning and call their agent if they're used more than three days in a row. Kern pitched 143 innings that season, ALL IN RELIEF. He pitched three or more innings 21 times and would finish with a 1.57 ERA.
So he was brought back out for the top of the ninth. And you know what? American League manager Bob Lemon didn't really have many options. His own pitcher, Ron Guidry, had just pitched 8 2/3 innings two days before. He could have used Tommy John, another Yankee, who had pitched three days before. The rest of his available pitchers: Dave Lemanczyk, the token Blue Jays rep that year (37-63 career record); Don Stanhouse, an Orioles reliever who, believe it or not (believe it!), made the All-Star team despite 34 walks and 20 strikeouts at the break; and Sid Monge, an Indians reliever who was actually pretty good that year (12-10, 2.40 ERA in 131 innings), but is not to be confused with Mariano Rivera.
(Seriously, that had to be one of the worst collections of All-Star pitchers ever assembled. Steamer Stanley allowed a .294 batting average against and struck out just 56 batters in 216 innings. Clear was a rookie reliever who walked 68 hitters in 109 innings.)
Anyway, so even though the National League had Pete Rose (switch-hitter) due up, followed by three lefties (Joe Morgan, Dave Parker, Craig Reynolds), Kern was left in. Lemon was apparently reluctant to use Guidry and John and with the game tied, he probably needed to save Monge for extra innings.
Rose lined out, but Morgan walked (even in All-Star Games, he was patient). Kern then balked (Morgan was probably dancing off first base and distracted Kern; no wonder the NL won all the time back then). Parker was intentionally walked. Reynolds fouled out, but Ron Cey walked to load the bases. Lemon finally went to the 'pen, bringing in Guidry -- who, mind you, had pitched 8 2/3 innings two days before and allowed 11 hits and probably threw 130 pitches -- to face the switch-hitter Mazzilli. Not surprisingly, Guidry walked Mazzilli on five pitches, scoring Morgan.
When Bruce Sutter struck out Rick Burleson to end it in the bottom of the inning, the NL had won again.
I was there that day, watching from the left-field bleachers in the Seattle Kingdome. I was an American League fan. And let me say: I hated those cocky, arrogant National Leaguers, Pete Rose and his dopey haircut and Dave Parker and his stupid yellow uniform that made him look like a big, fat banana, and Joe Morgan prancing off first base, rattling Jim Kern and Jim Kern's beard into a balk.
It was a hell of game, though. And I'll say this: It definitely seemed to matter.
David Schoenfield is a senior editor for ESPN.com
ESPN Senior Writer
Senior writer of SweetSpot baseball blog
Former deputy editor of Page 2
Been with ESPN.com since 1995