Commentary
Saying goodbye to the aughts
What a decade! Let's see how well you remember the important details with our trivia quiz.
BASEBALL
1. Who hit the most home runs in the decade (435)?
(a) Alex Rodriguez
(b) Albert Pujols
(c) Jim Thome
(d) Manny Ramirez
(e) Victor Conte

2. Which pitcher won the most games this decade (148)?
(a) Jamie Moyer
(b) Randy Johnson
(c) Andy Pettitte
(d) Roy Halladay
(e) Mike Hampton
(f) Whoever was playing the Royals

3. Which of the following events did not happen?
(a) The Dodgers hit four consecutive home runs in the bottom of the ninth to tie a game and won on a home run in the 10th
(b) The 2001 Mariners, who tied the all-time record with 116 wins, lost a game 15-14 after leading 12-0
(c) A major league team lost a game 30-3
(d) Tim Wakefield allowed six home runs in a game -- and won
(e) The Yankees spent approximately $1.377 billion in payroll from 2001 to 2008 and didn't win a World Series
(f) Barry Bonds drew more walks in a season (232) than the top NL mark for hits in a season (Juan Pierre)
(g) Mark McGwire was elected to the Hall of Fame

4. Which of the following players hit three home runs in a game?
(a) Chris Woodward
(b) Hee Seop Choi
(c) Tyler Houston
(d) Cody Ross
(e) Shea Hillenbrand
(f) Jose Ortiz
(g) Darrin Fletcher
(h) Kevin Elster
(i) Umm, all of them?
(j) Umm, none of them?

5. Which of the following events involving Roger Clemens did NOT happen this decade?
(a) Beaned Mike Piazza in the head
(b) Threw a broken bat shard at Piazza in a World Series game
(c) Won his sixth and seventh career Cy Young Awards
(d) Led the NL with a 1.87 ERA at age 43
(e) Threw a football with Andy Pettitte
(f) Recorded his 300th win and 4,000th strikeout in the same game
(g) Retired, signed with the Astros, implied retirement, returned to the Astros, retired, signed with the Yankees
(h) Was linked to country music singer Mindy McCready, a "friendship" which reportedly began when she was 15 years old
(i) Swore under oath in front of a congressional committee that he did not take steroids, but was injected with vitamin B-12
(j) His agent released an 18,000-word statistical report to refute steroid allegations
(k) He posed in a Speedo in the Sports Illustrated swimsuit issue

NFL
6. Which NFL running back did NOT score 20-plus touchdowns in two different seasons this decade?
(a) Shaun Alexander
(b) LaDainian Tomlinson
(c) Marshall Faulk
(d) Priest Holmes
(e) Larry Johnson
(f) Well, I know it wasn't Reggie Bush

7. Which quarterback threw the most interceptions in one season this decade?
(a) Brett Favre
(b) Vinny Testaverde
(c) Jake Plummer
(d) Joey Harrington
(e) Is this a trick question?

8. Which of the following wide receivers did the Detroit Lions NOT draft in the first round this decade?
(a) Calvin Johnson
(b) Mike Williams
(c) Roy Williams
(d) Charles Rogers
(e) None of the above

9. How many first-round picks did the Lions spend on defensive players this decade?
(a) Zero
(b) One
(c) Two
(d) Three

10. Twenty quarterbacks were drafted in the first round from 2000 to 2008. How many have won a playoff game as a starting QB (through the 2008 playoffs)?
(a) Two
(b) Three
(c) Four
(d) Six
(e) Seven

11. Which of the following quarterbacks was drafted ahead of Tom Brady in the 2000 NFL draft?
(a) Giovanni Carmazzi
(b) Chris Redman
(c) Tee Martin
(d) Spergon Wynn
(e) All of them

12. Super Bowl XXXVIII at Reliant Stadium in Houston ultimately became famous for:
(a) Beyonce's national anthem
(b) Janet Jackson baring her breast
(c) Streaker Mark Roberts running around the field in a G-string
(d) Adam Vinatieri kicking his second Super Bowl-winning field goal
(e) Being the last good game Jake Delhomme ever played

NBA
13. Which of the following players appeared in an NBA All-Star Game this decade?
(a) Jamaal Magloire
(b) Zydrunas Ilgauskas
(c) Wally Szczerbiak
(d) Mehmet Okur
(e) Brad Miller
(f) Anthony Mason
(g) Don't tell me it's all of the above

14. How many playoff series did Vince Carter win this decade?
(a) One
(b) Two
(c) Three
(d) The same as Frederic Weis

15. What was Michael Jordan's best move of the decade?
(a) Drafting Kwame Brown first overall in the 2001 draft
(b) Returning to the Wizards for two more seasons
(c) Drafting Adam Morrison with the third pick in the 2006 draft
(d) His Hall of Fame acceptance speech
(e) Those Hanes commercials with Kevin Bacon

16. Which of the following events involving Ron Artest did NOT happen this decade?
(a) Shaved the words "Tru Warier" (sic) into his hair
(b) Took part in the "Malice at the Palace" brawl
(c) Admitted that as young player he drank Hennessy cognac at halftime
(d) Had his dog Socks, a Great Dane, removed from his care for not providing proper sustenance … then later recorded a public service announcement advocating spaying and neutering pets.
(e) Sentenced to 20 days in jail and community service for a domestic-abuse arrest
(f) Picked No. 37 upon joining the Lakers in tribute to Michael Jackson ("Thriller" spent 37 weeks at No. 1)
(g) Was named defensive player of the year in 2004 and led Pacers to conference finals
(h) As a rookie, applied for a job at Circuit City in order to receive an employee discount
(i) Was suspended two games by the Pacers after requesting time off because he was tired from promoting an album on his record label
(j) Fired several gunshots into the air during an incident outside a nightclub

COLLEGE FOOTBALL
17. Which of the following quotes did Nick Saban actually say?
(a) "I'm not going to be the Alabama coach."
(b) "Changes in history usually occur after some kind of catastrophic event. It may be 9/11, which sort of changed the spirit of America relative to catastrophic events. Pearl Harbor kind of got us ready for World War II, or whatever, and that was a catastrophic event." [Said after losing to Louisiana-Monroe]
(c) "I told the players if we had lost this game today, there would be nothing else that would tarnish what you've accomplished more than that. You would someday be an NFL player in a Mercedes-Benz and roll your window down to talk to a pretty girl and she'd say, 'You lost to Chattanooga when you played at Alabama.'"
(d) This is too easy, isn't it?

18. Which coach finished the decade with a winning record at his new school?
(a) Rich Rodriguez at Michigan
(b) Bobby Petrino at Arkansas
(c) George O'Leary at Notre Dame
(d) Gene Chizik at Auburn

19. What was Oklahoma's biggest win of the decade?
(a) 2008: Texas
(b) 2008: BCS title game versus Florida
(c) 2007: Fiesta Bowl versus West Virginia
(d) 2006: Texas
(e) 2006: Fiesta Bowl versus Boise State
(f) 2005: Texas
(g) 2004: BCS title game versus USC
(h) 2003: Big 12 title game versus Kansas State
(i) 2003: BCS title game versus LSU
(j) 2002: Texas A&M
(k) 2001: Nebraska
(l) 2000: BCS title game versus Florida State

CATCH-ALL
20. Who said, "Yes, I did, and that was my mistake, not coming clean a lot earlier"?
(a) Tiger Woods
(b) Marion Jones
(c) Jason Giambi
(d) Tim Donaghy
(e) Pete Rose

21. Which of the following did Anna Kournikova NOT accomplish this decade?
(a) Reach No. 8 world ranking in November 2000
(b) Become the most searched-for athlete on the Internet
(c) Win 2002 Australian Open doubles title
(d) In Texas Hold 'em, having ace-king hole cards referred to as an "Anna Kournikova"
(e) Secretly married and divorced Sergei Fedorov
(f) Win a WTA singles title

22. Which album did Rolling Stone name the best of the decade?
(a) Jay-Z's "The Blueprint"
(b) The White Stripes' "Elephant"
(c) Radiohead's "Kid A"
(d) Bruce Springsteen's "The Rising"
(e) Kobe Bryant's "K.O.B.E."

23. Which team won the most playoff games this decade?
(a) Kansas City Royals
(b) Pittsburgh Pirates
(c) Baltimore Orioles
(d) Montreal Expos/Washington Nationals
(e) Cincinnati Reds
(f) Dallas Cowboys
(g) Washington Redskins
(h) They all won zero

TRUE OR FALSE
24. The Stanford Tree was ejected from a game for being drunk:
(a) True
(b) False

25. Elgin Baylor was named NBA Executive of the Year in 2006:
(a) True
(b) False

26. Jose Canseco sent back a cup of coffee at one of his book signings for fear of being poisoned:
(a) True
(b) False

27. Stephon Marbury led the NBA one season in total assists:
(a) True
(b) False

28. Tiger Woods led the PGA Tour in scoring average each year of the decade:
(a) True
(b) False

DATING GAME
29. Match the NHL player with his celebrity/model/actress girlfriend/wife:
1. Mike Fisher
2. Mike Modano
3. Dion Phaneuf
4. Jarret Stoll
5. Mike Comrie
6. Jordin Tootoo
7. Bret Hedican
8. Sheldon Souray
9. Petr Nedved
10. Sean Avery

A. Hilary Duff
B. Kellie Pickler
C. Mary-Kate Olsen
D. Angelica Bridges
E. Rachel Hunter
F. Elisha Cuthbert
G. Carrie Underwood
H. Willa Ford
I. Veronica Varekova
J. Kristi Yamaguchi

30. Who was Derek Jeter NOT romantically linked to this decade?
(a) Mariah Carey
(b) Minka Kelly
(c) Miss Universe Lara Dutta
(d) Jessica Biel
(e) Jordana Brewster
(f) Joy Enriquez
(g) Vanessa Minnillo
(h) Jessica Alba
(i) Gabrielle Union
(j) Scarlett Johansson

ANSWERS
1-a
2-c
3-g
4-i
5-k (he did pose, but in his baseball uniform)
6-e
7-a (Favre threw 29 interceptions in 2005)
8-e
9-b (LB Ernie Sims in 2006)
10-e (and one of them was actually Rex Grossman -- Joe Flacco, Eli Manning, Philip Rivers, Ben Roethlisberger, Grossman, Michael Vick, Chad Pennington)
11-e (we swear, we didn't make up any of those names)
12-e (hey, nobody talks about Janet Jackson anymore
13-g (Your starting lineup for the 2001 Eastern Conference All-Stars: Allen Iverson, Vince Carter, Tracy McGrady, Antonio Davis and Anthony Mason)
14-c (gotcha! VC did win three series)
15-let's call it a five-way tie
16-j (that was Stephen Jackson)
17-d
18-d (Chizik went 7-5 at Auburn, which was its first seven-win season since … 2007, when they were 9-4)
19-looks like l
20-e
21-f
22-c
23-g (the Redskins actually beat the Bucs in the 2005 playoffs)
24 through 27-True
28-False (Vijay Singh led in 2004, Jim Furyk in 2006 and Sergio Garcia in 2008)
29: 1-g, 2-h, 3-f, 4-e, 5-a, 6-b, 7-j, 8-d, 9-i, 10-c
30-a (trick question … he dated Carey in the '90s)
ESPN Senior Writer
Senior writer of SweetSpot baseball blog
Former deputy editor of Page 2
Been with ESPN.com since 1995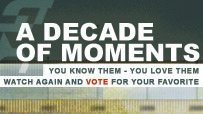 ESPN CLASSIC BEST GAMES: DEC. 26-JAN. 2
BEST OF THE DECADE
DECADE TRIVIA QUIZ
NHL
BASEBALL
NBA
SOCCERNET
HIGH SCHOOL SPORTS