Commentary
MLB playoffs: Let the excitement begin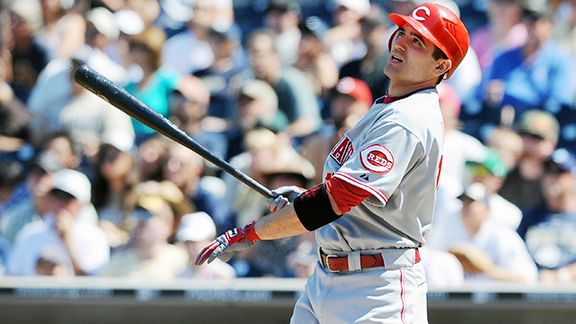 Christopher Hanewinckel/US PresswireNL MVP candidate Joey Votto led the Reds into the postseason for the first time since 1995.
People love to criticize baseball. Attendance goes down 1 percent and they cry that baseball is dying. World Series TV ratings go down and they cry that nobody cares. The Yankees make the playoffs (again) and they cry that baseball is unfair. The reality, however, is that Bud Selig is right: Baseball is in a golden age. Attendance remained near record highs despite tough economic times. Five of the eight playoff teams didn't make the postseason last year. Only two of the nine highest payrolls made it to October. Most importantly, the product on the field is tremendous. Young veterans like Joey Votto and Evan Longoria are exciting, franchise players. Buster Posey and Jayson Heyward headlined a rookie crop for the ages. Pitchers such as Roy Halladay have us trying to invent new adjectives to describe their efforts.
So forget the pundits over the next 30 days. Enjoy the games. In the so-called Year of the Pitcher, the National League had its lowest batting average since 1992. The American League also had its lowest batting average since 1992. Pitchers had more dominating performances than Jon Hamm on "Mad Men." So it seems appropriate to pay tribute to these absurdly good hurlers and begin our list of 100 reasons we're excited for the MLB playoffs with 10 starting pitchers we can't wait to see take the mound.
1. Roy Halladay. The game's best pitcher will finally get the opportunity to shine in the postseason. With his pinpoint control, he finished with a 7.30 SO-BB ratio, a career best and the ninth-best ratio of all time for pitchers with at least 200 innings pitched.
2. Cliff Lee. And here's the amazing stat: Halladay didn't even have the top SO-BB ratio in the majors. Lee issued just 18 walks in 28 starts, for a ratio of 10.28, the best ever for 200-plus innings. He'll be facing Tampa Bay -- which led the AL in walks drawn. Don't read too much into Lee going 0-3 versus the Rays: He allowed 24 hits in 23 2/3 innings, with no home runs and a 25-2 SO-BB ratio.
3. David Price. Two years ago in the postseason, he was a raw rookie firing smoke out of the bullpen. Now he's a polished product throwing smoke as Tampa's ace. Opponents will need to stack their lineup with right-handers against him: He's allowed just one homer to a lefty in his career (Chase Utley, in 2009). There's nothing fancy here: Price rears back and fires his fastball. According to fangraphs.com, he throws his fastball nearly 74 percent of the time -- the second-highest percentage of all major league starters.
4. Tim Lincecum. The two-time Cy Young winner "slumped" this year all the way to a 3.43 ERA and NL-leading 231 strikeouts. If that's a slump, Jon Hamm is ugly. Lincecum finished strong, with a .201 opponents' average and 52 strikeouts in 41 2/3 innings in September. Maybe his fastball is down a tick or two from previous years, but the little guy now relies more on location and changing speeds.
5. Carl Pavano. Minnesota's No. 2 starter will get to pitch against the Yankees, the team he crapped on in an ill-fated four-year contract during which he won nine games. Sadly (for the added entertainment value we'll be missing), the game will take place in Minnesota instead of Yankee Stadium.
[+] Enlarge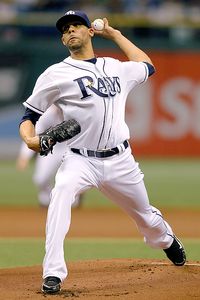 J. Meric/Getty ImagesDavid Price went 19-6 with a 2.72 ERA for the AL East champions.
6. Tommy Hanson. The tall right-hander is the most dynamic pitcher on Atlanta's staff, with his fastball/slider/curveball combo. If the Braves are to beat the Giants, they'll likely need a monster result from the sophomore.
7. CC Sabathia. Right now, he looks like a one-man rotation, with the uncertainty of Andy Pettitte, the late-season fade of Phil Hughes and the inconsistency of A.J. Burnett. No pitcher this postseason may be facing more pressure.
8. Roy Oswalt. Went 7-1, 1.65 in 12 starts with the Phillies. Has never lost a postseason game in seven starts. Developed a new grip on his changeup (which he rarely threw in the past) this offseason and allowed a .211 average against him. Tougher than a bag of hammers.
9. Matt Cain. October is about power pitching and the unheralded Cain is another power pitcher in the Giants' rotation.
10. A.J. Burnett. Just kidding. We don't really want to see him. Wait, yes, we do. Yes, we do.
11. The Reds are back in the postseason. For those of us who lost our baseball virginity to the Big Red Machine in the mid-'70s, it feels right to have October baseball in Cincinnati.
12. Joey Votto. If you don't like Joey Votto, you must hate Canada.
13. Aroldis Chapman firing 104 mph fastballs out of the Cincinnati bullpen. It will be interesting to see how Dusty Baker uses him. He's pitched more than one inning in just two of his 15 big league appearances (four outs each time), but Chapman certainly could go longer (he began the season in the minors as a starter). If Chapman gets on a strikeout roll, would Baker be wise to let him go longer?
14. The chance that the Cincinnati Board of Health will crash a Reds victory celebration for violating the state's smoking laws and arrest Jonny Gomes for lighting up a cigar.
15. The possibility of Pete Rose throwing out a first pitch in Cincinnati. C'mon, Bud, let it happen. OK, if not Pete, then at least Todd Benzinger.
16. Tampa Bay earning home-field advantage in the American League. OK, so home field has proved to mean little in the postseason. It probably means even less for the Rays, who had the smallest home-field edge of any playoff team:
Braves: +21
Twins: +12
Rangers: +12
Phillies: +11
Yankees: +9
Reds: +7
Giants: +6
Rays: +2
17. Tampa Bay fans -- yes -- cheering on their team with sold-out, crazy loud crowds.
18. Jayson Werth's facial hair.
19. Ninth innings with Brad Lidge. The Phillies' closer isn't a roller coaster, he's an entire Six Flags amusement park. We should note, however, that he's pitching better than last season and converted 17 of his final 18 save opportunities.
[+] Enlarge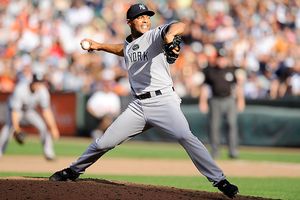 G Fiume/Getty ImagesMariano Rivera has a career postseason ERA of 0.74 in 133 innings.
20. Ninth innings with Mariano Rivera. Yankees fans are panicking because Rivera blew three saves in September, only the third time in his career Rivera blew three saves in a month (and the first time since July 1999). Is he tiring? Unlikely. He pitched just 60 innings, the second fewest of his career. His strikeout rate is down from the past few years, but he's been as tough as ever to hit (.183 average against, just two home runs allowed). With his recent struggles in mind, will Joe Girardi limit Rivera to one-inning outings? Seven of Rivera's 12 outings last October were more than an inning, including three of at least two.
21. The joy in Michael Young's eyes when he steps on the field for his first playoff game. The six-time All-Star has played in more than 1,500 games for the Rangers -- only Randy Winn has more among active players without playing a postseason game.
22. Likewise for Mike Sweeney. Once one of the game's top hitters in Kansas City, he's now a pinch hitter for the Phillies. Let's hope he gets an opportunity to win a game off the bench.
23. Brian Wilson's mountain man beard and Mohawk mullet.
24. A camera shot panning to A.J. Burnett and Javier Vazquez chilling in the Yankees' bullpen. That's $28 million worth of starting pitchers. The Steinbrenner boys ... just like dad. Money is no object.
25. Joe Mauer's sweeter-than-a-freshly-baked-cupcake swing.
26. Second-guessing each and every pitching change, pinch-hitting decision and sacrifice bunt. Especially the sacrifice bunts.
27. Alex Rodriguez. Whether he succeeds or fails, we'll have a storyline to talk about, write about and rage about.
28. Derek Jeter. After the worst season of his career, can he add to his legend?
[+] Enlarge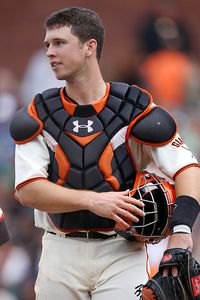 Brad Mangin/MLB/Getty ImagesBuster Posey hit .305 with 18 HRs. The Giants went 62-43 when Posey started.
29. Jason Heyward and Buster Posey. The two stud rookies facing off in the first round, looking to commence their own October glories.
30. Carl Crawford. The free agent-to-be had his best season and should finally win a well-deserved Gold Glove. A nice postseason will only add to his soon-to-be big payday. Let the bidding begin (we mean you, Angels and Red Sox).
31. Tim Hudson's sinker.
32. Seeing Yankees fans proudly wearing their new "AL wild-card winner" gear.
33. We're due for several great division series -- amazingly, we haven't seen one go five games since 2005, a stretch of 16 consecutive series that haven't gone the distance (and nine of the 16 have been sweeps).
34. Charlie Manuel's postgame news conferences.
35. Waiting to see which bullpens will rise to the occasion. And which will draw the ire of their fans. For the record, most of the playoff teams have strong 'pens. Here are their regular-season ERAs, with MLB ranking in parentheses:
Giants: 2.99 (2)
Braves: 3.11 (3)
Rays: 3.33 (4)
Rangers: 3.38 (6)
Yankees: 3.47 (7)
Twins: 3.49 (8)
Reds: 3.97 (15)
Phillies: 4.02 (18)
36. C.J. Wilson and Colby Lewis starting for the Rangers. Two years ago, Wilson posted an ugly 6.02 ERA as the Rangers' closer. Moved to the rotation for the first time in his career, he responded with a 15-8 record and .217 batting average allowed (warning, Mr. Crawford: He destroyed lefties, to the tune of a .144 average and no home runs allowed). Lewis was once a top prospect for the Rangers, at least until he posted a frightful 7.30 ERA in 26 starts in 2003. He pitched the past two seasons in Japan and returned as one of the best strikeout pitchers in the American League. This is not a one-man rotation.
37. Rookie Neftali Feliz throwing gas out of the Rangers' bullpen. Only three pitchers had a higher average velocity on their heater in 2010 (Daniel Bard, Stephen Strasburg and Santiago Casilla). Feliz in the second half: a .148 average allowed. Feliz in the final month: a .077 average allowed.
[+] Enlarge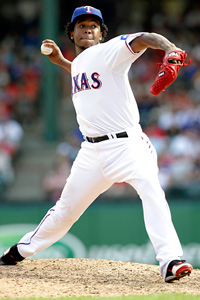 Tim Heitman/US PresswireThe Rangers are depending on rookie Neftali Feliz in the ninth inning.
38. Neftali Feliz's red glove. Baseball needs more red gloves.
39. The possibility the Rays will wear those '80s-flashback baby blue uniform tops.
40. Tampa Bay catcher John Jaso leading off. Only two other catchers have ever led off in a postseason game -- Jason Kendall for the 2006 Oakland A's and Roger Bresnahan for the 1905 New York Giants. The lefty-swinging Jaso has become the team's regular leadoff hitter against right-handed pitchers.
41. Brett Gardner's legs. And by that we mean he's really fast and can run down balls in the outfield like a cheetah going after a jackrabbit. Not that Gardner doesn't have nice legs.
42. Hats with playoff logos on them! Oh, wait, that's right, we're not actually excited about this.
43. With Juan Uribe at shortstop and Pablo Sandoval at third, the Giants could have the fattest left side of an infield of any World Series champion ever. (We're guessing; admittedly, actual research time was not spent on this item.)
44. The chance for snow to fall during a World Series game in Minneapolis.
46. Matt Capps. Yes, the Twins are relying on a closer who spent his first 5½ seasons with the Pirates and Nationals. Not that there's anything wrong with that. Pitching for the Pirates and Nationals, that is.
47. Evan Longoria. The Rays' best player hasn't played since Sept. 23 due to a strained quad. And how come he never gets mentioned as an MVP candidate?
48. Who plays third base for the Braves? After season-ending injuries to Chipper Jones and Martin Prado, the Braves inserted utility infielder Brooks Conrad at the hot corner. But after two crucial throwing errors over the weekend, he played second base in the season finale, with Omar Infante moving over to third. Either way, it could be a defensive adventure for Atlanta -- Conrad booted a ground ball on Sunday.
49. The chance for Marcus Thames to finally become a True Yankee © by winning a World Series ring.
50. Vladimir Guerrero's violent hack.
51. Cody Ross. If you don't like Cody Ross, you must hate bald outfielders who hit right-handed but throw left-handed.
[+] Enlarge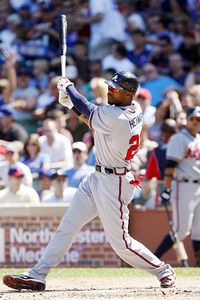 Jerry Lai/US PresswireRookie Jayson Heyward showed the savvy skills of a veteran: Only Mel Ott and Ted Williams drew more walks at his age.
52. Dusty Baker. The Reds' skipper has been much-maligned throughout his 17-year career but he's won more than he's lost and he's suffered through three absolutely heartbreaking defeats as manager (1993 NL West, 2002 World Series, 2003 NLCS). A championship for Dusty would be a happy ending to an underappreciated career.
53. Logan Ondrusek.
54. Boone Logan.
55. Ryan Howard. OK, so he's not worth the $125 million extension the Phillies gave him in April (he's 30, he had a career-low .859 OPS, he still can't hit left-handers and the Phillies may be wishing they had saved some of that cash for Jayson Werth). But he's still a guy you don't take a pee break to miss at the plate.
56. Josh Hamilton. Let's hope the ribs are OK.
57. Edinson Volquez. Dusty shows big guts by starting Volquez in Game 1 for the Reds. He didn't start until July 17 due to an injury, but he has the best pure stuff of any Cincinnati starter. As late as Aug. 23 his ERA was 6.17. But he finished with four strong outings in September. (Caveat: Those four starts came against Pittsburgh, Arizona, Milwaukee and Houston.)
By the way, Volquez has just four wins. Only five pitchers have started Game 1 of a playoff series with four or fewer wins. Because this is what we do here, we found out who those guys were.
• Yovani Gallardo, Brewers, 2008 NLDS (0 wins): Gallardo had made four starts after missing most of the season following knee surgery and finished with four no-decisions. CC Sabathia had to start the final game of the regular season to clinch a playoff spot, so Gallardo drew the start. He gave up three unearned runs in four innings as the Brewers lost 3-1 to the Phillies.
• Joe Mays, Twins, 2002 ALCS (4): Mays had been Minnesota's ace in 2001, but was just 4-8, 5.38 in '02. He started Game 2 of the ALDS and after the Twins won in five, started the opener of the ALCS. Mays pitched eight innings and the Twins won 2-1, but the Angels won the next four games.
• Bob Wolcott, Mariners, 1995 (3): A rookie who had made just six starts, Wolcott wasn't on the ALDS roster. But after Seattle burned through its staff in a grueling victory over the Yankees, he started against Cleveland in the ALCS opener -- and won 3-2 (despite allowing 13 baserunners in seven innings).
• Pascual Perez, Braves, 1982 NLCS (4): Give this one an asterisk. Phil Niekro had started Game 1, but it was rained out in the fifth inning before becoming an official game.
• Larry Gura, Royals, 1976 ALCS (4): Gura had started just twice all season, but one of those was a four-hit shutout on Sept. 29. In August, he had also pitched 7 2/3 innings of one-hit relief against the Yankees -- Kansas City's ALCS opponent. Whitey Herzog could have lined up ace Dennis Leonard to start, so this appears to have been an instinct call. Gura pitched well, but lost 4-1 (surrendering the final two runs in the ninth).
58. The chance of Volquez facing Hamilton in a World Series game. The two were traded for each other before the 2008 season.
59. Wacky postseason bets. You know, like "Will the Yankees play a game in under three hours?" (Bet "no." The Yankees haven't played a postseason game in under three hours since Game 4 of the 2006 ALDS against Detroit.)
60. Or "Will Joe Girardi use five relief pitchers in one inning?" Definitely possible.
[+] Enlarge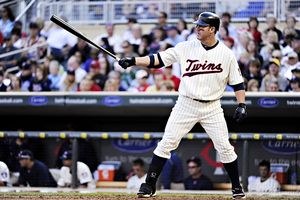 Ron Vesely/Getty ImagesJim Thome was a big force for the Twins, slugging 25 home runs in just 276 at-bats.
61. Jim Thome. He'll be playing in his ninth postseason but still seeks his first ring.
62. Jonathan Sanchez. What, you don't watch West Coast baseball during the regular season? Then make sure you watch this guy pitch in October.
63. A possible Philadelphia-San Francisco NLCS, with Halladay-Oswalt-Hamels dueling Lincecum-Cain-Sanchez. It'll be like a shootout at the O.K. Corral (right down to the Doc Halladay nickname), with guns blazing for nine innings. Which kind of makes Barry Zito the Billy Claiborne of the fight.
64. Extra-inning games.
65. Extra-inning walk-off home runs. We had only one last year, from Mark Teixeira in the ALDS.
66. Extra-inning walk-off home runs in the World Series. The last one was from Florida's Alex Gonzalez in 2003.
67. Will the Tampa Bay offense score? The Rays hit .247, 13th in the AL, had the sixth-best on-base percentage and eighth-best slugging percentage, yet ranked third in runs scored. That's due in large part to a league-leading 172 stolen bases, but also to a .266 average with runners in scoring position.
68. The fact that a pitcher can come out of nowhere to become the postseason's key pitcher -- it's not always the Roy Halladays who shine most in October. Since the wild-card era began in 1995, here's a look at each October's most valuable hurler.
1995: Tom Glavine, Braves (2-0, 1.61, 28 IP, 16 H, 9 BB, 19 SO, .165 AVG)
The Braves cruised through the NL playoffs with just one defeat and held high-powered Cleveland to a .179 average in the World Series. Glavine made four playoff starts, including eight shutout innings of one-hit ball in the World Series clincher.
1996: John Smoltz, Braves (4-1, 0.95, 38 IP, 22 H, 13 BB, 33 SO, .163 AVG)
Andy Pettitte memorably outdueled Smoltz 1-0 in Game 5 of the World Series as the Yankees won in six games, but it was Smoltz who dominated the entire postseason. He went 4-1 in five starts -- losing only the Pettitte game on an unearned run.
1997: Livan Hernandez, Marlins (4-0, 3.18, 28.1 IP, 23 H, 12 BB, 26 SO, .223 AVG)
The rookie wasn't even in Florida's original rotation, but started after Alex Fernandez was injured in the NLDS. Hernandez pitched four crucial innings of relief in an NLDS win over San Francisco, won Game 3 of the NLCS with a two-inning relief stint and then won Game 5 with a 15-strikeout complete game against the Braves, throwing 143 pitches. He won two more games in the World Series. On a staff that included Kevin Brown and Al Leiter, Hernandez was the surprise star.
1998: Orlando Hernandez, Yankees (2-0, 0.64, 14 IP, 9 H, 5 BB, 13 SO, .176 AVG)
El Duque has never received the credit for his lockdown performances during New York's reign in the late '90s. In his first postseason, he pitched the most important game of New York's run. Trailing two games to one in the ALCS against Cleveland, the heavily favored Yanks (this was their 114-win season), sent El Duque to the mound. He responded with seven shutout innings. He then allowed one run in seven innings in his World Series start.
1999: Orlando Hernandez, Yankees (3-0, 1.20, 30 IP, 15 H, 14 BB, 27 SO, .146 AVG)
Joe Torre made El Duque his No. 1 playoff starter despite a so-so regular season and he ended up pitching the first game of all three playoff series as the Yankees went 11-1 in the postseason. Mariano Rivera was terrific (no runs in 12 1/3 innings), but Hernandez was tough in all four of his starts.
2000: Mariano Rivera, Yankees (0-0, 1.72, 15.2 IP, 10 H, 1 BB, 10 SO, .172 AVG)
Roger Clemens had two dominant starts in the ALCS (15-strikeout one-hitter against Seattle) and World Series (eight shutout innings in the infamous Mike Piazza bat-throwing game), but got shelled in two losses to Oakland in the ALDS. We'll give this nod to Rivera, who earned six saves, five of them of more than one inning.
2001: Curt Schilling, Diamondbacks (4-0, 1.12, 48.1 IP, 25 H, 6 BB, 56 SO, .150 AVG)
The greatest postseason a pitcher has had since 1995: Schilling started six games and went 4-0. The two starts he didn't win were Game 4 of the World Series, when he left with a 3-1 lead, and Game 7, which he left trailing 2-1. (Randy Johnson was nearly as dominant, going 5-1 with a 1.52 ERA.)
2002: Francisco Rodriguez, Angels (5-1, 1.93, 18.2 IP, 10 H, 5 BB, 28 SO, .156 AVG)
Rodriguez was a flame-throwing rookie with just 5 2/3 innings big league of experience when the Angels included him on the postseason roster. He won two games as the Angels upset the Yankees in the ALDS, two more in the ALCS and a fifth in the World Series. With the starting rotation struggling, Rodriguez pitched in 11 of Anaheim's 16 playoff games, including a perfect three-inning stint in Game 2 of the World Series.
2003: Josh Beckett, Marlins (2-2, 2.11, 42.2 IP, 21 H, 12 BB, 47 SO, .145 AVG)
More proof that postseason experience is overrated: Beckett was just 23 when he led the Marlins to the World Series title. He kept Florida alive in the NLCS with a two-hit shutout in Game 5 and then pitched four innings of one-hit relief in Game 7. He wrapped up the World Series with a dominating five-hit, nine-strikeout shutout against the Yankees.
2004: Derek Lowe, Red Sox (3-0, 1.86, 19.1 IP, 11 H, 3 BB, 10 SO, .167 AVG)
Curt Schilling's bloody sock game was legendary, Keith Foulke was gutsy in relief, but Lowe gets our nod. After a terrible regular season (5.42 ERA), Lowe didn't even start in the ALDS. Down 3-0 to the Yankees in the ALCS, he started Game 4 and pitched into the sixth inning. After Boston burned through its staff, Lowe was the only viable option to start Game 7 -- and he had to do it on two days' rest. He pitched six innings and allowed just one hit. Then he wrapped up the World Series sweep with seven scoreless innings in Game 4.
2005: White Sox rotation
The foursome of Jose Contreras, Mark Buerhle, Freddy Garcia and Jon Garland dominated October as the White Sox went 11-1. Collectively, they pitched 92 1/3 innings (averaging more than eight innings per start), including four complete games in the ALCS.
2006: Jeff Suppan, Cardinals (1-1, 2.49, 25.1 IP, 19 H, 11 BB, 13 SO, .207 AVG)
Ace Chris Carpenter pitched well and rookie Adam Wainwright (pressed into service as the closer after an injury to Jason Isringhausen) and Jeff Weaver (2.43 ERA in five starts) came up big, but Suppan delivered in the most important games. In Game 3 of the NLCS against the Mets, he pitched eight scoreless innings. Then in Game 7, he pitched seven innings, allowing just two hits and one run in a game St. Louis won in the ninth on Yadier Molina's home run. He had another solid effort in a no-decision in Game 4 of the World Series.
2007: Josh Beckett, Red Sox (4-0, 1.20, 30 IP, 19 H, 2 BB, 35 SO, .178 AVG)
Beckett had the best season of his career in 2007 (20-7, 3.27 ERA) and he followed it up with a masterful run, winning all four of his starts while allowing an absurdly low .471 OPS. His key start was Game 5 of the ALCS, with Boston down three games to one to Cleveland. He pitched eight innings with 11 strikeouts.
[+] Enlarge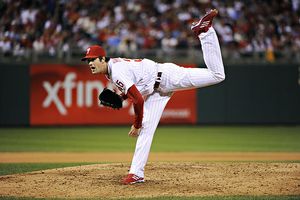 Howard Smith/US PresswireThe Phillies hope to get another big October from Cole Hamels. He had a 2.23 ERA in the second half.
2008: Cole Hamels, Phillies (4-0, 1.80, 35 IP, 23 H, 9 BB, 30 SO, .190 AVG)
Hamels got the Phillies' title run energized with eight scoreless innings in a 3-1 NLDS victory over the Brewers. The Phillies won all five of Hamels' starts and his stingy pitching was key since Philadelphia didn't score much in those games (winning 3-1, 3-2, 5-1, 3-2 and 4-3).
2009: CC Sabathia, Yankees (3-1, 1.98, 36.1 IP, 28 H, 9 BB, 32 SO, .209 AVG)
Sabathia shucked his poor postseason reputation with five strong starts.
69. The inevitable proclamations about pitchers who finish on a hot streak doing well in the postseason. Just for fun, let's take the above list and see how those pitchers fared in the final month of the regular season.
Glavine, 1995: 4.11 ERA, 1.60 WHIP
Smoltz, 1996: 3.00 ERA, 1.04 WHIP
L. Hernandez, 1997: 4.44 ERA, 1.56 WHIP
O. Hernandez, 1998: 3.03 ERA, 1.21 WHIP
O. Hernandez, 1999: 4.12 ERA, 1.47 WHIP
Rivera, 2000: 2.57 ERA, 1.07 WHIP
Schilling, 2001: 3.41 ERA, 1.11 WHIP
Rodriguez, 2002: Had 13 strikeouts in 5 2/3 innings
Beckett, 2003: 2.08 ERA, 1.15 WHIP
Lowe, 2004: 6.39 ERA, 1.74 WHIP
White Sox, 2005: 3.33 ERA, 1.15 WHIP
Suppan, 2006: 2.15 ERA, 1.22 WHIP
Beckett, 2007: 3.18 ERA, 1.03 WHIP
Hamels, 2008: 2.84 ERA, 1.39 WHIP
Sabathia, 2009: 2.39 ERA, 1.22 WHIP
Some were good. Some were bad. In other words, as Casey Stengel said, "Never make predictions, especially about the future."
70. Instant replay overturning a missed home run call, followed by grouchy columnists saying baseball is going down the tubes, needs more World Series games played in the day, the players get paid too much money, plus they don't understand all these new statistics and what the hell is wrong with batting average anyway?
71. A ball hitting the catwalk in Tampa -- always good fun -- except, inexplicably, the ground rules have just been changed.
72. Omar Minaya -- potential guest analyst!
73. Any appearance by Joba Chamberlain.
74. "M-V-P" chants from the hometown crowd for the likes of Joey Votto or Josh Hamilton or Robinson Cano or Derek Jeter.
75. Billy Wagner's fastball. The little lefty can still bring the heat -- average fastball this season of 95.7 mph. He's announced his retirement. One of the best closers ever, his postseason record, however, has been horrible: 11 1/3 IP, 20 hits, 10.32 ERA.
76. Matt Garza's puff of chin hair.
77. Carlos Ruiz -- aka Mr. Clutch. The unheralded Phillies catcher had a career-best year with an impressive .302 average and .400 on-base percentage. Keep in mind he has a career .303 AVG/.420 OBP/.482 SLG mark in 32 postseason games.
78. Francisco Liriano's changeup.
79. The Phillies becoming the first NL team to reach three straight World Series since the 1942-44 Cardinals.
80. The potential of cold weather ear gear. But, please, no World Series games played in rain puddles.
81. Every player who gets a big hit is labeled clutch.
82. Every player who makes a big out is labeled a choker.
83. Nick Swisher's fiancée.
84. Brian McCann. Maybe baseball's most underappreciated player. He's made five consecutive All-Star teams, although the fans have never voted him in as the starter.
85. Craig Sager as sideline reporter.
86. Postseason defense. Great throws. Diving catches. Double plays turned faster than an eyeblink. Jorge Posada's arm. Which team plays the best D? From fangraphs, here is each team's Ultimate Zone Rating:
Giants: +54.4 fielding runs above average*
Reds: + 44.8
Twins: +32.6
Rays: +32.4
Yankees: +19.7
Rangers: +15.0
Phillies: -7.1
Braves: -34.4
87. * That must not include the games Pat Burrell and Jose Guillen played the outfield.
88. Bronson Arroyo's leg kick.
89. The fact that we'll hear "the Giants posted a 1.91 ERA the final month of the season" approximately 645 times. It's an awesome stat. We'll appreciate it the first 621 times we hear it. It is the lowest September ERA of the divisional era (the Dodgers had a 1.93 in 1976). But does it mean anything? Hey, it's the MLB playoffs ... of course not!
But that didn't stop us from conducting another little bit of research. We looked at the past 10 seasons and checked out which playoff team in each league had the best September/October ERA. Here's what we uncovered:
2009 Angels (3.02): Lost ALCS
2009 Dodgers (3.00): Lost NLCS
2008 Red Sox (4.30): Lost ALCS
2008 Dodgers (3.16): Lost NLCS
2007 Indians (3.27): Lost ALCS
2007 Rockies (4.09): Lost World Series
2006 Twins (3.30): Lost ALDS
2006 Padres (2.96): Lost NLDS
2005 White Sox (3.41): Won World Series
2005 Astros (3.38): Lost World Series
2004 Angels (3.80): Lost ALDS
2004 Astros (3.74): Lost NLCS
2003 Yankees (3.04): Lost World Series
2003 Cubs (3.43): Lost NLCS
2002 Yankees (3.14): Lost ALDS
2002 Cardinals (2.79): Lost NLCS
2001 A's (3.04): Lost ALDS
2001 Cardinals (2.99): Lost NLDS
2000 A's (2.78): Lost ALDS
2000 Braves (3.51): Lost NLDS
The final count:
1 World Series champion
3 World Series runner-ups
8 lost in the LCS
8 lost in the DS
Then again, none of those teams posted an ERA under 2.00. Or had Kung Fu Panda playing third base.
90. A potential Reds-Yankees World Series, which not only would be a 1976 rematch (the Big Red Machine in a sweep), but present the possibility of this happening again.
92. The Giants trying to overturn 52 years of pain, bad luck and line drives hit 2 feet too low.
93. The Rangers trying to overturn a strange, wacky, wonderful history that, alas, has seen just one playoff win in 38 years. New team president Nolan Ryan won a World Series as a 22-year-old youngster with the Miracle Mets in 1969 but never made it back. How neat would it be to have Bud Selig hand him the World Series trophy? (Answer: Way neat.)
94. The Twins winning in their first year in their beautiful new ballpark. They've won six AL Central crowns in nine seasons, but have lost four straight times in the division series -- three of those to the Yankees. (Twins fans: You know you wanted the Rays in the first round. Admit it. It's OK.)
95. The Reds winning for Dusty and a great baseball city.
96. The Rays proving the little guy can not only compete but win the whole shebang.
97. The Braves sending Bobby Cox out on top.
98. The Phillies entering the ranks of dynasty talk.
99. The Yankees ... umm ... winning again.
100. The .000000001 percent chance that we'll be watching Derek Jeter's final game in a Yankees uniform.
David Schoenfield in a senior editor for ESPN.com.