Page 2 staff
We're not here to analyze, scout, predict, project or proclaim Derek Jeter a "winner." We're here to Second Guess. Hey, isn't that half the fun of baseball's postseason?
Tuesday, October 12
Scott Ridge: OK, why did we all second guess Mussina and the Yankees before Game 1?
Eric Neel: Yeah, we should second-guess how quick we all were, despite history, despite the Yankees' totally mashing lineup, to think this WAS the Red Sox' year after all.
Royce Webb: I think the answer's fairly straightforward -- pitching.
Schilling may win the Cy Young and he's been amazing in the postseason during his career. Mussina had a mediocre season overall -- he was great in September, but terrible the previous two months. And none of the other pitching matchups seem to favor the Yankees.
Aren't the odds set largely on pitching matchups?
Eric: Lines are also set on the sentiment of the betting public, and the public had shifted on this series, versus previous years … Almost everyone had the Sox in this one.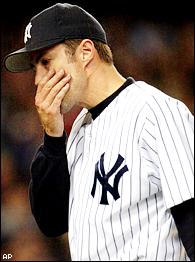 AP
Mussina contemplated a perfect game, for 6 1/3 innings.
David Schoenfield: I can understand why. I typed in the stats for every one of Schilling's postseason starts this morning. Twelve of them -- and in 10 he allowed two runs or less. In one other -- Anaheim, this year -- he allowed three. His career postseason ERA was 1.74. Everybody had already chalked up Games 1 and 5 to the Red Sox.
But that's why analyzing and predicting the postseason is a practice in absurdity. It's pointless, meaningless and ridiculous. Because in baseball, anything can happen.
(No, I'm not going to say it ...)
Scott: There's gotta be a reason the Yankees step on Boston in every crucial series. Boston gets all jacked up in spring and April, then the Yankees show them who their daddy is.
David: Speaking of jacked up, here's when I knew this game would go the Yankees' way. I even wrote it down on my notepad:
"2-1 pitch to Manny in the first."
Mussina threw what I think was a hard slider, at least a foot off the plate, a pitch that never got above Manny's shin bones. But he swung and missed -- Manny NEVER swings at a pitch like that, certainly not on a 2-1 count. Manny was too jacked up to play well, to concentrate, to remember that this was only Game 1, that baseball isn't played on energy, even in October, even in the House that Ruth Built with 55,000 New Yorkers yelling that you need a haircut.
Eric: It's only one game, but there is such a thing as wanting it too much … the players, the fans, the ownership, every single one of us who counts himself an enemy of the Evil Empire.
Royce: As Eric says, it's only one game … really, it's one bad start by a pitcher not on his game and a good start by one who was. I'm second-guessing anyone who's counting out the Sox. They still have all the advantages bettors credited them for. Except Game 1, of course. I don't take this game as a sign of anything except that the Sox are behind and need to win four of six -- which they're entirely capable of doing. I'm not putting them on the couch yet. They didn't lose last year because they were psyched out, and I doubt they'll be psyched out this year.
Eric: Royce is right. It's just one game, and sentiment shifts with the wind. The Sox should still feel good about their chances in the series, I think. It's just that the feeling that had the Sox as a favorite, and I think there was a lot of that, took a bit of a beating tonight.
David: Although the comeback -- even if ultimately falling short -- could prove key in that it forced Torre to use Gordon and Rivera for an inning.
Second Guessing, Second Takes
We question ...
Our sources who say Don Larsen was getting a little nervous there in the top of the seventh, that he had pulled out some voodoo pins, a couple strands of Yogi's hair, an old flask of Mickey's and some dirt from the Yankee Stadium mound, and concocted some spell on Mussina, that he wanted to preserve his legacy as the only pitcher to throw a no-hitter (and perfect game at that) in the postseason.
Our sources who say Mr. Steinbrenner got REALLY nervous (umm, make that ticked off) about the time David Ortiz's two-run triple landed a foot short of tying up the game.
If the Red Sox had to know something was wrong with Schilling, whether it was mechanics or physical injury. Al Leiter could tell from the announcer's booth, just by looking at his pitch selection, that he wasn't the Curt Schilling we've come to expect. Francona and Wallace had to see the same thing. They had to be worried. More than that, they had to be bold. Yes, going to get him is a gutsy move, yes he's Curt Schilling and his postseason rep is impeccable, and yes you run the risk of him ripping your head clean off in a fit of rage, but this first game is big. How big? Big enough you don't want to give it away just to keep the clubhouse peace, we'd say. By the time they pulled him, after Matsui's three-run double, on a fastball that had about as much juice as one of ours at a fastpitch game at the state fair, it was way, way too late.
Whether the fans can keep up their intensity for the entire series. Yankee fans went nuts after Mussina fanned Johnny Damon -- to start the game.
If maybe Curt Schilling needs Velcro cleats.
If maybe it's time for Johnny Damon to FINALLY buzz the hair after his four-strikeout night.
Ourselves for not featuring Hideki Matsui more in our pre-series analysis. He tied an ALCS record with five RBI in one game.
How do you say "Mr. October" in Japanese?
If we heard this right: starting times for Wednesday's games are at the same time.
Johnny O in a Yankee uniform. It still doesn't seem right.