Single page view
Page 2
Tuesday, October 4
Editor's note: By popular demand of fans, skeptics, Red Sox Nation, retirees, and people who love to mock other people, Second Guessing returns for more October baseball. This year, we've enlisted ESPN.com baseball columnist Rob Neyer to join the Page 2 crew of critics.
David Schoenfield: Welcome aboard, Rob. I told you before the game I would have started Shawn Chacon and his hot hand (one run allowed in his final three starts) instead of Mike Mussina (who has a better postseason track record than people realize, with a 3.14 career ERA entering the game, but was awful his last start and fighting a sore elbow). But Moose did the job, so I'll give him props, if not necessarily Joe Torre. But you think John Lackey should have started over Colon?
Rob Neyer: Heck yeah.
Colon settled down after his early troubles, and considering how well Mussina and the bullpen pitched, it almost certainly wouldn't have mattered who started for the Angels. Here's the thing, though ... Lackey is pretty obviously the best pitcher on the staff right now. He finished the season with a (slightly) lower ERA than Colon and a higher strikeout rate, and he allowed half as many homers as Colon (26-13). Oh, and here's the clincher: by all accounts, Colon has a sore back. When you're facing perhaps the best-hitting team in the majors, don't you want your best starter to be in the position to start twice, if the series lasts that long?
This is just one more example of a manager fetishizing wins at the expense of flat common sense.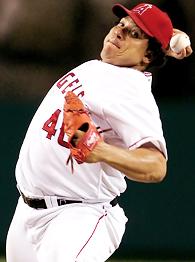 Bartolo Colon struggled early in Game 1, giving up four runs in the first two innings to the Yankees.
David: Well, Colon starting over Lackey doesn't bother me that much, although you do wonder if his back was a little stiff there in the first inning. But here's what does bother me: that move stinks of one of those "he got us here and I'm not going to change things now" types of moves that managers make in the postseason, moves that invariably help lose playoff series.
Here are two decisions that bothered me in this game:
1) Al Leiter. First of all, with his 5.49 ERA and 104 baserunners allowed in 62 innings as a Yankee, Al didn't help the Yankees get anywhere. But there he was, pitching in the sixth and seventh innings of a 4-0 game. I don't care if he got his two batters out. He should be nothing more than a mop-up man. If Torre really thinks Leiter can be used in key situations, that thinking will backfire on him at some point this postseason.
2) Darin Erstad. Of course, all Al had to do was get out the Angels' No. 5 hitter, the great and glorious Erstad (614 OPS vs. lefties this season, and not a whole lot better vs. righties, for the grand sum of $8.25 million). I won't rant against Mr. Erstad, since I know how you feel about him, but if Mike Scioscia thinks he's going to win a playoff series hitting Erstad fifth, he's drunk on pasta.
Fifth? Tell me again why everyone was picking the Angels.
Rob: Really, it's this simple: if you're running the Angels and you're serious about winning, you can't let Erstad face a left-handed pitcher in a key situation.