By Jeff Merron
Page 2
SEPTEMBER

Really -- we're not going to be that good this year. Spend your money on ...
The number listed for Charlotte Bobcats tickets in the 2004 BellSouth Charlotte phone book led surprised callers to an automated line, suggesting that they call a sex chat number.
OCTOBER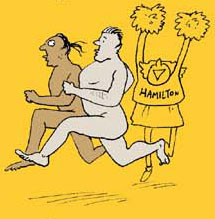 Here's what you get when you cross streaking with Philosophy 101
The Hamilton College (Clinton, N.Y.) varsity streaking team expanded its schedule to include away games in 2004, scheduling teams in the school's New England Small College Athletic Conference. But going varsity and scheduling away streaks raised an important question: How to tell the wins from the losses.
One team member, Matthew Himmel, tells the New York Times he keeps score by the size of the crowd. "After all, if no one saw you, did you, in fact, streak?"
Honest, but maybe not so smart
Brigitta Bulgari, a porn movie actress (can they all be stars?) and Miss Penthouse 2004, ran onto the field in the altogether at halftime of an Italian Serie B game between Piacenza and Catanzaro. She said she did it because she "wanted some publicity." Fair enough. She did entertain what local reports described as "thousands of excited fans."
But here's the question: if she wanted publicity, why relegate herself to Serie B? Wouldn't AC Milan's San Siro (capacity 85,000) have been a better choice?
HEADLINE OF THE YEAR
Sex & sports headline of the year
From the Czech News Agency, during the world ice hockey championships in April:

"Several hockey fans in Ostrava also interested in sex"

Sex and sorts headline of the year: runner-up
From the Times of London:

"Ronaldo is a firm advocate of sex"
NOVEMBER

Maybe the Hornets should give this a try
Norwich City (England) fan Samanda Chambers is also a psychic. And, with the team winless after being promoted to the Premiership this season, she said the problem had a simple solution: crimson underpants. "Red is the color of positivity," she said. "The groin is where the emotions are held. Wearing red here increases feelings of inner worth."
Somehow, Chambers' feelings of inner worth, enhanced when she wore red undergarments while watching the Nov. 20 Norwich-Southampton match, transferred directly to the team, which emerged victorious, 2-1.
Are those deep pockets, or are you just happy to see us?
The Hamilton College streakers are in dire financial straits. Let's see ... no scholarships; no expense there. On the other hand, no charge for spectators. So no revenue. Uniforms cost less than nothing, so to speak. On the other hand, retro unis are only available at a plastic surgeon's office. So why is the team asking for your hard-earned dough? Seventeen charges of disorderly conduct and $3,000 in fines racked up during late-October "away" streak at Colgate. So they're asking for donations. "This financial burden jeopardizes the team's future plans, including a spring 2005 tour of the Ivy Leagues," says the team's Web site.
In other words, you show us your endowments, and we'll show you ours.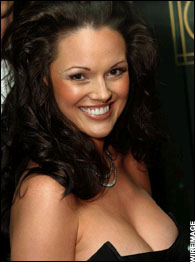 Let's see: half of Kris's new $22.5 million contract equals ...
DECEMBER

Baseball Anna
Howard Stern certainly has the ability to get good quote. When Anna Benson, the wife of Mets pitcher Kris Benson, appeared on his radio show, she said, "I told [Kris], cheat on me all you want. If you get caught, I'm going to s---w everybody on your entire team -- coaches, trainers, players. I would do everybody on his whole team. ... Everybody would get a turn." When pressed further, she added that "everybody" included groundskeepers and opposing teams.
Anna has had a long history of, umm, openness about her sex life with the mediocre moundsman. In the May/June issue of Player magazine, she shared a whole lot.
Kris's pregame abstinence drives her nuts. "I hate it. There's no scientific proof that sex is going to hurt your pitching performance," she said. "Each player has his own ritual, and Kris's is no sex when he pitches. It pisses me off because if you tell me I can't have something then that just makes me want it more. I like having sex with Kris. We've had some pretty nasty fights over this issue."
"It's a lot of fun making sex tapes. We share them only with each other. I mean, what guy doesn't want to videotape himself and his woman having sex? All men want to." (Guess she hasn't talked to Dr. J recently.)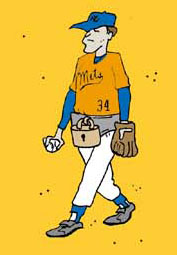 "Every time Kris goes out of town, one of the first things we do is get on the phone and have phone sex. It's still the two of us. The only difference is a phone and a movie going on."

Hmmm. Wonder if they pre-sync their DVD players ...

And it's not even a musical
"Take Me Out," the play about a gay baseball player, was put on by more theatre companies in the fall than any other production, reports American Theatre magazine. One of the reasons for its success: it can play in the Red States. For example, Charlotte, N.C., producers modified the scenery and staging so that the players' private bits -- out in the open, so to speak, in the New York version, were obscured by opaque glass and towels.

I am much like Charlotte Simmons
The title character in Tom Wolfe's new novel enters college so shocked by the behavior of her fellow students that she's more Mork than hick. She's an almost unbelievable character -- but after we read about Ingvild Engesland, we're now aware that such a level of cluelessness is now possible.

Engesland, 22, is one of the best skiers in Norway. She also happens to have posed in Lek magazine in naked action shots. She's alone, but she's in action. And nothing -- we did our research -- is left to the imagination.

But the young woman couldn't imagine how much attention she'd get for the 10-photo spread. "I thought it wasn't anything to worry about, there are pictures of naked girls in that magazine every month without it causing a fuss," she said, making it clear that she knew she was posing in a porn book.

She couldn't believe, could not believe, the media response. Talking about the multiple requests for interviews and television appearances, she said, "I am very surprised ... I am not famous at all."

"I want to be recognized as a skier," she added.

Uh huh.

Jeff Merron has been compiling his annual "Sex and Sports" since 2000.