VAN NUYS, Calif. -- The Nawab of Najafgarh needs some space. On a languorous Sunday afternoon in Southern California, Indian cricket star Virender Sehwag sits under a canopied tent pleading with a swelling mass of spectators to give him time to catch his breath. Sehwag has just finished a match, and sweat drips down his forehead.
This doesn't matter. The crowd continues to inch closer. Children with cricket bats clamor for autographs. Mothers snap pictures with digital cameras. Husbands stare in epic wonder. All of them try to catch a glimpse of the man who a nation of a billion knows endearingly as Veeru. Security attempts to cordon off the area, but the fans press forward. One of the members of the security personnel, a burly black man named Erving Johnson asks me who Sehwag is. I tell him he is the Kobe Bryant of cricket.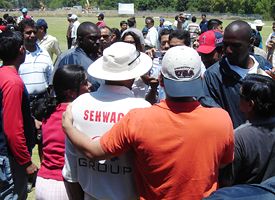 Amar Shah for ESPN.com
Does Kobe Bryant ever get this close to his fans?
Forget Beckham. Forget soccer. Cricket is set to take over Los Angeles. Over a three-day span, more than 10,000 cricket fans recently migrated to Woodley Park in Van Nuys, Calif., to watch professional cricketers from around the globe participate in the LA Open 20/20, billed as the premiere cricket tournament in the United States.
Though cricket, the urbane sport of starched white flannels and tea breaks, is considered by most Americans to be a bygone invention of the British empire, it has maintained a rich heritage in the United States. Sacrilegious as this might be to baseball purists, cricket was America's original pastime. In fact, the first international sporting event in the modern world was a cricket match between the United States and Canada in 1844 in New York. The LA Open was set up as a quicker, livelier format that would cut matches to the length of an average baseball game with high scoring numbers of an NBA West Coast shootout.
The tournament was created five years ago by some Indian-American entrepreneurs who wanted to spread the popularity of the sport in the United States. Quite the quixotic task, but according to Nilesh Bhakta, one of the founders, the tournament has come a long way. "If you'd asked me five years ago where I think this tournament would be, I couldn't have predicted we would come this far," said Bhakta, who has played cricket in California since 1987.
The tournament featured 12 teams from India, Sri Lanka, Australia and the West Indies. The teams are divided into four brackets and games are played on four different cricket fields simultaneously. The cricket facilities in Woodley Park have been described as the finest in the United States. The teams compete for a purse of $50,000-60,000.
Southern California always has been a hub for cricket. It's been played in Los Angeles since 1888. In 1932, an elderly mustachioed British character actor named Sir Aubrey Smith founded the Hollywood Cricket Club as a leisurely weekend pursuit. He was joined by Hollywood's King of Horror, Boris Karloff, in his scariest role ever -- a wicket keeper. Errol Flynn, Cary Grant and Laurence Olivier also played. In 1995, another group of individuals from Los Angeles brought attention to cricket. A team consisting of ex-gang members and homeless men, the Compton Homies & Popz, created a buzz that went global, including a visit to Ireland and England.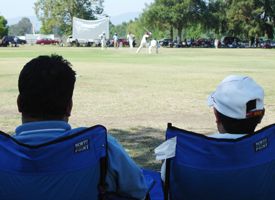 Amar Shah for ESPN.com
At the LA Open, bring your lawn chairs for front-row seats.
In 2006, the LA Open 20/20 featured two of the most enigmatic players in cricket history, former Indian cricket captain Mohammad Azharuddin and star player Ajay Jadeja, the Shoeless Joe Jackson and Buck Weaver of international cricket. Both players were banned for alleged match-fixing. This year, the tournament hosted its biggest name yet.
Virender Sehwag is considered one of the top batsmen in all of cricket, the heir to the legendary Sachin Tendulkar. He has set numerous batting records. His wedding in 2004 was one of the most heavily publicized events in India. He even owns a vegetarian restaurant called Sehwag's Favorites. However, after India's pathetic performance during the 2007 World Cup, Sehwag was dropped from the national team, a political casualty of India's governing cricket board. Perhaps that's why he refused to talk to any media. The India press flew across the world to cover the event, but Sehwag remained mum, careful not to say anything that could jeopardize any potential return to the Indian team. He just wants to play.
When I arrive on the last day of the tournament, Sehwag is on the pitch donning his trademark sun cap. His team, the AM International, faces the Punjabi Blues in a semifinal match. During the action, two players from the AM All-Stars smash head-first into one another on a fielding play that reminds me eerily of the Carlos Beltran/Mike Cameron collision from 2005. One player is helped off the field and led into the player's tent. He will hold an ice pack on his swollen face for the rest of the day. Who says cricket is genteel? On the opposite field, Trinidad and Tobago beats the Australian All-Stars.
The crowd balloons in size. Tents are pitched like a five-ring circus and inside them hungry spectators line up to get a plate of naan and butter chicken. Around the circumference of the fields, fans from various countries sit in lawn chairs and on beach towels to watch their teams' batsmen drive sixers (equivalent of a home run) over caravans of parked automobiles. On the Trinidad and Tobago side a man in a Bob Marley T-shirt waves a towel in the air and runs from one end to the other trying to ignite his fellow islanders to cheer even louder for their team.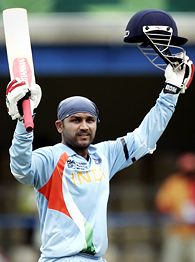 AP Photo
The Kobe Bryant of cricket in action during March's World Cup.
On the Indian side, middle-aged men in Dodgers and Yankees hats forget their baseball allegiances and embrace their childhood game by cursing in their native language. Old men smoke bidis. Hawkers set up food stands and sell fresh mangos and sweet corn. And little children chase the ice cream trolley. Watching a cricket match, like watching baseball, becomes a visceral sensation. It's like the world's fair, a picnic and an outdoor music festival mingling with the island rhythms of calypso and bhangra. The thwack of leather and willow is poetry to any sport fan's ear. Woodley Park is the Elysian Fields of cricketdom.
I had practiced here before. Earlier this year, I made a botched attempt to learn the game first-hand. I called up a local team and asked if I could practice with them. After three weekend sessions, my Plimptonian career was over. I retired from cricket, with a strained arm and battered ego. Playing little league baseball, I thought I'd make an easy transition to the game. But no. I could barely hit the ball when I batted and I nearly threw my arm out trying to bowl. When I walk around the grounds this Sunday afternoon I meet several of the players I had practiced with. They are curious where I have been. Instead of telling them I stopped playing because I stunk, I fabricate the excuse that my wife wanted me to take salsa lessons with her.
The finals take place in midafternoon, a battle between the AM All-Stars and Trinidad and Tobago. I'm told the Trinidad and Tobago squad is one of the best ever. Even with Sehwag, AM International gets crushed. Sehwag has performed poorly throughout these three days. But that doesn't damper the love the fans offer him. When the match concludes, Sehwag packs his gear and walks toward an RV, which is set up as a makeshift player's lounge. A horde of fans follow him like Tiger on the back nine. They beg for pictures or a few words from the hero they worship from a world away. I also try to get a sound bite, but security whisks him away through the RV door.
When the hubbub dies down, I walk toward the practice grounds where a group of high school kids dressed in cricket uniforms practice batting in the nets. Though the next ICC Cricket World Cup is nearly four years away, I can't help but think that one of these kids will be there representing the United States. Our own American Veeru.