Commentary
SlamBall works to write comeback story
Updated:
May 23, 2011, 2:48 PM ET
By
Amar Shah
| Special to Page 2
The Dr. James Naismith of SlamBall has some simple advice: Don't invent a sport.
"There's nothing easy about this," said Mason Gordon, the co-creator of SlamBall. "This is about getting your face kicked in day in and day out. Not just for months or for years, but for a long period of time."
SlamBall, the aerodynamically insane, full-contact hybrid sport that combines elements of basketball, football and gymnastics, catapulted onto the television landscape in 2002. Los Angeles Magazine dubbed it the "gnarliest sport ever invented." Although it hasn't been on pop culture's radar for a few years, Gordon is setting SlamBall up for a comeback.
The beginning
In 1999, the quixotic Gordon, who'd been working for Tollin/Robbins Productions in Hollywood, came up with the idea of SlamBall and sketched it on a napkin.
"SlamBall really began with this idea of creating a sport that was like a real-life human video game," Gordon said.
So he took the idea to movie and television producer Mike Tollin.
RULES OF SLAMBALL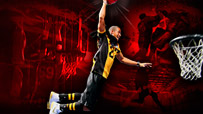 SlamBall is an amalgam of basketball, football, hockey and gymnastics. Here's a primer on how the sport works.
Court:
The game is played on a court that measures 100 feet by 62 feet, with two sets of four trampoline "quads" at each end of the court. The court is surrounded by a Plexiglas wall similar to a hockey rink. Body checks are not only allowed, but encouraged.
Teams and Positions:
Four players from each team are on the court at one time. There are three positions in SlamBall: handlers, who are similar to point guards; gunners, who are scorers; and stoppers, who are similar to goalies and shot-blockers.
Scoring:
In addition to shots from behind the 3-point arc, dunks are also worth three points. All other field goals are worth two points. When a player is fouled, a "faceoff" takes place, which is similar in concept to a penalty shot in hockey. Games are divided into four quarters lasting five minutes each.
-- Amar Shah
"One day he came to my office with a napkin and said, 'Dude, check this out,'" Tollin recalls. "I politely patted him on the shoulder and said, 'Thanks, I'm going to make a movie. I'll see you in six months.' Lo and behold, when I came back from the shoot, he was still sitting on the couch, still showing off his napkin, still insisting this is the next big thing. And, I finally paid attention long enough to realize he's on to something."
Tollin also knew the difficulty of launching a new sport.
"There are hundreds of sports out there that are being tried out in backyards and playgrounds," Tollin said. "And everyone's always looking for the Holy Grail, which is often a broadcast deal."
Utilizing his television connections, Tollin was able to secure financing to construct a prototype court with a special springboard. Gordon recruited and trained five players from different athletic backgrounds, including James "Champ" Willis.
"There's no way when he brought it to me that I could tell him no," Willis said.
Tollin then invited executives from TNN (now Spike TV) to a gym in East Los Angeles to watch the first implementation of SlamBall.
"We were able to sign a TV deal right there," Gordon said. "It was unbelievable."
SlamBall debuted on television in 2002. The sport's highlight-reel action and aerial athleticism created a stir among viewers. SlamBall was featured everywhere from "The Tonight Show with Jay Leno" to "SportsCenter." The New York Times described it as "Instant hops. Instant air. Instant gratification."
Former NBA players such as John Starks and Kenny Anderson became coaches. The sport also created exposure for players such as Stan Fletcher and LaMonica Garrett.
"Here we are on this national cable platform," Gordon said. "Millions of people are watching us every week. We're getting all kinds of buzz. We're getting 5,000 emails a week from all over the world."
A new direction
SlamBall aired on Spike for two years.
"The ratings were great," Gordon said. "But ultimately, they wanted to go in directions we weren't totally comfortable with. We didn't see SlamBall as a packaged entertainment product like the Harlem Globetrotters or professional wrestling. We saw SlamBall as a legitimate sport."
Gordon and Tollin made the tough decision to walk away from Spike and other television deals.
"We felt we needed to take a step back and retool it," Tollin said.
Internationally, SlamBall was still big, especially in Italy and China. So in 2008, they teamed with sports marketing giant IMG to launch a new season of SlamBall. Versus and CBS aired games, including the finals.
"We were programmed opposite the NFL, Cowboys-Giants," Gordon said about the finals. "We were programmed against NASCAR, and we still managed to do a better rating than anyone expected us to do."
But all the momentum was derailed with the economic recession. The sports sponsorship market wilted, and other niche sports, such as Arena football, folded.
The future
Gordon and Tollin persisted and weathered the storm. They continue to market and promote the sport.
"There's a sense that it's still out there in the consciousness," Tollin said. "And people say, 'What happened to it?'"
SlamBall players such as Noah Ballou run into fans all the time who remember the sport.
"Once you show people a clip, a YouTube video or anything, even just a picture I have of me playing SlamBall, they're immediately drawn to it," Ballou said.
Gordon has big plans for SlamBall's revival.
He has television agreements in place for a new season of SlamBall. Deals are set to open SlamBall gyms around the world to help formulate leagues at the youth and grassroots levels. Televising SlamBall in 3-D is another goal, along with making it an Olympic sport. There's even a SlamBall video game in the works.
"The challenge is continually to define SlamBall, identify the audience and really make sure the message is clear that SlamBall is a real sport," Tollin said.
The plan is to combine the new platforms of social media and technology to expand the fan base.
"They're short-format, half-hour games," Gordon said. "They're the kind of thing you can watch on your Xbox, on your iPhone. They're the things you can really engage in so many ways."
SlamBall's Facebook page and YouTube channel are growing robustly. Gordon says he's received more than 40,000 player applications through the SlamBall website.
Gordon knows the monumental challenge that lies ahead, but he remains persistent about his ambition.
"I made a decision when I came up with SlamBall that hell or high water I would see this thing through," Gordon said.
Video produced by Tamale Jar Productions.
Amar Shah is a writer and television producer working in Los Angeles. He can be reached at tamalejar.com or on Twitter at @amarshahism.