By Dan Shanoff
Special to Page 2
Oh, what cruel irony can be found in the oft-crumbled NCAA Tournament bracket sheet the day after the title game. For many of us who picked Maryland all the way -- yet missed nearly every other prediction to bitterly finish anchored near the bottom of the pool -- it is like seeking the answer to a Zenlike question: "When is a loser also a winner?"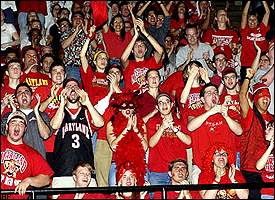 Maryland fans at Cole Field House: The next-best thing to being in Atlanta.
Speaking of which, the championship game offered a lot more than just "Maryland 64, Indiana 52." Winners and losers abounded, and Page 2 has the round-up:
Winner: Maryland pep band
Brassy "Banner" a nice change of pace from one-hit-pop-wonder caterwauling.
Loser: Indiana pep band
National TV not the right moment to break out barbershop-quartet-style outfits.
Winner: Bonnie Bernstein and Armen Keteyian
She's got skills like a younger Paula Zahn. He's probably glad to be through covering Tom Coverdale's ankle.
Loser: The English language
Jeffries like "dental floss"; Baxter with "HDTV body." SpecialKsaywhat?
Winner: The good ol' newspaper
Use by Maryland fans during IU player introductions harkens back to high-school antics.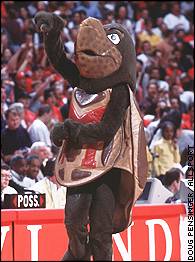 Testudo can come out of his shell now.
Loser: Face-painted fans
Free cell-phone service for a lifetime ain't worth it.
Winner: Fans at Cole Field House
What an atmosphere to watch the game!
Loser: Fans at the GeorgiaDome
Did you see how crappy some of those seats were?
Winner: Testudo the Terrapin
Never to be bullied again by the Blue Devil or Spartan Guy.
Loser: Uh, Hoosier Daddy?
What? There's no Indiana mascot? Ah, not until next year!
Winner: Player-coach relatives
Quality TV time, but Phil Dixon: Why the Blazers cap? Where's the love for UMD?
Loser: Budding screenwriters
You can delete that file for "Hoosiers II" now.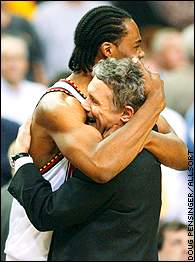 Chris Wilcox should cling to Maryland's Best Alumnus Ever a bit longer if he knows what's good for him.
Winner: Tahj Holden
Stock on the rise, but not so much that he'll consider going pro like ...
Loser (potentially): Chris Wilcox
Don't give in to temptation! Leave now and be Steven Hunter, or leave a year from now and be Antonio McDyess.
Winner: Kyle Hornsby
Have you ever seen such a picture-perfect jump shot?
Loser: Foul-shooting fundamentals
I mean, this just totally debunks the myth that all Indiana kids can sink FTs at will.
Winner: Dartmouth
On-air mention for hoops, never mind that it was in reference to the above-mentioned foul-shooting futility. When you are the dregs of the Ivy League, pub is pub.
Loser: Bob Knight
Way to get out there publicly and support your former players.
Winner: People who like catchy slogans
Is there anything better than "Fear the Turtle"?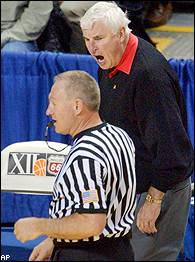 AP
Hey, what's up, Knight?
Loser: People who like flawless basketball
Yeah, you probably turned it off after a half.
Winner: Williams, Gary
With turtle off his back, now he gets props as "Best Alumnus Ever."
Loser: Williams, Roy
That sound you hear was the noise made by KU coach's best chance for that elusive title slipping away.
Winner: Fashionistas
Hey, IU A.D.: Don't ever replace the candy-striper warm-up pants.
Loser: "One Shining Moment" producers
Is it me, or is it getting lamer with gimmickry each year? It's the footage, stupid.
Winner: Long-denied Terps fans
Come on: Sports Guy got the Pats! Can't a Maryland fan get his glee on?
Dan Shanoff is a regular contributor to Page 2.