By Dan Shanoff
Page 2 columnist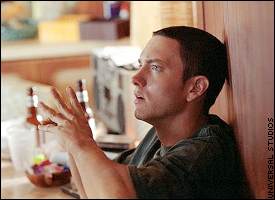 Renaissance man? Eminem in "8 Mile."
Motor City Madness ... catch it. It's a renaissance in Detroit; the jump-start was a single unlikely NFL victory. The city's jury is still out on Marty Morhenweig (though it passed summary judgment on Luis Pujols), but the crowd-pleasing verdict is in on the town's big new star: rookie QB Joey Harrington, whose brash confidence has aroused the team from its lengthy slumber and created a burgeoning nationwide fashion craze to sport the baby-blue team colors on a No. 3 jersey.
Throw in
downtown-revitalizing Ford Field
-- the see-and-be-seen place for Detroit glitterati (save your sarcasm) -- and the city's
new First Son, Eminem
, whose upcoming movie, "8 Mile," will combine with the Lions' rising fortunes to
turn Detroit into the next Atlanta.
The halo around Detroit may not last long, so jump on the city's bandwagon while you can. Meanwhile, check out the rest of what's hot and what's not this week:
What's Hot, What's Not this week
Category
Hot
Not
One-hit blunder

Jerry Royster

Luis Pujols
Quick to recover
Bobby Valentine
Jerry Narron
Joe Paterno
Free to assault more refs
Free to get team to execute better
NFL QB breeding ground

XFL

Arena League
Vice sponsorship
Chinese beer
Hard liquor
Hindsight bullpen strategy
Go early and often
Press your luck
Pitching staff linchpin
Middle relief
No. 1 starters
A's ace

Mark Mulder

Tim Hudson
NBA training camp story
Grant Hill's health
Gary Payton's wealth
Olympic hoops savior
Phil Jackson
Bobby Knight
Front-burner hiring controversy
NFL coaches
College football coaches
Marshall alum

Chad Pennington

Randy Moss
Get that jersey!
Tommy Maddox No. 8
Kurt Warner No. 13
Does anyone care?

Jon Kitna

Akili Smith
College football big game
Stanford-Notre Dame
Miami-UConn
Sampras conventional wisdom
Fatherhood calls; he's out
Back on top
Bandwagon

Anything Iowa State

Tom Brady
Detroit Lions savior
Joey Harrington
Matt Millen
Heisman bandwagon
N.C. State QB Philip Rivers
Michigan State WR Charles Rogers
Weekend flick

"Red Dragon"

"The Tuxedo"
Randy Johnson's playoff persona
Old, choking Unit
New, reigning co-MVP Unit
Notre Dame conspiracy
NCAA sanctions ND's "non-exempt" win
Padded schedule with service academies
Maurice Clarett watch
Will feast on Hot/Not alma mater Northwestern
Knee scope puts super-season in doubt
News flash!
College FB refs fired for poor performance
College FB refs have poor performance
More pressing Knicks disaster
Kurt Thomas' trouble with law
Spree's "Did I mention that break?" injury
Jazz back-up PG
37-years-young Mark Jackson
22-year-old Raul Lopez
Dan Shanoff is a columnist for Page 2. His "What's Hot, What's Not" trend-spotting list appears Thursdays. Got inside scoop on an up-and-coming trend? Want to declare something passé? Send this glimpse of your hipness to hotnotlist@yahoo.com.