By Dan Shanoff
Page 2 columnist
After years of unwavering support for the "retro uniform" look, we're torn: In the wake of Notre Dame's green-jersey choke and San Diego's powder-blue-jersey on-field joke, how does the fad-conscious reconcile "Style? YES!" with "Performance? NO!"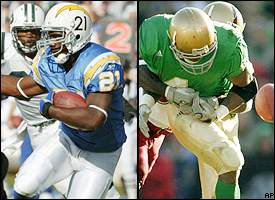 The white lightning bolt helmet and LaDainian Tomlinson jersey round out an electric look. But you'll fumble if you dress like Ryan Grant.
As NFL teams roll out "alternative"/"retro" jersey looks throughout the rest of the month (following the Chargers' powder blue, the Browns' orange and the Panthers' light blue), we'll take a wait-and-see approach. But the question lingers: If a team loses in a cool-looking jersey, is it unfit to wear on the street? Any judgment must be informed by the name on the back: If the player represented by the jersey is hot, the jersey -- by association -- may overcome a "losing team" stigma and also be hot. Call it "The Darius Miles Effect."
In the case of our two teams from last week, that anonymous green ND jersey shouts "Loser." Meanwhile, the Tomlinson-flavored Bolts jersey represents LT's substance, along with stylish color. Therefore, it's got our approval as casual wear. For more on what's hot and what's not this week, check out the list below:
What's Hot, What's Not this week
Category
Hot
Not
Baseball operations adviser
Bill James
Cal Ripken
Toast of New York

Lee Nailon

Latrell Sprewell
Looking smart
Cubs management
Giants management
Prison-movie casting call

Winona Ryder

The Canseco brothers
L.A.'er likely to bring U.S. Olympic glory
Kobe Bryant
Phil Jackson
Overall MLB manager of the year
Mike Scioscia
Tony La Russa
Foreign hoops import
Christian Drejer (Denmark)
Nik Skitishvili (Denver)
Just save it
Kordell is frustrated
Fantasy trash-talking that you picked up Maddox in Week 2
Robbed

Curt Schilling

Randy Johnson
Best high-school hoops coach ever
Morgan Wootten, DeMatha
Just as long as they aren't screamers
Dolphins' strategy
Collecting retired Hall of Famers
Being realistic Super Bowl contender
NBA trade rumor of the year
Shawn Bradley to the Knicks
Anything with Wally Szczerbiak
BCS blame game
It's the coaches' fault
It's the computers' fault
St. Louis QB controversy?

Bulger bandwagon

Warner ready to return?
Baylor's novelty
Fired coach sticks out last three games
Team somehow going to rally to wins
Naming your baby
"The Birthday Book"
After your favorite athlete
Heisman bandwagon

Willis McGahee (Miami)

Phil Rivers (N.C. State)
Aggie Nation
Dump R.C. Slocum
Keep good ol' R.C.
Michigan State coaching contender
Urban Mayer, Bowling Green
Dan McCarney, Iowa State
Impressive early season

The runnin', gunnin' Mavs

The bear-in-the-headlights-looking Grizzlies
Suns' bright future
Penny Hardaway
Joe Johnson
Movie subject
Rally Monkey
Rally Monkey
Republican sports-themed candidate

Mitt Romney (Massachusetts)

Steve Largent (Oklahoma)
College hoops competition
Exhibition teams (ie, EA All-Stars)
Tissue-soft nonconference slate
Weekend flick
"8 Mile"
"Far From Heaven"
Notre Dame
Who?
Love 'em
Dan Shanoff is a columnist for Page 2. His "What's Hot, What's Not" trend-spotting list appears Thursdays. Got inside scoop on an up-and-coming trend? Want to declare something passé? Send this glimpse of your hipness to hotnotlist@yahoo.com.